DOP3901 Book Bundle
Special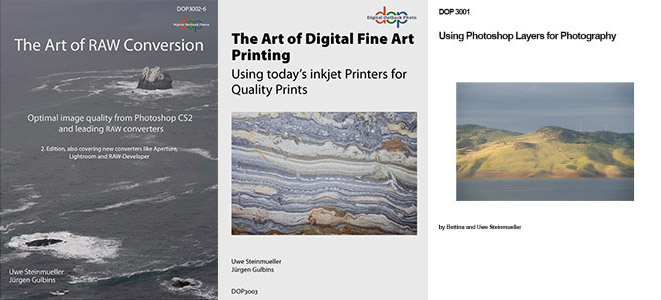 Bundle of our most popular e-books
Testimonials
"....I am very impressed with the book you are about to read. It's information like this that has helped to raise the quality of digital output and reduce the traditional art world's resistance to the use of digital tools in art. It is a book written by someone who KNOWS fine art digital printmaking. Uwe's style is concise and to the point. This comprehensive and complete guide to fine art digital printmaking should be included in the library of anyone who is serious about making fine art digital prints.
I only wish that all this excellent information had been available to me back in 1989 when I embarked on my digital journey. The hours I wasted….. The ink and paper I wasted….. The late nights…...The cold suppers…."
Mac Holbert (Nash Editions), 4/17/2006

E-Book Bundle (DOP 3002, DOP3003, DOP3001)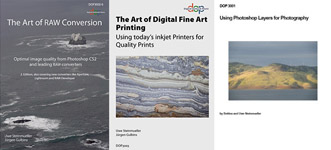 by Uwe Steinmueller & Jürgen Gulbins
special price $64.95
If you order the single books you would pay $92.85

Other Payment options look here
Buy here for $64.95 using PayPal
Note: this e-book is a 50MB download!
Note: After your payment you receive download instructions by email (should take a few minutes if the network and server is ok). Please ensure that the email address for PayPal is correct. If you do not receive the confirmation email send an email to us.