When we actually listened in the 70th (we were a bit late :-)) to the music of Crosby, Stills, Nash & Young we loved the music but did not even know where in America these musicians live. Now some 30 years later we live in Northern California and Neil Young owns a huge ranch close to one of our favorite places: San Gregorio General Store.
Last year we heard the first time about "Nash Editions" and just the fact that it was the same Graham Nash of CSNY made us curious. The logic here is: If someone really cares about fine music and he also loves photography then the chances are that he also cares about fine art printing.
We got in touch with Graham Nash and he forwarded us to Mac Holbert. Mac is a long time friend of Nash, also his former road manager and runs as Nash's partner "Nash Editions". Then finally this January we visited Nash Editions.
Nash Editions
Over 10 years ago Graham Nash wanted to print some of his B&W photos (some without any negatives) and looked for a digital solution. They finally came up with the first fine art prints on Iris printers. Even the term Giclée was coined in their printing studio.
Nash Editions still have some Iris printers, but the main work is done today with their Epson 9600 machines.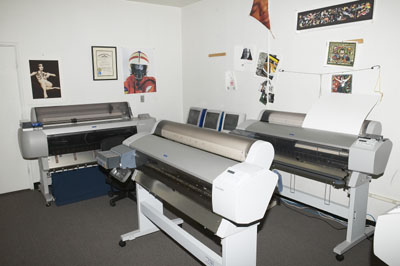 Nash Editions is not a printing lab where you drop in your digital files and pick up your prints later. As described here this does not work for any fine art prints. There is a lot of work involved to get a great print from a digital file (most of the work done in Photoshop).
Nash Editions works with the artist and tries to capture the artist's vision in a proof print (on the same final paper and printer). The artist signs the proof print and then he gets his edition printed. The proof then stays in a dark storage and can be later used as a reference.
Our Visit
Mac Holbert spent 3 1/2 hours of his valuable time showing his studio and answering our many questions.