For me, I know, photography fills a creative void. I have explored all kinds of creative arts over the years - classical piano, jazz flute, rhythm tap dancing when I was young, watercolor and oil painting, note card making - these things have gone with me through life and all hold a special place for me. But still, they don't quite touch that part of me that wants to 'draw' the real world as I see it around me.
I am a systems philosopher and an educator at heart, and these things 'fit' wonderfully well with photography. I don't just go out looking for pretty pictures - I search for patterns that repeat, for flowing movement, for undercurrents that subtly define a subject. I look for shadows and reflections, and contrasts, and interesting juxtapositions. Even in faces I look for the defining angle, the personality revealed, that glimmer of life looking back at me through my viewfinder.
Photography for me, therefore, is just another way of being in the world. My piano got too big for my Domke unfortunately.
Photography is also a marvelous mid-life accessory. Like a kid on a field trip, I slip a camera into my backpack and off I go, looking under rocks and crossing creeks to find another window into the world. Nothing much separates the ten year old in me from my fifty-five year old self at those times; except that as a ten year old I watched a butterfly with glee and captured tadpoles just to watch them grow in little glass jars on my back stoop, all with nothing so much as a few marbles in my hand. As a fifty-five year old I also watch the butterfly with glee and I capture tadpoles just to be able to witness the miracle of life emerge, but I do these things with my F5 in my hands now. That old saying, 'what goes around, comes around,' seems so true to me today.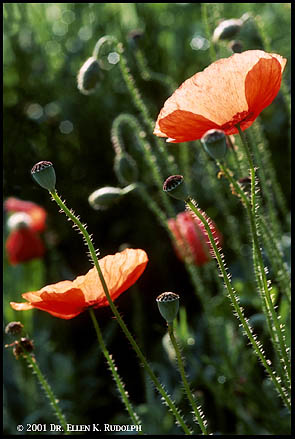 More than anything else, photography keeps me reaching. It is a constant game, a relentless search for who kicked the can if you know what I mean.
In recent years I have had the opportunity to travel the world from Paris to Provence, from Switzerland and the UK to Singapore, from one corner of the Australian continent to the other, through most all of South Africa and Namibia, Suriname, Mexico, Canada - and certainly most all of the United States - yet it always comes down to this simple fact: that the world at large is a magical place, and it is constantly underfoot. We don't have to go far afield to find magical things to photograph. They are everywhere if only we take the time to look. Yes, right here in our own backyards.
A frog in the Australian outback is no more interesting than the frog I used to stick in my pocket from the creek and carry home to grace my back stoop for a while, long enough to teach me that frogs are really amazing things. It is just as fun for me to sit in my garden all day photographing spring flowers under a diffusion tent as it is for me to hang half-way out of a helicopter photographing the marvels of Australia's magnificent Bungle Bungles. It's just when I travel I also get to meet new friends.
I told people, for example, that I was going to Provence this last spring "to do photography" but, really, if the truth be known, I went there to meet Jean Percet the painter and Mark Dumas the Provencal poet, and his interesting friends Denis and Solange Brihat, and my neighbor in the tiny village of St. Saturnin d'Apt whose dog greeted me every morning in search of a sausage treat. I went there to meet Ursula and Hans-Peter from Switzerland, too, who were lying in that luxurious poppy field just waiting for a photograph to happen. If I get any good photographs of that wonderful Luberon region of Provence then it will be because of the feelings that stirred in me as I interacted with the people who made that place come alive for me.
Remember that the next time you click the shutter button.
If I could find these friends under the graceful Irises that line my back fence, well, then I wouldn't ever have to go anywhere again. I would be content to just sit here in my garden with camera in hand. Flowers aren't the thing, though, are they?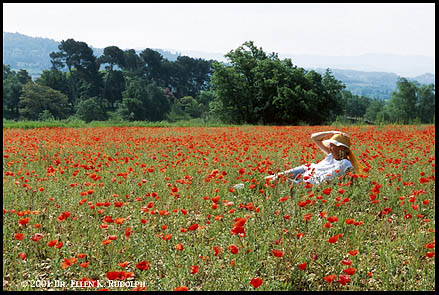 I am reminded of my eldest brother, Philip, who had more friends in life than most people have flowers in their gardens. The only real difference between us is that my garden hugs the planet at this point in my life. And I have more tangible memories of things in my pockets.
Some years ago when I traded a computer for Philip's dusty 16mm f2.8 manual Nikkor lens, little did I know what interesting things were ahead for me to ponder with that lens in hand. Every time I reach for that lens now I feel just a little closer to my ever-watchful brother who died in his sleep one night as my plane was racing across the Atlantic.
Click....Click. Count them. Life doesn't give us enough of them.