"Death Valley"
<c>Jeff Cohen
My trip started from a suburb of Los Angeles. Within a hundred miles I was in the Mojave Desert, passing by Edwards A.F.B. where the Space Shuttle occasionally lands. I still had 200 miles of desert to drive through before reaching Death Valley.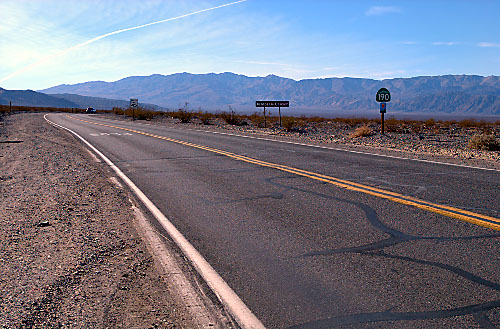 I arrived at the western entrance, shown above. This is the end of a 5000 foot drop with a non-stop 4% to 6% grade. Don't come this way if you doubt your brakes. Behind me is Stovepipe Wells, all of five feet above sea level, a small collection of shops, an airport with an unpaved parking lot for the planes, and a gas station. You don't want to know what they charged for gas.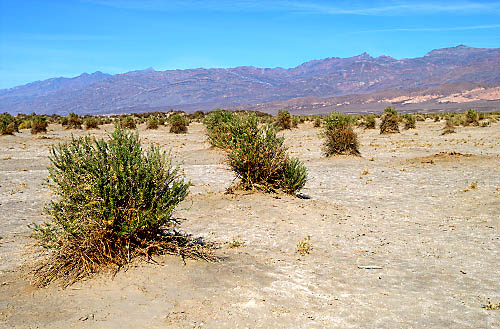 The first attraction is the Devil's Cornfield (above), a field of regularly spaced bushes. Desert plants like these have an extended root network that keeps competing plants from taking root near by.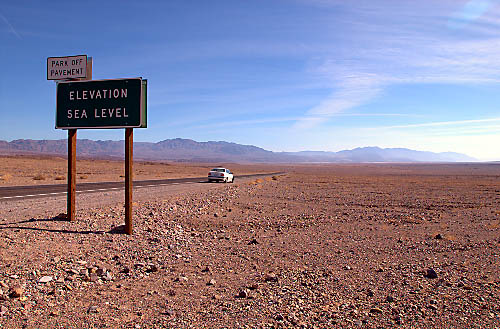 Continuing on south, I leave behind the lush vegetation (by Death Valley standards). The road flirts with sea level a few times, each one marked by a sign like above. This was the final such sign. The air only gets thicker from here.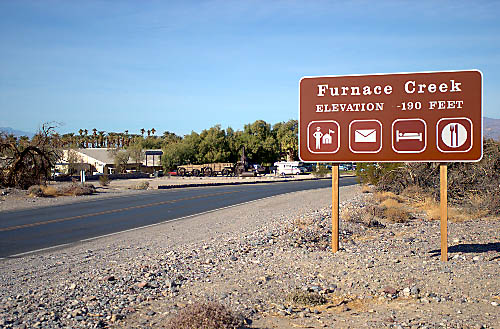 The main stop in Death Valley is Furnace Creek. Here you'll find restuarants, hotels, a U.S. Post Office (zip code 92328), a RV park, another airport (with a paved parking lot!), a museum and visitors center, and another gas station (which does not compete on price with the other one). There's even a golf course behind all those palm trees on the left. Yes, it's green, just like any other golf course. I have no idea where they get the water from. The $10 use fee is payable at the visitors center.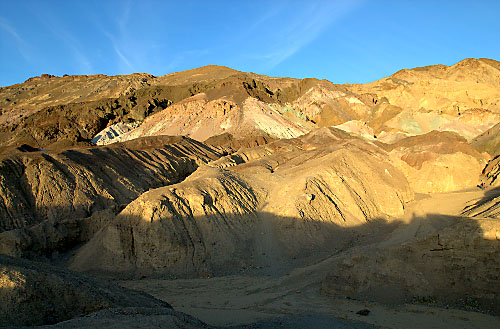 The Artists Palette is so named due to the variety of colors it has. The colors are more vibrant than the picture shows. Several times the colors caught my eye while driving, forcing me to pull over, yet each time they turned mute upon getting out of the car. I finally figured it out. While driving I wear polarized sun glasses. I take them off to use the camera. Lesson learned: bring a polarizing filter along next time.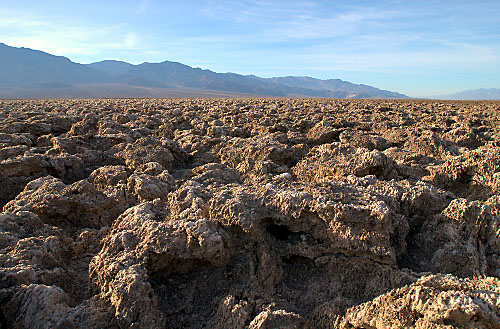 Next stop is the Devil's Golf Course. Believe it or not, what you're looking at is salt, thousands of feet deep. When it dries out, crystallization forces the salt into hexagonal pillars. The formations have plenty of hard, sharp edges. It's hard to walk through, and you don't want to trip and fall.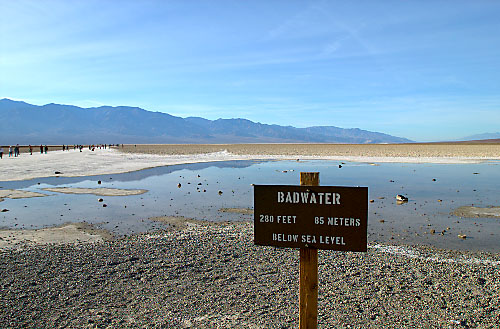 The southernmost point of interest is Bad Water, the lowest point in Death Valley: 280 feet below sea level. Again, as far as the eye can see is salt. Sometimes it's a lake. Shallow and saturated with salt, but still a lake. Then it reflects the distant mountains like a flawless mirror. Now it's an annex of the golf course. The hexagonal pattern is already apparent, though you have to walk out there for about 10 minutes to see them (where all those people are heading). When it is a lake, its shoreline is a fuzzy concept. The slope is negligible, so as you walk the ground gradually turns damp and only after some distance is it clearly covered by water. But for now, the pond you see is the only surface water in Death Valley. And you don't want to drink it.
This is the only picture that reveals what a tourist attraction Death Valley is. In the other pictures I tried to capture the sense of isolation and desolation, but the reality is there are so many people there it can be hard to find parking. At least in the winter when it's a comfortable 70 degrees. I imagine there are far fewer people in the summer, when it reaches 120 or more.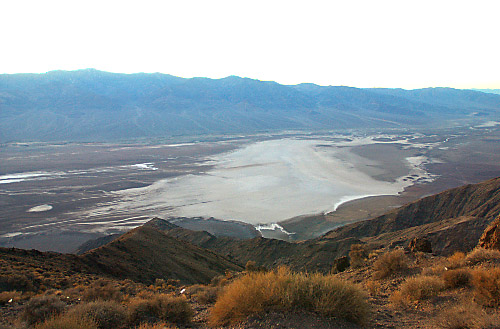 By now I'm running out of light and I rush off to my final stop, Dante's View, a full mile above the valley. Bad Water is almost directly below. I open the lens wide open, wish for a tripod but none materializes, so I do my best, what with the mountains backlit with the setting sun. The D1's dynamic range comes through; this picture has had major curves adjustment. With these final pictures in the can, I leave via the eastern entrace (suitable for any vehicle) for the long drive back.
I did make one more stop: once the sky turned black I pull over to do some star gazing. There aren't many places in California where the sky is truly dark, and fewer still where you don't have to worry about bears or mountain lions. If you ever are in the area, don't pass up this opportunity. The Milky Way really does look the way it does in those photographs.
Death Valley is a big place. It takes nearly two hours to drive from one end to the other. For lack of time to take them or space to include them, I cannot show you pictures of the sand dunes, the Golden Canyon where Star Wars was filmed (where we first meet Obi Wan), or Scotty's Castle in the north. Or pictures of Death Valley's history, of artifacts left over from its "20-mule team" days when borax mining was king.
Technical Details
Nikon D1 with Nikkor 17-35 f/2.8 AF-S and UV/Haze filter. NEF format converted with QImage 10.13. Curves adjustment and sharpening done with Adobe Photoshop.