Long flights and long lines describe travel to Kavieng in Papua New Guinea. It took twenty six hours of flying time over five flights to get from my home in the Washington D.C. area to Kavieng. The only thing that seemed to take longer than the flying was the waiting in line to check-in for flights, clear security and go through immigration and customs. My carry on baggage was exposed to so much radiation from the x-ray machines at security checks that I fully expected my Nikon cameras to have mutated into some other brand. Good thing I wasn't going to be using film!

Kavieng is reputed to have opportunities for scuba diving and underwater photography that are among the finest on the planet. To document the experience, I was equipped with two Nikon D1X camera bodies, a Seacam D1X underwater housing and an assortment of lenses and underwater strobes. Let me share with you some of the sites and images that best represent Kavieng diving.

At Three Islands Harbor, off of Dunung Island on the northwest side of New Hanover Island lies a wrecked World War II Japanese freighter, the "Taisho Maru" and mini-submarine. The "Taisho Maru" was sunk by an American B-25 bomber from the 500th squadron on February 16, 1944.
While the visibility around the wreck was limited, this was a sensational dive. The wreck itself was a mind-blowing array of colors from a profusion of soft corals, sea fans, sea whips, whip coral and hard corals. Above the wreck there were huge schools of fish—silver trevally, snapper and chub. The sea fans and soft coral growing on the wreck provided habitat for small gobies, hawkfish, butterflyfish, angelfish, wrasse and damselfish, while there was a large population of stingrays, gobies and their partner shrimp and numerous pairs of crab-eyed gobies in the silty sand around the wreck.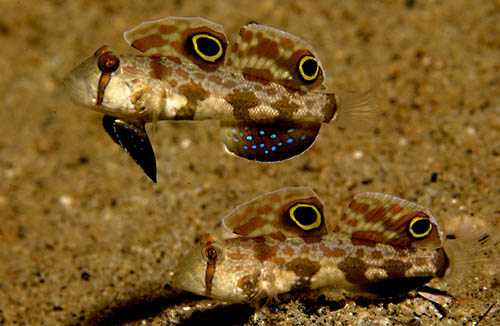 Crab-Eyed Goby Pair, Micro-Nikkor 105mm
Chapman's Reef is among the best known dive sites in the Kavieng area, renowned for its large schools of pelagic fish, including sharks. Here, I rolled back off of the inflatable, grabbed my camera from the tender, and immediately descended into a large school of barracuda. I swam into the school as they parted and then swirled around before diving into the deep water below. Chapman's Reef lived up to its hype.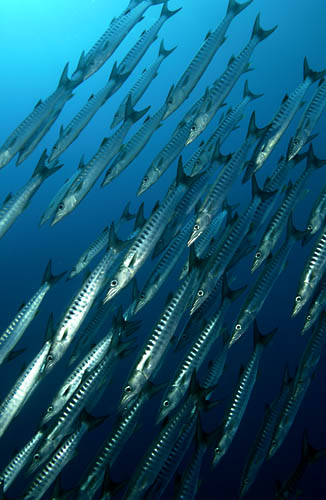 Schooling Barracuda, Nikkor 17-35mm zoom@24mm
Later, I went to observe and photograph the smaller residents of Chapman's Reef. There were decorated dartfish, several anemones with anemonefish and eggshell shrimp and a longnosed hawkfish living in a brilliant yellow soft coral.

Longnosed Hawkfish, Micro-Nikkor 105mm
At Planet Channel, a couple of local boys in an outrigger canoe watched me from the surface as I explored the wall below. Apparently, I provided the day's entertainment for the boys while they provided a great photo opportunity for me. From a depth of fifty feet, I photographed the canoe on the surface with a large, yellow soft coral tree in the foreground.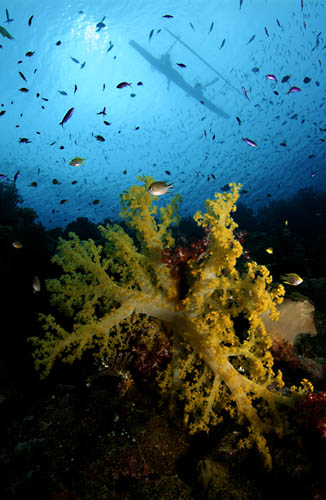 Yellow Soft Coral and Canoe, Nikkor 17-35mm zoom@17mm
The wall at Planet Channel was richly adorned with large sea fans, red sea whips and soft coral trees. Congregating near the wall were large schools of silver trevally, snapper, a small school of barracuda and several gray whaler sharks. A relatively small shark, only 4 to 5 feet long, repeatedly approached me and while it came close, it always stayed just out of range for a good photograph.
Judy's Reef is a series of coral bommies that rises from the depths to as shallow as fifteen feet from the surface. Neither the bommies nor their growth of invertebrate life is very compelling, but the fish life and small critters inhabiting the bommies are impressive. There were schools of rainbow runners, fusiliers, triggerfish, surgeonfish and anthias in the waters surrounding the bommie. On a couple of covered ledges at 45-50 feet, I photographed a couple of Randall's sailfin gobies and a white-capped goby, all cohabitating with their housekeeping partner shrimp.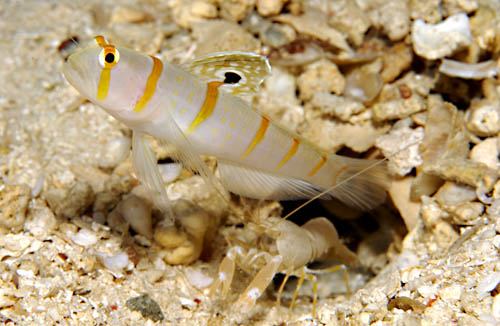 Randall's Sailfin Goby and Shrimp, Micro-Nikkor 105mm
Anemone Patches is a series of large coral bommies, gently sloping to the bottom from as shallow as ten feet beneath the surface of the water. As the name of the site suggests, the reef is covered with anemones and many species of anemonefish.
True to its name, there was a spinecheek anemonefish in a red anemone near the top of the reef at Anemone Patches. I've photographed this same kind of anemone in the Solomon Islands and in the Milne Bay Province of PNG, and the anemone always turned out a drab green color in the images on film. For reasons I can't explain, however, the color of the anemone was accurately recorded red on the CCD of my Nikon D1X.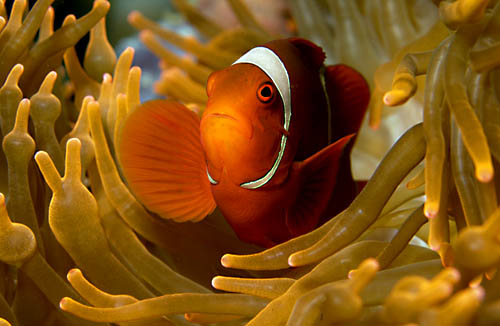 Spinecheeked Anemonefish, Micro-Nikkor 105mm

Progressing along the reef, I photographed a pair of fire dartfish, doing just what their name suggests, quickly darting to and fro in the current, and when startled diving into a small hole in the coral, trying hard to frustrate my photographic intentions.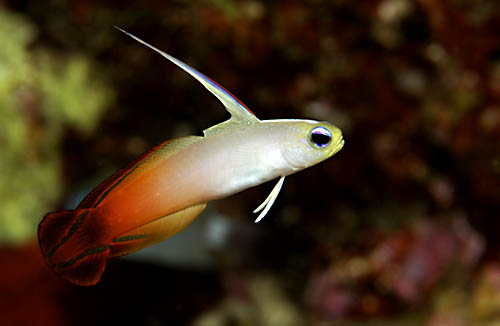 Fire Dartfish, Micro-Nikkor 105mm
I finished the dive at Anemone Patches drifting among a large school of gold lined sea bream that were slowly swimming back and forth along the reef.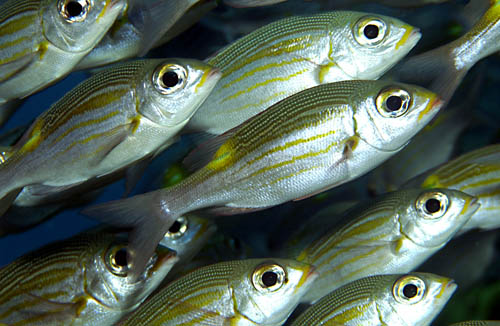 Gold Lined Sea Bream, Micro-Nikkor 105mm
While the travel to and from Kavieng PNG was a challenge, my ten days of diving in the area easily lived up to my high pre-trip expectations. I was also very pleased with the functionality and ergonomics of my Seacam underwater housing and the image quality provided by the Nikon D1X camera. After viewing these images, I hope you'll agree.