"Burano" Fresh Colors at Venice, Italy
<c>Tom Nicastri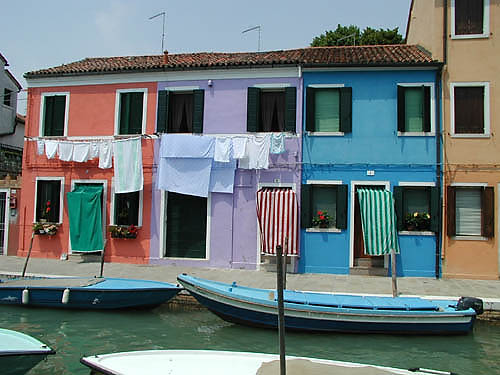 After many hours of discussion my true love convinced me a bicycle tour in Italy would be a pleasing change from our usual vacations. We would also spend time after the bicycle tour roaming Tuscany and ending up in Venice. Having been infected by the digital photo bug last year, I decided to test my commitment to my new hobby by leaving the "analog" film gear home. Italy was going be my first digital vacation and I was feeling a little unconfident about my battery, and memory needs. A few clicks of the mouse and I found MaHa Energy. Their engineer convinced me this was the perfect solution to my needs. The conservatively rated 1500ma batteries and companion rapid recharger will charge 4 dead AA's in 3 hours and if they have some live in them can recharge them in ONE hour! Perfect for me! I ordered 16 batteries and the charger. The charger is nicely constructed. It also has a battery condition mode and works great. It will charge 2 or 4 batteries. Be advised the batteries are almost too hot to handle after they are rapid charged. As it turned out I never drained a set of MaHa's in a day. Two sets of these batteries would have been plenty of energy with insurance. But I did not mind having additional extras in case I missed a chance to recharge. The batteries and charger far exceeded my expectations and were perfect. In Italy I needed to use a power converter to step down the 220 volts to 110 the USA uses.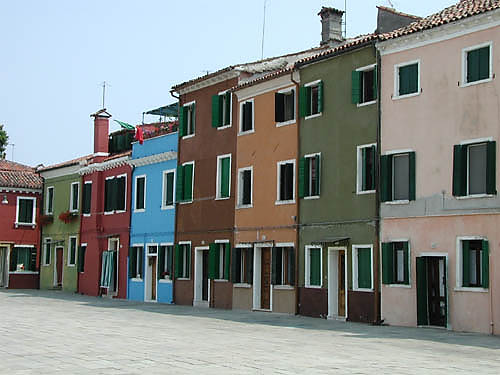 To figure out my memory needs I sat with notes from past vacations and a calculator for quite a while. I suffer from "hi resolution" syndrome and quickly ordered more memory, and more memory. I ran out of money at 344 meg of smart media memory. At my preferred resolution I would only fit about 340 photos on the memory. I found a compromise resolution and calculated 750 photos would fit. That would average out to 44 photos a day on our 17-day trip. I was set. One other piece of equipment that was always with me was a Bogen mini tripod. It was worth its weight in gold. I would have liked a larger tripod but was limited to what I could carry. I used the tripod continuously on indoor photographs.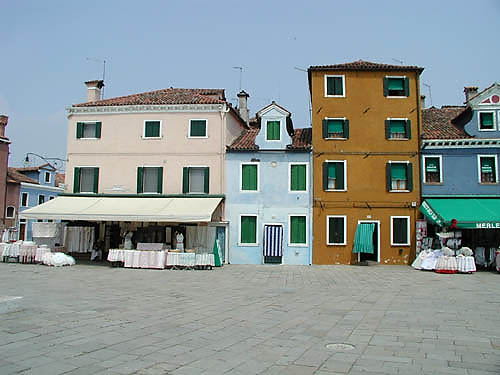 You don't want to miss the ceilings in Italy! Use a tripod or just lay the camera on the floor. They are spectacular! The Vatican has 7 km of art in its museum. You will need a small tripod. If there is interest I will post some of the indoor shots and shots of our Tuscany bicycle tour. Burano an island in Venice is a wonderful place to shoot photos on a summer afternoon. The colors of the houses give the island a unique flavor (so does the gelato). Burano is noted for its lace manufactering but I loved the houses and quiet afternoons. Shot July 2nd while on vacation in Italy using an Olympus 3030. I regretted not having a full size tripod with me as a composition tool! I shot all 750 photos in Italy and finished my last frame on the plane flight back to home. While I captured everything I wanted I could have used two or three times the digital film. In Rome, Florence. Tuscany and Venice your can't have too much film (especially once the Chianti starts to flow). The food is so delicious you will want to photograph every dish!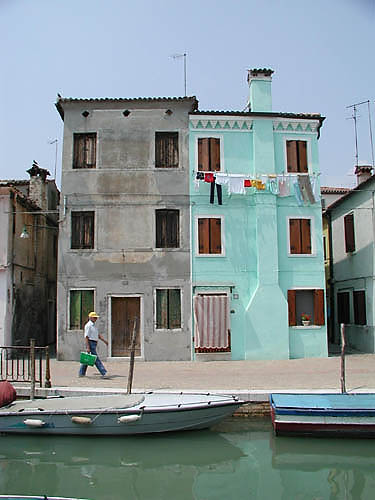 Technical Details
Olympus 3030