I have just released my third "Print of the Month" special offer. This month's photograph is a 10"x 20" panorama (matted size) of one of my favorite images: "Clearing Spring Storm over Canyon De Chelly"
created in the Spring of 1997 shortly after I moved to Canyon de Chelly on the Navajo Reservation. I like this image so much that I have a 60x25 panorama of it hanging over my desk: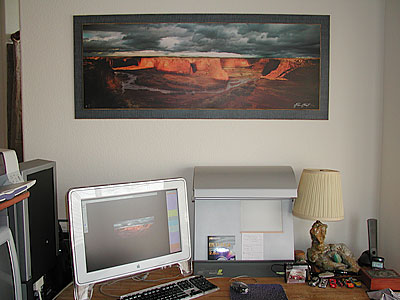 This piece is truly spectacular and displays an exquisite print quality.
I created this image shortly after moving to Chinle, Canyon de Chelly, on the Navajo Reservation in 1997. Tsegi overlook, where the photograph was taken, was only 10 minutes from my house. I was on my way to pick up my wife, Natalie, after work when I noticed the dramatic clouds. I realized that if the sun came out a truly incredible lighting effect would take place. I immediately decided to drive the short distance to the rim of Canyon de Chelly and wait and see if the sun was going to appear.
I waited perhaps half an hour until the sun broke through the clouds. What I witnessed then remains one of the most incredible scenes I have ever seen. "Clearing Spring Storm over Canyon De Chelly" is the result and this image explains what I saw better than any text I can write. I took a number of photographs and the best one was the second or third one. Before that there was not out enough sunlight. Afterwards there was too much sunlight. The best photograph was just in between, when the light and the shadows were evenly balanced creating tension and beauty at the same time and making me deeply aware of the utterly temporary nature of Natural light at transitional times when storms are moving away.
This image is very difficult to print because of its high contrast. It is therefore a challenge to create a print which shows what I saw and felt when I photographed this scene. For years I attempted to print this image with unsatisfactory results. It wasn't until last year (5 years after I took the photograph), and until I started working with the 9600, that I created a print which truly satisfies me.
The image is printed on Epson Glossy Photo Weight Paper which gives it a brilliant and beautifully textured appearance. It is double matted in a Desert Sand and Espresso mat and signed by hand, in
pencil, on the bottom right side of the mat. Truly a unique piece worth adding to your collection. Just like the two other print of the month offers this price will not be repeated. Note that this piece is considerably larger (6 inches longer) than an 11x14, the size of the previous "Prints of the Month." The panoramic size is also very convenient to display as it can fit into many places where a traditional frame would not fit. Finally, 10x20 is a standard frame size, available in stores such as Michael's and many other, meaning you will not need to get custom framing.
As always your purchase comes with my 100% money back guarantee "take one year to decide" protection. Should you not like your purchase for any reason you can either return it for an exchange or get your money back (less shipping).
I am sure you will like this print so much that I have no doubt it will become a family heirloom as well as a proud addition to your photographic collection.
P.S.
Please keep in mind, as you undoubtedly know, that the web cannot do justice to a fine print like this one. The web can only convey so much in terms of print quality. There is simply no substitute for a
fine print as these emails from two of my "Print of the Month" customers show:
"I just got the photograph and I think that it is amazing, so much better than on the screen specially if you light it up correctly with a spotlight. It looks so good that it is always mistaken by my
friends to be a painting !! and when I tell them that it is a photograph they cannot believe it." ChandraSekhar Venkatraman, Austin, Texas.
"I received your print last week and just want to say: WOW! Yes, it is breathtaking. I get some ooohs and ahhs from some of the work I print with my Epson 1200, but your print was awesome. Keep up the good work. Thanks for running the special to entice some of us to sample what is possible with current technology, skill, and a strong dedication to excellence. From the matting to the packaging it was a first class job." Carl Fountain, Lakewood, California.