I am pleased to announce my fifth Print of the Month. The May 2003 image is titled "Sunset From Yavapai Point, Grand Canyon National Park." This is a very exciting image from one of my favorite places, the Grand Canyon.

I have photographed the Grand Canyon since 1983. I have also exhibited my work at the Grand Canyon since 1997. It is one of the areas I have photographed the most. I feel intimately connected with the Grand Canyon. Each time I return to it I am amazed at its vastness, its grandeur and its beauty.

For years I wondered why I never get tired of admiring the Grand Canyon. One morning while peering into the abyss waiting to open my gallery at the El Tovar I finally found the answer to this question. The Grand Canyon is so vast that each visit, each new look into this natural wonder, reveals something about it which I have not seen before. It may be a butte which, so far, had eluded me. Or a certain hue on a cliff which so far I had not noticed. It may be a clump of trees, way across the river in a side canyon, only visible through high-power binoculars, whose presence reveals the existence of a nearby spring in an apparently dry area. It may be a cave in the sheer Red Wall formation which so far I didnÕt know about. It may be the realization that a particular formation, which I assumed to be part of the North Rim, actually stands by itself, several miles away from the North Rim. It can be a thousand other things, some of them still to reveal themselves to me. I stand in awe in front of such complexity, such intricate construction, such immensity.

This month's photograph is one of my very favorites. It was created from Yavapai Point, on the South rim, at sunset. More than sunset it is almost dusk, since in this image I captured the very last light of the sun. In fact, after taking this photograph, I turned the film holder around to make a second exposure, looked at the landscape, and the sun was gone. The light on O'Neil butte, the glowing red butte in the foreground, was gone. The scene was starting to fade into darkness. The magical moment captured in this image, a moment were everything is right, was over.

This image is offered in a panoramic format, 10"x20" mat size, beautifully matted and hand signed As with each Print of the Month photograph this collector's item is offered at a uniquely attractive price.

And, for the first time in the Print of the Month special offer, this photograph is offered not only matted and matted and framed but also presented in my new and revolutionary Museum Collection presentation. This is a brand new process that I just started using to present my work. It is so new that I do not have it yet on my web site. In fact, at this time this presentation is only available through galleries which represent me and through the Print of the Month special offer.

So what exactly is my Museum Collection? It consists of a selected number of pieces mounted and framed with a unique process. Through this process each photograph -printed on Luster paper on the 9600 with Ultrachrome inks- is mounted onto a rigid wooden base and then protected with a waterproof and ultraviolet-filtering film. This wooden base is then mounted onto a second wooden support, 4 inches wider than the photograph, thus providing the piece with a 2" border all around the edges. This second wooden support has a Black Marble finish to it while the trim all around the edges of the piece has a Golden Oak finish. The result is spectacular.

This unique and revolutionary mounting process offers four unique benefits:

First, although the piece is ready to hang or display no glass is used. This means that no matter where you decide to display your artwork you will never have any reflections preventing you from admiring it.

Second, no glass means no glass to break and nothing to worry about if you move or transport the piece.

Third, the finish on the photograph is waterproof meaning it cannot be damaged by water and can be cleaned simply with a soft and damp cloth.

Fourth, the waterproof finish also works as an ultraviolet filter. 80% of all ultraviolet light is filtered away from the print effectively multiplying the lifetime of the piece before any noticeable fading occurs by a factor of 2 to 4. Since Ultrachrome inks have been tested to have approximately a 70 year life span before noticeable fading occurs the addition of a UV filter increases this life span to 140 years or 210 years! In fact, I am so confident in the ability of this piece to resist fading that I give you a fading warranty on it! If the print on any of my Museum Collection fades while you own it I will replace your piece at no cost to you! This is a unique warranty and to my knowledge nobody else in landscape photography offers a similar warranty.

To keep with the Print of the Month spirit I am offering you a unique and attractive price on both the matted, the matted and framed version and the Museum Presentation version of "Sunset From Yavapai Point, Grand Canyon National Park."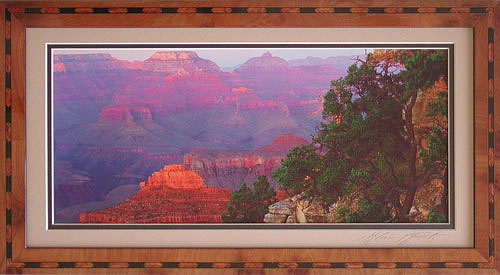 Framed version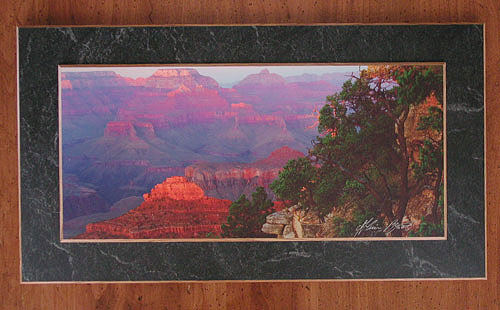 Museum Collection
My regular price for 10x20 matted photographs is $95. Your print of the month price is only $75, a saving of $20! My regular price for a framed 10x20 photograph is $245. Your print of the Month price is only $205, a saving of $40! My regular price for a 10x20 (14x24 mounted size) Museum Collection piece is $325. Your print of the month price is an unbelievable $285!