I am pleased to announce my Sixth Print of the Month. This month's image is titled "Eternal Presence." For the first time in the Print of the Month collection it is offered as a limited edition of only 100 photographs.

The Location

Antelope Canyon is one of the most fascinating places I know of anywhere in the world. I like it so much that I must have been there well over 100 times. I know, this sounds unbelievable. It isn't. The first time I explored Antelope Canyon was in 1986 and since then I have been there an average of 5 or 10 times a year.

Yes, the first time I went to Antelope Canyon was 17 years ago! Back then going to Antelope was a very different endeavor than it is today. There were no signs, no brochures, no guides to take you there or tell you how to find the canyon. All I had to go by were a couple of photographs, each creatively labeled with names such as "The Corkscrew", "Jodi Canyon", or "The Crack". The location was most often listed as "Lake Powell". With such vague notions to go by the fact I found Antelope Canyon at all is remarkable.

My first Visit

What I went with to find Antelope Canyon, back in 1986, was the name. I asked friends about the photographs I had seen and they mentioned the name "Antelope Canyon" without any further details about the exact location. I lived in Flagstaff then, and Antelope Canyon was part of the local culture. "Desert Rats", --river runners, hikers, ruins and rock-art explorers, etc.-- knew about it. However, revealing the exact location was another story. At best they would take you there. At worst they would say nothing. I fell somewhere in between: I got the name.

If this name was accurate it had to be on a map. Since the location was "Lake Powell", a location which was vague but which encompassed a specific region, looking at a map of lake Powell was the solution. This was easy enough. Since I had seen the highest concentration of Antelope Canyon photographs near Page, Arizona, I started studying the map in the vicinity of Page.

The answer was right there in front of me. Antelope Canyon was only a few miles North-East of Page. I drove there, parked my car where the road passed over a wash, and started exploring. A few minutes later I was staring into a deep, dark and narrow crevice. After some time walking along the rim, trying to find a way down, I managed to squeeze myself into the slot. I had no ropes on this first visit and could only explore the shallower parts of Antelope Canyon. The first serious drop-off stopped my progress.

Antelope Canyon today

The photographs I brought back from this first visit pale in comparison to what I can do now. However, to me they were marvelous and they entranced me to come back. I returned better equipped, accompanied by friends equipped with ropes and climbing gear. It also motivated me to start a time-consuming, although futile, search for another Antelope Canyon. This search was motivated by the belief that if Antelope was so beautiful and yet so easy to find there must be another canyon, or many other canyons, just like it and many better. It was only a matter of finding them. 17 years and many slot canyons later I still have not found this "other" Antelope Canyon. Perhaps there is one. Perhaps Antelope Canyon is the best one: a one-of -a-kind, world-class wonder. Certainly there are many other slot canyons. I know, I have explored many of them. But none have the beauty, the splendor, the unique quality of Antelope. Do I regret the time I spent searching for another Antelope Canyon? Not at all. This search taught me how unique Antelope Canyon really is.

Today, going to Antelope Canyon is as simple as driving to the booth where Navajo guides issue permits all day long. You can ask them to accompany you into the canyon or they will give you easy directions on how to get it there by yourself. Metal ladders have replaced the ropes and anchors we installed. Time-limits control how long photographers can spend in Antelope. There are arguments whether these changes are for the best or for the worst. Personally, I prefer the way it was before. But I know that managing Antelope Canyon is a must given how many people come to see it. Antelope is a very small place, a place where only a few visitors can go through at a time. Without proper management it will have to be closed.

The Photograph

The image I am offering this month was taken in the early summer of 2000. I used my Linhof 4x5 Master Teknica, Fuji Provia 100F and my Schneider 47mm XL lens with the dedicated center filter. The 47XL is an incredible lens: one of the widest lenses available for 4x5, one of the sharpest, and one with the widest coverage (XL stands for "extra large lens coverage"). In 35mm the equivalent would be an 18mm or a 21mm lens.

Using such a lens is a challenge because of the very low light level on the ground glass. Although this is an f4.5 lens, just about the widest maximum aperture you can find for 4x5, it is quite dark, especially in the corners due to extreme light fall off at the corners of the image. The center filer, which is basically a circular graduated neutral density filter, remedies to that when the photograph is taken. However, this filter has to be removed for composition because with it on you can hardly see anything on the ground glass.

As with many aspects of 4x5, experience is the key to using this lens properly. It did take me a while (and a certain number of errors) but once I became confident with it I realized I couldn't live without it. The possibilities it opens, either in confined places or with wide vistas, are just unmatched by any other lens.

But there is more to this image than just technique. This arch has been one of the most fascinating locations in Antelope Canyon since my early visits. In fact the first time I could only look at it from the rim because I didnÕt have the necessary gear to go down into that part of the canyon. During further trips I tried to capture its beauty and "essence" each time I visited Antelope but each time something was missing: I was there too early or too late in the day (or at the wrong time of the year). The light level was sometimes too low, making the arch and the canyon dark and somber. Sometimes Òhot spotsÓ, (areas of the photograph where direct light is visible) marred the image by washing out all details from the canyon walls. Sometimes I didn't have a lens wide enough to encompass the entirety of the scene.

This image is my favorite of the arch so far. It may remain a favorite for a long time because the number of people visiting Antelope Canyon these days is making it difficult to take 4x5 photographs. To take this image it is necessary to set up the tripod in a very narrow part of the canyon, where everyone has to go through. Since relatively long exposures are necessary, sometimes up to 15 or 30 minutes, stopping "traffic" for this long is becoming less and less possible. Other visitors want to go through, and the Navajos managing the canyon are asking photographers to stay in one spot not for very long.

The Print

For the first time in the Print of the Month special offer I am offering this image in a limited edition of only 100 images. Each photograph is signed -- and numbered-- individually by myself.

This is also the largest Print of the Month so far. The matted size of this image is 16"x20". Why this size? Because I wanted to offer it to you both framed and unframed, and I only have a few sizes of inlaid frames left: 10x20, 16x20 and 18x24.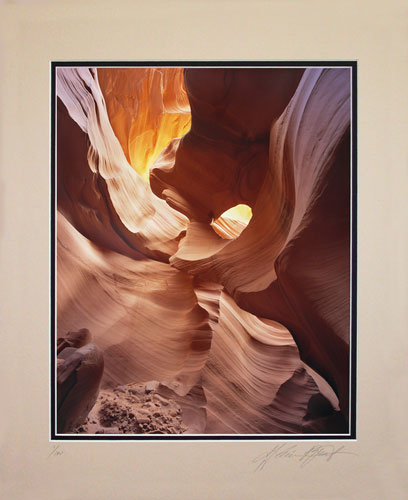 This photograph is printed on Epson Enhanced Matte Paper with Matte Black ink on my Epson 9600 printer. It is dry mounted, to insure complete flatness, an important consideration with a print of this size. The finished piece is available matted or matted and framed. All matting and framing is done to Museum Standards using only archival materials. Framed photographs come with paper backing (which acts as a dust barrier) and with a certification label. This label indicates the edition number, the date your photographs was framed, the title, my name and my contact information.
All purchases are covered by my 100% "take one year to decide" money back guarantee. If you are not satisfied with your purchase for any reason just return it (in original condition) for a refund or credit.
To keep with the Print of the Month spirit I am offering you a unique price on both the matted and the matted and framed version of "Eternal Presence".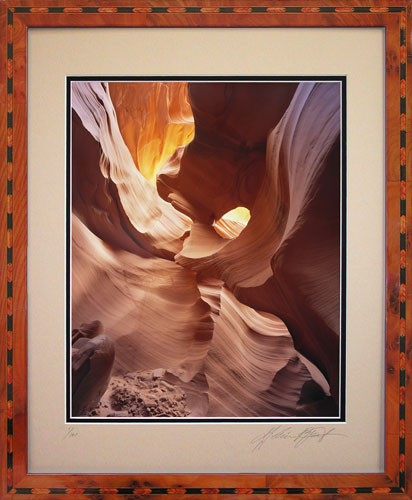 My regular price for a limited edition, signed and numbered),16x20 matted photographs is $170. Your print of the month price is only $125 a saving of $45! My regular price for a limited edition, signed and numbered, framed and matted 16x20 photograph is $315. Your print of the Month price is only $255, a saving of $60!