Digital Printmaking
Bettina & Uwe's Print of the Month 08/2003
Earth Frame #23 (Chagall)


by Bettina & Uwe Steinmueller (8/10/2003)
Special Offer Expires 9/10/2003
This is our third photo of the month.
Have also a look at our current portfolio.
About the Photo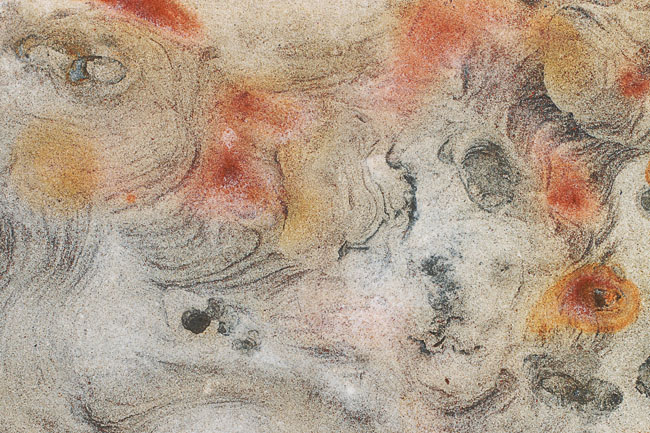 Earth Frame #23 (recently presented in Palo Alto's Pacific Art League)

The photo is part of our new abstract Earth Frame series and we call it our "Chagall".

The actual photo was taken at Point Lobos in 2003 with our Canon EOS 10D. There was some work in Photoshop involved like cropping and local contrast/saturation enhancements, but no other changes were made.
The offered Print
The print is made on Epson Archival Matte paper (13x19") with our Epson 7600 (using the matte black ink and own custom profiles). The print will be signed on the paper (not matted or framed).
Print Sizes:
+shipping and tax if shipped to California
Here you find our current price list.
Special Offer Expires 9/10/2003
Order Now
a) by PayPal
Unmatted and Unframed 12x8" print size
i

n the US $65 + $10 shipping = $75 (USA, outside California)
in the US $71.19 + $10 shipping = $81.19 (California only)
International $65 + $18 shipping = $83
Unmatted and Unframed 15x10" print size
in the US $95 + $10 shipping = $105 (USA, outside California)
in the US $103.66 + $10 shipping = $113.66 (California only)
International $95 + $18 shipping = $113
b) by mail & check (no credit cards yet)
Send a check about
12x8" print size
$75 (shipped to the US, but outside of California)
$75 + Tax $6.19 = $81.19 (shipped to California)
$83 (shipped international)
15x10" print size
$105 (shipped to the US, but outside of California)
$105 + Tax $8.66 = $113.66 (shipped to California)
$113 (shipped international)
Uwe Steinmueller
P.O. Box 24724
San Jose, CA 95154-4724