Canon 100~400mm IS Zoom Lens
Experience Report
by Bettina & Uwe Steinmueller
last updated 11/19/2000
Just one week ago I got the brand new Nikon VR 80-400 lens. This was the answer of Nikon to this famous Canon 100~400mm IS Zoom lens (and still Canon leads having many lenses using their image stabilization technology). The only lens we used with the D30 for the last three weeks was the EF28-135 F3.5-5.6 IS USM and it made a very good impression.
As so often we started in the Vasona Park. Please don't misunderstand that park as just our test ground. We love to be here and also all birds we meet. Often we have a walk without any cameras (ok, not that often anymore).
When I read the first time about this lens at www.luminous-landscape.com by Michael Reichmann I wanted to get hands on one of these lenses. You can imagine how excited I was to be able to compare it to the Nikon VR lens. We know that the D30 delivers very good results so it should be some nice combination.
Coming home we were first disappointed by the results until we realized that all these too soft photos were taken with 5.6@400mm. This lens is really soft at this setting. If we would have known that we could have avoided the 5.6 setting at all. This sounds very negative but read on. If you avoid f/5.6 the lens shines.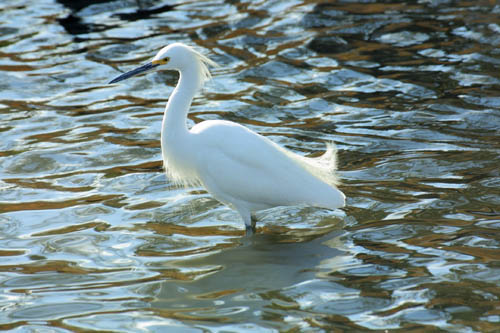 This is one of the best Snowy Egret shots we ever made. We also love the photographs of the Night Herons a lot. Try to photograph a white bird and you will realize how difficult that is (by the way not only with digital cameras).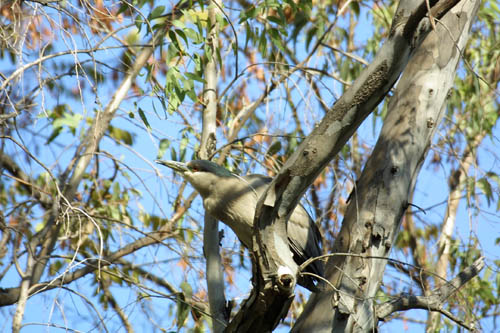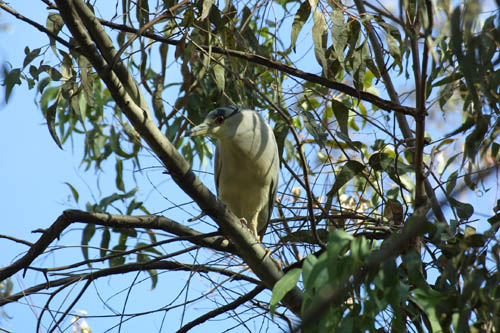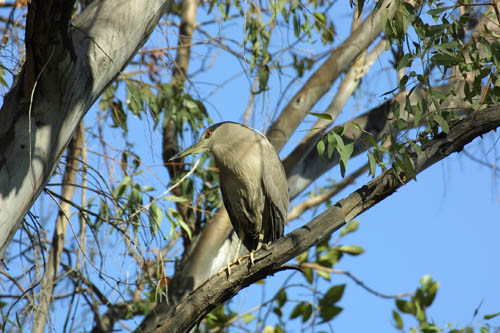 Rule: If you avoid f/5.6@400mm you get great results with the D30/100~400mm IS Zoom combination. As it is an image stabilized lens it is better to have a longer shutter speed than to use f/5.6. Please understand that we are really very pleased with the results once we learned this rule: no f/5.6@400mm! We love the results that much that we not even plan to publish some of the photos in full resolution to protect our copyright.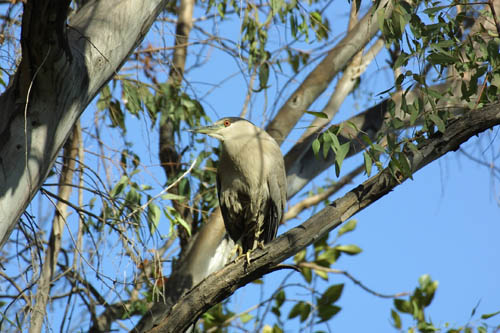 400mm~600mm with D30, Exposure: 1/250 sec - F/9.5
As we did some tests with the Nikon VR lens and had the Canon IS 100-400mm available we made the same test sequence with this lens.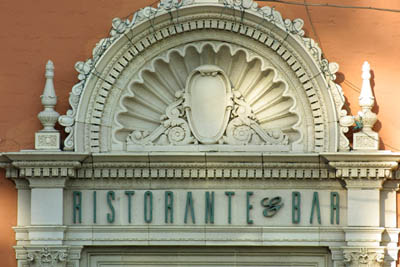 The following are crops from the sample photos. All shot were handheld (normally I would use my monopod). The full scaled photos can be found here (the camera setting is code into the filename (56_500 is f/5.6 and 1/500, all shots were ISO 200)
| | |
| --- | --- |
| | |
| 400mm, Exposure: 1/350 sec - F/5.6 | 400mm, Exposure: 1/250 sec - F/6.7 |
| | |
| 400mm, Exposure: 1/125sec - F/9.5 | 400mm, Exposure: 1/60 sec - F/13.0 |
| | |
| 400mm, Exposure: 1/30 sec - F/19.0 | 400mm, Exposure: 1/15 sec - F/22.0 |
This test verifies what I got from the other photos too. The lens with 5.6 @ 400mm is too soft. Then with 6.7 it gets better and over 8.0 the lens shines. Image stabilization gets solid results down to 1/125 then as expected the photos get increasingly blurred.
In the San Jose Zoo we ensured that the minimum apperture of the 100~400mm IS Zoom was never below f/8.0 and all photos came out very sharp.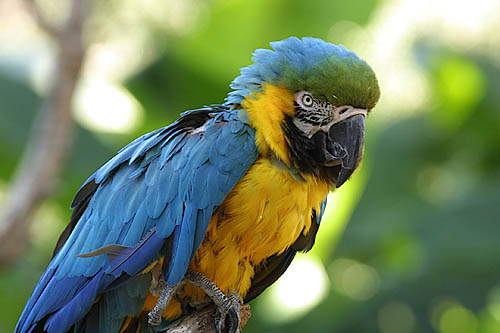 275mm~330mm with D30, Exposure: 1/45 sec - F/8.0
We think that the quality of the above photo is amazing at /45 sec shutter speed.
Conclusion
This is a great lens in combination with the D30 once you follow our guidelines. We now understand why Michael Reichmann loves this lens.