If you know Capture 2 you feel at home with Capture 3 even if the UI looks a bit different and got some improvements.
So read our review about Capture 2 which describes most of the functionality. This review can be brief and focus on some noteworthy changes.
Installation
You have to uninstall Capture 2 which is first annoying and second makes comparisons hard.
Performance
Paul Caldwell found the interpolation improved as he sees fewer "jaggies".
Noise Filter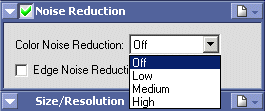 The first time Capture provides a user selectable noise reduction tool. Capture 1/2 did only noise reduction behind the scene without user control. As we ourselves only use low ISO photos we rarely make use of noise reduction. Once we (or probably more likely Paul) get new insights about the effectiveness we will keep our readers updated.
Saturation Correction
Capture 3 allows you to lower the saturation (values 0-9). We find the saturation OK most of the time and did not use this tool so far.