Piezography B&W Printing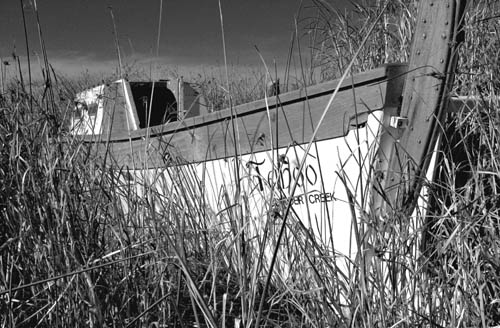 Experience report by Uwe Steinmueller (03/20/2001)
It was always my dream to photograph Venice in Italy (one of the most colorful places in the world) in black&white. Black&white photographs allow to capture the abstract graphics of our world.
When I started using only digital cameras I thought that digital (especially printing) would hardly be able to compete with good B&W photos. Although I read reviews about Jon Cone's Piezography BW technique it needed a visit at his company's booth at PMA 2001 to be convinced.
Making your own high quality B&W prints in your own digital darkroom was never easier than today. All it takes is an Epson printer (like Epson's 1200) and new B&W inks. This would be enough in theory but Jon Cone got some step further and even added a new Photoshop plug-in for enhanced B&W printing.
Let us discuss the requirements step by step (for even more information look a www.inkjetmall.com)
1.

Printers

: EPSON 750, 760, 800, 850, 860, 1160, 1200, 1520, 3000, 7000. You might ask why not the latest Epson models like 1270/80. These printers have a chip inside the cartridges to prevent the use of third party inks. Fortunately the Epson 1200 was already an excellent printer. And now you can get a refurbished Epson 1200 easily at eBay for about $220-$280.
2.

Inks

: Piezography BW carbon pigment based and waterproof inks are available for all the printers listed above
3.

Software

: When you start using the Piezography BW system you also need the Photoshop plug-in. The software creates a virtually dotless high resolution pattern.
4.

Cleaning Kit

: to clean the printer from the old dye based inks.
5.

Papers

: There are many different paper types supported by the Piezography BW inks and software
Setting up the printer
After cleaning the printer using the cleaning kit and installing the new Piezography BW inks the printer is ready for B&W printing. There can be sometimes trouble with clogging which can be related to the printer itself of improper flow of ink.
Creating B&W from color photos
The nice thing about the brave new digital world is that you can transform color photos to black&white. But how to get the best results will be up to your taste and experience. There are many ways to do this in Photoshop:
Desaturate tool (probably the least creative way)
Using the Channel Mixer (with endless and time consuming possibilities)
Using special B&W plug-ins like SilverOxide
It is then also needed to play with the Brightness/Contrast tool as B&W photos (especially with the Piezography system) can handle a lot of contrast.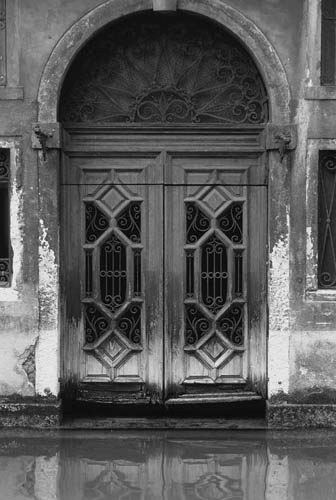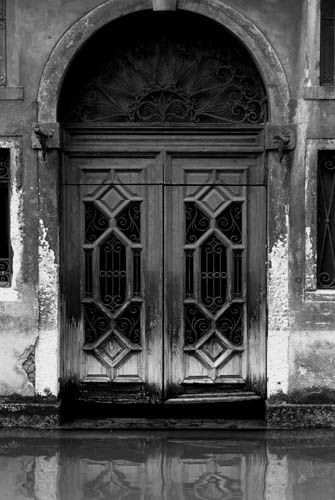 The above photos show two variations which both produce good results. I prefer the darker version with more contrast. The Piezography manual describes how you can set up the color management in Photoshop for gray scale photos to get quite a good preview on the screen about the final prints.
Printing with the Piezography plug-in
Once you have your BW photo ready and properly resized (we used 360DPI) the printing is done via the Piezography plug-in and not using the usual printer command.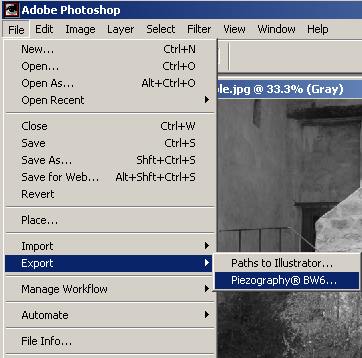 The plug-in can be found under "File -> Export -> Piezography BW". This then launches the Piezography printing dialog.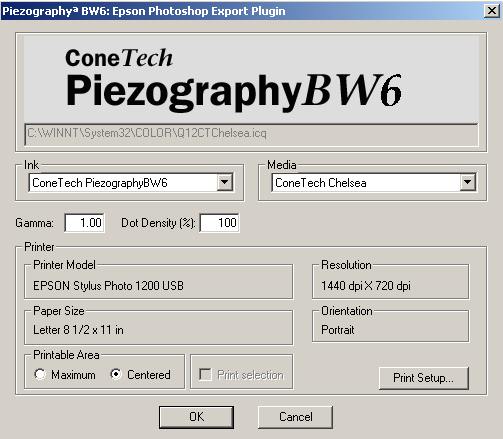 Here we only selected the right media type (it then selects automatically the right profile for that media selection) and also set up the printer (orientation + other settings described in the Piezography manual). Then hitting "OK" starts printing.
Results
The results are very, very good. It is more a problem to get mentally(*) into B&W mode than the technique itself. There are just too many possibilities. But once you know how your screen matches the prints there will be no guesswork anymore.
I would love to play around for days if time & money would be no issue. Using the the Piezography BW system is pure B&W fun and concentrating again on color photos is quite difficult right now.
On our next trip to Venice we will photograph in color and still fulfill my dreams of Venice in B&W.
(*) "Mentally in B&W mode". For me B&W is a completely different thinking and I cannot easily switch from color to B&W or vice versa.