1-Introduction
Are you satisfied with the quality of your inkjet black and white prints? If your answer is no you came to the right place and help is on its way. What follows may just be what the doctor ordered.
Many photographers who print in black and white are demanding users for whom RIPs and good profiles, even custom profiles, are not enough to satisfy them. They want more. What more? They want to control what their inkjet printer does. They are perfectionists for whom only the utmost level of control will do. If this sounds like what you are looking for, or if you find this concept intriguing, I believe you are going to love this article. Furthermore, it will most likely point the way to better black and white inkjet prints. How much better can it get?
We all know that the Epson driver, at least until now and before the release of Epson's K-3 line of inkjet printers, was woefully inadequate at providing neutral (let alone "good") black and white prints. Things may change with the latest generation of Epson printers. However, this is hard to say since at the time I am writing this I have not tested the black and white printing capabilities of these new printers yet.
At any rate, even if Epson K3 printers leave nothing to be desired in terms of control and black and white print quality (something that remains to be seen) tens of thousands of pre-K3 Epson printers will still be in use and for these a fine art black and white printing solution will continue to be necessary.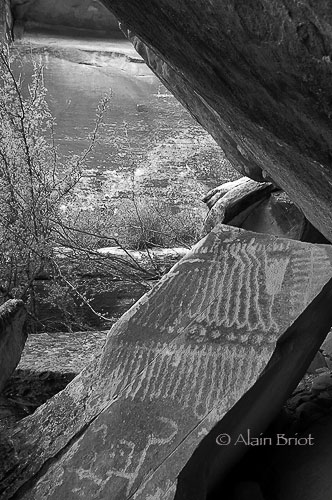 Hanlibinkya
Taken in a remote area of Northeastern Arizona, Black and White proved to be the way to print this image in order to express how I felt when I photographed this scene. Originally captured in color and converted to a black and white file with B&W Darkroom Pro, this image prints beautifully with the Inkjet Control and Inkjet Print Maker combination.

2-Introducing Inkjet Control
Introducing Inkjet Control, the solution you have been waiting for. Released in March 2003 Inkjet Control actually consists of two applications: Inkjet Control (IJC afterwards) and Open Print Maker (OPM afterwards). IJC is used for building the paper profiles and OPM is used for printing your photographs.
OPM is what is sometimes referred to as a "one up" printing application. It is not a RIP in that it only allows you to import the image to be printed, center it (or, otherwise, place the image), select a profile (or blend two profiles in varying percentages), and print.
IJC on the other hand is where most of the action takes place. IJC has a tremendous advantage over other black and white printing solutions (such as the very nice QuadTone RIP): it allows for manual tone editing. It also allows you to turn off one or several specific print heads so they do not fire at all. This is a very interesting feature that does wonder to eliminate metamerism from your prints. Since metamerism is mostly caused by yellow ink, not having the yellow print head fire means reducing or eliminating metamerism. IJC comes with several profiles which do just that, profiles that tell the printer to not use any yellow whatsoever.
3-Control the flow of ink
You can also control how much ink each print head lays down onto the paper, via a drop down menu in IJC, by selecting a number from 1 (hardly any ink) to 26 (maximum ink). You can also recharacterize each print head as a specific ink color or shade of gray. Finally, you can edit the ink curve directly, much like you would work in Curves in Photoshop, for the ultimate control.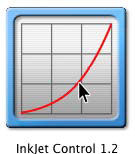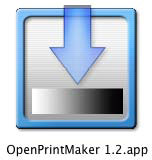 IJC and OPM Icons
3-Make your own profiles in Inkjet Control
Making your own custom printer and paper profiles is what IJC is all about. Think of IJC Profiles as "recipes" that enable you to customize and control results from your specific printer, ink set and paper combination. IJC creates 16 bit profiles can be modified within IJC Ink Tweaks Window. There is one spline for every active print head and ink channel.
Using the drop-down starter ink shapes you can select where an ink starts, where it ends and how much of it to use. You don't have to be an expert in designing ink curves to get more out of your inkjet printer than you ever thought possible. What IJC does is give you control over your inkjet printer by allowing you to control each print head separately in a very sophisticated manner.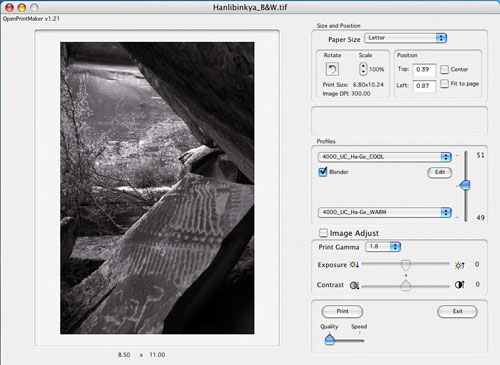 The Open Print Maker dialog box for the Macintosh OS X version
4-Linearize your printers
Linearization is an Inkjet Control™ Feature that can be used to smooth out the "bumps" in a profile curve as well as allow you to get similar prints on different printers. For example you can Linearize Profiles for an Epson 2200 and Epson 9600 to produce almost identical prints. Linearization also allows you to update a profile when a variable has changed, such as when using a different paper or printer.
Linearizing a profile is done by normalizing the intervals of a 26-Step Grayscale. To linearize a profile you have to use either a densitometer (the best approach) or a scanner (less precise but doable) to measure each patch of grey and enter each measured value in the Linearization Window of IJC. The software automates the process once you have entered each value.
5-Blend Curves
Two profiles can be blended together using the "Blender' feature in IJC to achieve variations in hue and print tone. This feature, which is also found on other black and white printing software, is a very easy and efficient way to change the tone of a print without having to create a new curve or modify an existing curve. Once you have neutral, cold and warm print tone curves just about any variation of color and tone can be achieved by blending two curves in various amounts.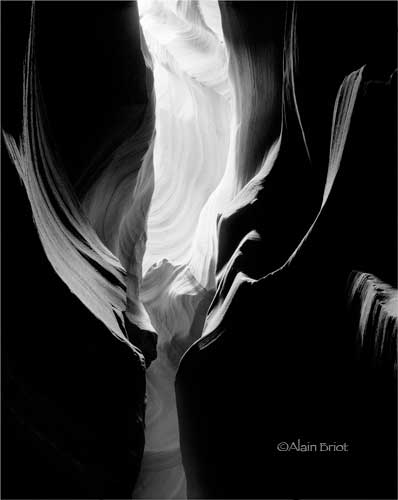 Antelope Canyon Black and White
My Navajoland Portfolio includes only one black and white photograph and it has to match the print quality of the 24 color photographs in the portfolio. I have
successfully printed it with both Quadtone Rip and Inkjet Control.
6-Supported Printers
At the time this article is written (June 2005) following Epson printers are supported by IJC: 860, 980, 1160, 3000, 1200, 1270, 1280, 1290, 2100, 2200, 4000, 7000, 7500, 9000, 9500, 7600 and 9600 (some of these are European market models not available in the US)
7-Color printing
IJC/OPM does not print color. It only prints in Black and White.
8-Now what?
There are basically two ways to use IJC: you can use the profiles that come with the software and start printing right away. This will give you excellent black and white prints as well as a choice of warm, neutral or sepia tones together with the possibility of blending two profiles in various amounts to get a mix of two different tones.
However doing so will only let you scratch the surface of what IJC can really do. To go further and explore the full potential of IJC you will need to either modify or linearize one of the provided curves or create your own profiles from scratch. Doing so will allow you to create custom IJC curves for your specific printer and paper combination, use a specific inkset or mix of inksets, or again create entirely new curves to meet your exact needs or your visualization of a specific print quality.
An in-depth description of how to use all the features of IJC is beyond the goal of this article. What I want to do is introduce you to the main features and benefits of IJC. If you have read this far, and if you are getting more and more excited about what IJC can do for you, then it is time to get your own copy and start exploring the possibilities of this unique software package.
9-Purchasing IJC
IJC is available for both Macintosh OSX and Windows XP. At $250 it is a serious investment. However, if you are looking for complete control over the quality of your black and white prints this is the ultimate tool.
You can get IJC at this link:
http://www.bowhaus.com/services/IJCOPMmain.htm
10-Additional tutorials
There are a number of excellent tutorials on the IJC web site, at the link above.
In my estimate one of the best tutorial available so far is by Louis Dina.
---
Alain offers several tutorial CD's and a complete photography workshop program to help you reach the "next step with your photograhy. You can email Alain with your questions or comments at alain@beautiful-landscape.com.