The Art of RAW Conversion #002
"Capture One DSLR (C1) Experience Report"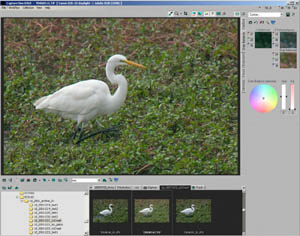 Review by

Uwe Steinmueller
3/29/2003 Capture One DSLR (C1) for Nikon & Mac
11/22/2002 Update: Final Realease V1.0 received
In our first note "RAW Converter Essentials" for the new series "Art of RAW Conversion" we classified the so called "Full Service RAW Converter". This is a RAW converter that performs all necessary tasks and only leaves final touches for Photoshop. PhaseOne's Capture One is clearly in this category.
Our expectations for Capture One were very high and here is why. The PhaseOne H20 single shot medium format digital back has a very good reputation for it's image quality. I also found at www.photosig.com photos by an excellent Russian photographer Vadim Piskaryov that were taken with the PhaseOne H20.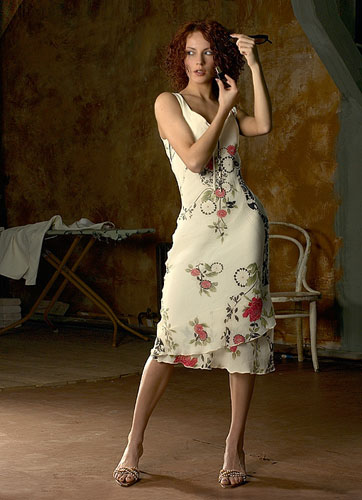 Courtesy Vadim Piskaryov
We had a brief dialog via email and he told me that he owns a Canon D60 but does all "serious" work with the PhaseOne H10 or H20. Because the RAW conversion software plays an important part in getting the best image quality this means that PhaseOne's software needs to be pretty good.
PhaseOne now wants also to support with their software professional digital SLRs. The first cameras supported are the Canon 1D and 1Ds (later also support for the Nikon pro SLRs are planned). Canon is supporting PhaseOne and this is the right move as the Canon RAW converter is far away from being a "Full Service RAW Converter". We review here a beta version for PC (Version 2.9 beta). A version for the Mac is announced for next year.
To do Capture One justice we probably needed to write a whole book. We will try to capture the main features of this software.
We have written a lot about workflow and that rarely the workflow really "flows". Capture One is an implementation of a RAW conversion workflow and is serious about the "flow".
Note: We cannot use 1Ds photos at this time as there is a Canon embargo till 11/22. That is why we only show 1D photos here but have used Capture One mainly with new 1Ds shots.
Capture One User Interface
Capture One in portrait mode
The user interface looks straight forward: Image Browser, Preview pane and the needed RAW operations. We hear some people already say that this is not really new. Be sure Capture One does things very different from your average RAW converter.
First you might realize that the above user interface is optimized for photos in portrait mode. What about photos in landscape mode? Just click F8!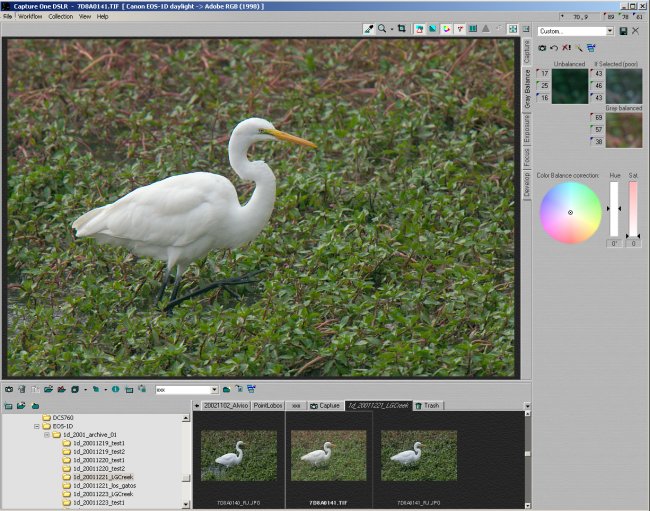 Capture One in landscape mode
Very clever and good use of valuable screen space.
Ok some people think an image browser is nothing exciting. Right, but Capture One does more. All photos of the collection (or directory) are processed to create preview images (happens in the background). Capture One works only with these preview images (5.4MB for 1Ds and 3.6MB for 1D) and simulates corrections with these previews.
What is the advantage?
All operations like white balance (WB) and exposure work in near realtime
A new image from the collection is in no time ready for edit
What is the catch? Capture One needs a lot of space for the preview cache (there is an option to clean the cache). This is the first strong indicator that Capture One is implemented to make the digital photographer more productive.
Color Management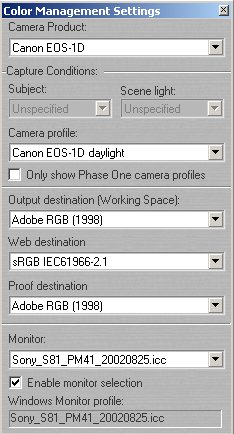 Color Management Setup
We normally would not even mention that Capture One fully supports color management if Canon would not fail with it's RAW converter. Capture One comes with some generic profiles for the 1D and 1Ds.
Image Corrections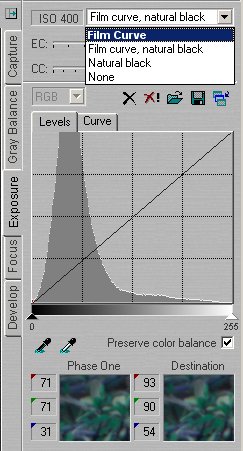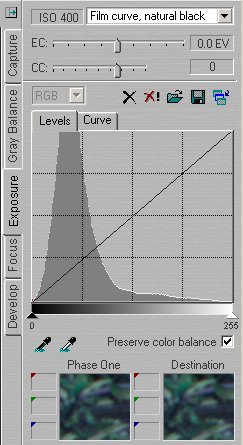 Exposure
The exposure control allows the correction of:
-1/+1EV correction
Contrast change
Selection of different tone curves
Of course changes are shown in realtime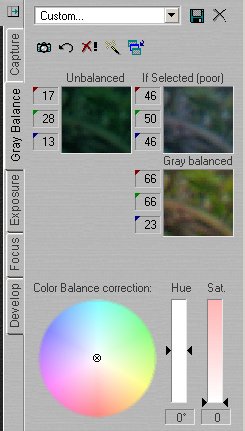 Gray Balance
The gray balance control works mainly with one click on a neutral element. Here are some highlights:
Indicator for the quality of the selected neutral selection
Excellent auto correction feature
Save/restore of settings
Did we mention realtime :-)
Capture One is mainly designed for studio photographers and they will photograph a gray card or color checker all the time. For nature photographers we would like to see an alternative WB correction in terms of color temperature or something equivalent. But that said the gray balance works very well.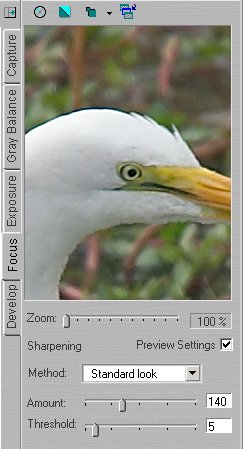 Focus == Sharpening
Sharpening

works like normal USM and does a good job.
Processing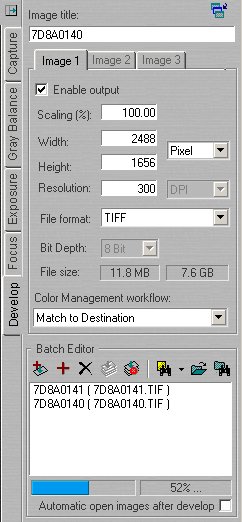 Development
Once you have done your corrections the image is ready for processing (development). The development works as batch processing. You think that is nothing really new as all the Canon or third party tools can do that. Yes, but the batch processing happens in the background and Capture One is available for the next image to be corrected.
Highlights:
Background batch processing
Optional up-sizing
That is what we call workflow! The processing is actually slower than with other tools but does also a more complex job (noise removal see later).
More features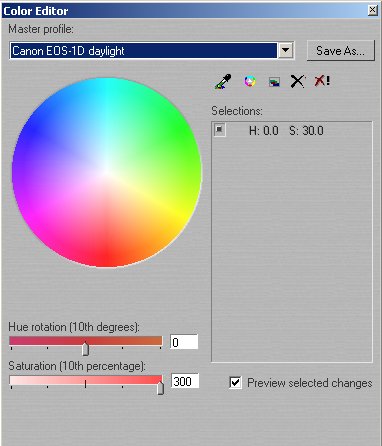 Color Editor
The color editor supports global and selective color corrections. Especially the saturation control allows very fine corrections. You also can save the settings as a modified profile which can be used instead of the standard profiles.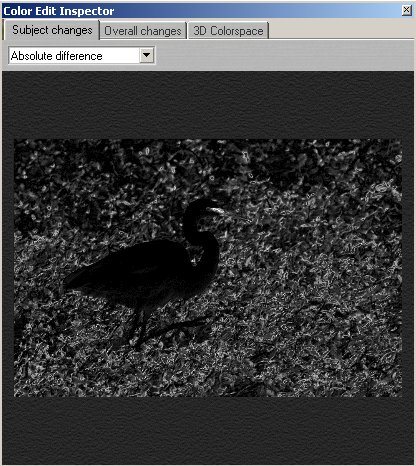 Color Editor Inspector
There is also a Color Inspector that shows the differences that these corrections make relative to the original.
There is More
Noise Removal
We have so far the impression that Capture One does a good job in terms of noise removal (even at low ISO) without losing detail.
Tethered Camera Operation
The PhaseOne backs all work tethered and so it is no surprise that Capture One supports the 1Ds and 1D in tethered mode (will have a closer look later)
Summary
How does Capture One perform in the areas we defined in our article "RAW Converter Essentials"
| | |
| --- | --- |
| Capture One DSLR Profile | |
| | |
| | |
| Responsibility | Capture One |
| | |
| Bayer Pattern interpolation | good |
| | |
| Apply Tone Curve | variable curves |
| | |
| Apply Camera Profile | yes (multiple predefined) |
| | |
| White Balance (WB) | very good |
| | |
| Exposure Compensation (EV) | excellent |
| | |
| Noise removal | very good |
| | |
| Artifact Removal (e.g. noise) | Removes moires (most of it) |
| | |
| Contrast and Brightness (Levels, Curves) | good |
| | |
| Saturation | good |
| | |
| Sharpening | good |
| | |
| Color Corrections | good |
| | |
| | |
| | |
| | |
| | |
| Features | |
| | |
| | |
| | |
| User Interface experience | excellent |
| | |
| Color Management | full support |
| | |
| Histogram | yes |
| | |
| Reasonable large preview | very good |
| | |
| Realtime WB, EV and other correction preview | yes |
| | |
| Batch capabilities | yes |
| | |
| Good workflow integration | excellent |
| | |
| Integration with RAW image browser | good |
| | |
| Saving and recalling settings or setting groups (like WB, Sharpening, ...) | yes |
| | |
| Saving in 16bit | The beta version saved in 8bit (the release should also support 16bit) |
| | |
| Tag saved files with profiles | yes |
| | |
Image Quality
Although we like the quality we need some more time to look at more samples and also to print large.
Conclusion
There are still some bugs in the software but that is normal with beta software. Otherwise we are very sure that every professional 1Ds owner will need Capture One to get a much more productive workflow. We as Nikon users hope that Phase One gets their Nikon version out as soon as possible.
This is clearly the best RAW converter in terms of workflow that we have seen so far for digital SLRs.
The fun factor
Most often using other RAW converters is more of a pain. Capture One is fun to use once the initial learning phase is over.
11/22/2002 Final release for Version 1.0 received
We today received a final release for version 1.0 of Capture One DSLR. We have to report one important change and one new feature:
Changed Tone Curves

The tone curves are now very different and we think improved:
Film Standard: Gets good normal contrast
Film extra shadow: Flatter image with more shadow detail
Linear response: Has nothing to do with linear files and is more for experimental use
Photoshop DeMoirize Plug-In
The release version of Capture One comes with a nice DeMoirize filter for Photoshop and our initial tests seem to indicate that it is quite effective.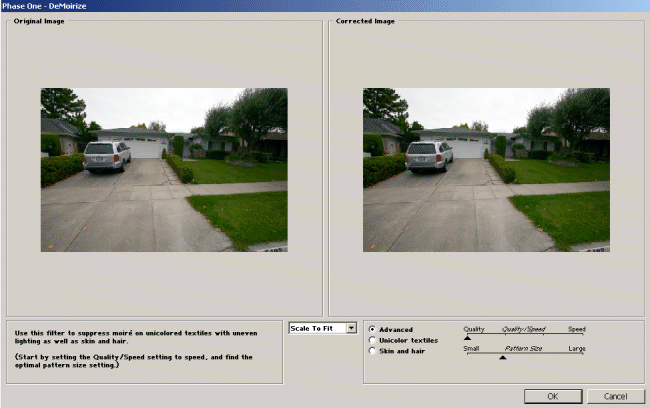 3/29/2003 Capture One DSLR News (Nikon & Mac)
Capture One DSLR now also supports the Nikon D1x and D100 on the Windows platform.
We like the look and quality of the Capture One images very much and are very pleased to report that photos from the Nikon D1x and D100 have now the same look and quality as using a Canon 1D or 1Ds. Of course the 1Ds has some more resolution but the Nikon D1x files are excellent indeed. We can now use both the 1Ds and D1x (or even the D100) in the field and get very close matching results.
We actually discarded some D1x shots recently that are now worthy candidates for our portfolio. Over time we will revisit many of our D1X and D100 photos using Capture One DSLR.
Capture One for the Mac
The good news is that you can now get Capture One image quality also on the Mac (Canon 1D & 1Ds right now). Unfortunately the Mac version is slower and not as good as the PC version right now (the PC version rated as excellent). Phase One is aware of the situation and we will see some improvements soon.
Other Reviews/Previews