Early this year Lightroom 1.0 was launched and we think it was a good 1.0 version. As with all software we all wait for new improvements. Here is our 1.0 wish list and what has changed:
Smart collections based on queries (not in 1.1)
More advanced dual monitor support (not in 1.1)
Color samplers (not in 1.1)
Perspective and lens distortion corrections (not in 1.1)
We would like to see a more advanced noise removal and sharpening in Lightroom (yes!)
Support for camera ICC profiles (not in 1.1)
Multiple Windows (not in 1.1)
Selective editing features (not in 1.1)
Looking at our wish list and the few items that are in 1.1 you may expect we are disappointed. Not at all. There are many improvements that make Lightroom 1.1 a major new release.
First there is some new terminology (we think improved). What was called in 1.0 a Library is now called a Catalog (much in sync with other DAM applications). This means that when you move to LR 1.1 that your old 1.0 library will be converted to a new LR 1.1 Catalog. Normally this will be reasonable fast even for larger catalogs (we converted a 37K image library). Lets have look at some major changes following the Module structure of Lightroom.
General
Preferences are now split into global preferences and catalog settings. This means each catalog can have some different properties. Here are the dialogs for these catalog specific settings: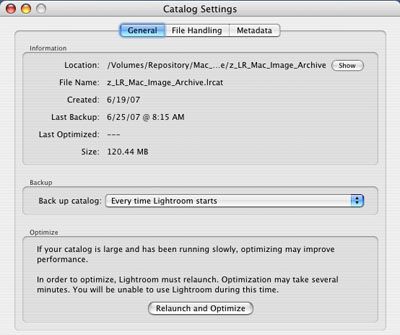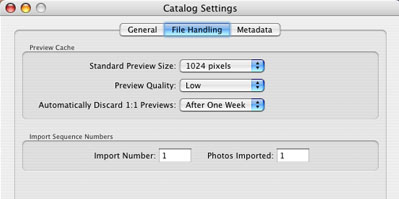 Library Module
Catalog functions
In library we find some very major improvements. Best we consult the new File menu to check them out.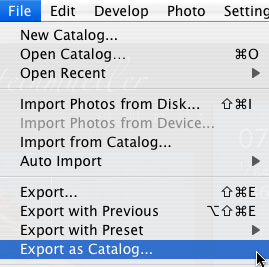 1. You still can have only one catalog open at any time. But switching catalogs is fast and easy:
New Catalog
Open Catalog
Open Recent (catalogs)

make handling catalogs way more usable.
2. Export to Catalog
You can now save any selection of images into a brand new catalog (actually with or without images). This is one of the 1.1 highlights. Of course it would not make much of a sense if there would not be
3. Import from Catalog
You can now import data and/or images from other catalogs into an existing catalog.
Features 2 and 3 are worth an upgrade to 1.1 alone.
Synchronize Folders
There is more useful new functionality for the Library module.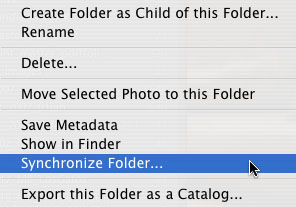 Our favorite is "Synchronize Folder ...". LR 1.1 scans the existing folder for missing images, new metadata or images that are in the the catalog but not on disk. I some way we would like this synchronization automatic but it could also a lot of hassle. This is a manual option but nevertheless very useful functionality.
Locate Missing Folder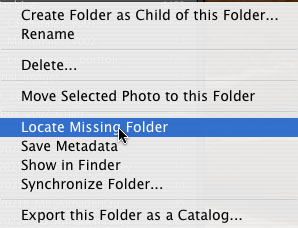 Lets assume you kept your images but moved them to a different folder (or renamed the folder). Now the catalog has invalid references to these images. Using Option/Alt right-click menu you get a hidden feature "Locate Missing Folder". Using this function you can attach images in the new location to you catalog and resolve missing references. Also a new and essential function.
Goto Folder in Library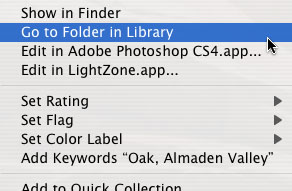 In 1.0 you could locate the folder in the OS Finder/Explorer to find the image on disk. Often you wanted to find the folder in the catalog where a certain image is stored. "Goto Folder in Library" solves exactly this problem.
Metadata
From the readme file (sorry metadata never get us that much excited :-) ):
* Develop snapshots are now stored in XMP
* Metadata can now be updated in the file using the Command(ctrl) + S shortcut
* Hierarchical keywords are now stored in XMP. Keywords removed in other editors will not be removed from Lightroom. Keyword synonyms and other keyword export options will only be applied when you export from Lightroom and not to the XMP of your negative
* The Metadata menu has a new option to update previews along with metadata in DNG. This menu will operate on your selection in the grid view
* The copyright status field has been added to the metadata panel
* Metadata presets can now be viewed, renamed, deleted, and updated in the Edit Presets dialog.
* The metadata browser now shows ISO, Aperture, Shutter Speed, and Label
* The metadata panel now has "action" arrow buttons next to a selection of data fields.
Develop Module
There are lots of important changes in the Develop Module too. Fortunately we don't need to cover them here in detail because they match exactly the new functions in Camera Raw 4.1 (covered here). With 1.1 Camera Raw 4.1 and Lightroom are in sync again which includes functionality and camera support.
There is always more ...
There are many more changes in Lightroom 1.1, We hope we covered at least all the major changes.
Conclusion
We think that Lightroom 1.0 is likely the most popular all-in-one image editing application (DAM/RAW Converter/Print,Web,Slideshow Output). Lightroom 1.1 is a solid improvement over 1.0. Right now Lightroom is clearly the dominating application of this kind.
Looking at our old wish list for 1.0 we are sure that the next major version of Lightroom has many ways to even improve on version 1.1. Till then we have to live with 1.1 and it will do the job most of the time.
Here is our current Lightroom 1.1 wish list:
Smart collections based on queries
More advanced dual monitor support
Color samplers
Perspective and lens distortion corrections
Support for camera ICC profiles
Multiple Windows
Selective editing features
Softproofing
We list here only key features that we are missing most.