Soft proofing has always sounded like a great idea. You get to see what your output is going to look like without having to print it, saving time and money. However, in reality, it's never quite worked too well, unless you were willing to spend a lot of money on expensive monitors and color management software, and a lot of time keeping everything calibrated. Having spent the last 12 years working on and writing about color products, I tried a great number of soft proofing systems, and was constantly disappointed. Until now.

The Sony Artisan Color Reference System is a calibrated display system that consists of a Sony Trinitron 21" display, integrated calibrator, and hood, all painted a very neutral grey. The included software runs on both Mac and PC. The system requires 2 USB ports—1 for the calibrator, and 1 for the display. Setup was very easy.

The software offers 2 modes – basic and advanced. The basic mode is elegant and effective. You simply select the white point (D50, D65, or sRGB), and click on calibrate. The only complaint that I have about the Artisan is that it takes 10 minutes to perform the calibration—a small price to pay for accurate color.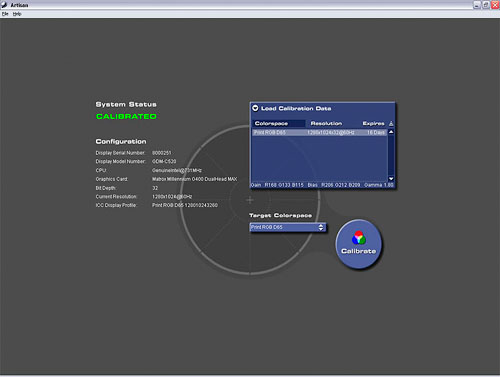 The Artisan software also includes a custom or advanced mode, letting the user select a custom white point. I was quite satisfied with the standard settings that I did not spend too much time in the custom mode.
Once the calibration process is complete, an ICC profile is created, stored in the proper location for your operating system, and set as the monitor profile. And the display controls are locked, preventing anyone from changing the settings.
When you first boot your system, the Artisan software loads automatically, and performs a check to ensure that your display is in calibration. Should the system detect that the display is out of calibration, it will notify you that it needs to be re-calibrated.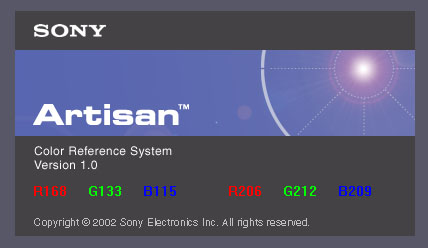 I have spent the last month or so using Sony's Artisan Color Reference System, and for the first time I can say that soft proofing works. I tested it with four different input devices and 2 different output devices, and found that once I setup Photoshop properly, I could reliably soft proof my images. The more accurate the output device profiles are, the better the soft proof (in other words, if you create your own high quality printer profiles, your results will likely be better than if you use canned or generic profiles). I have actually become accustomed to depending on the color that I see on my screen.
The Artisan system is $1800 retail. While this is more than the standard 21" display, the accuracy and reliability is worth it, especially if you do a lot of printing.
For more details, see http://interprod5.imgusa.com/son-641/