Today our editorial team member Paul Caldwell had to reinstall Photoshop CS (intentionally without keeping his preferences as they seemed to cause some trouble). Once Photoshop was up and running again he missed his many Photoshop actions and asked: "Where are my Photoshop Actions?".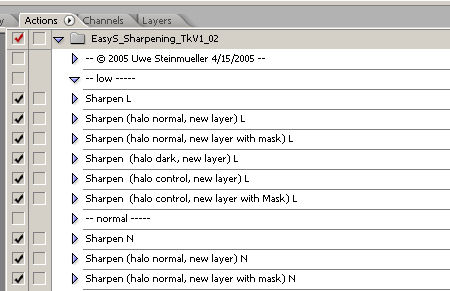 PS actions
Here is the answer:
Photoshop actions have three levels:
1. All actions
2. Action sets: e.g. "EasyS_Sharpening_TkV1_02"
3. Single actions : e.g. "Sharpen (halo control, new layer with Mask) N"
From Photoshop you can only save actions sets directly and not single actions. Select the name of the action set and from the action palette's drop-down menu use "Save Actions..". This function allows you to save your own action sets. This way the same actions can be reused on different machines or your customers/friends.
Paul discovered that installing all the action sets is no real fun. Here is a better solution.
Where are all the actions stored?
Photoshop also stores all your actions as part of your personal Photoshop settings. Photoshop saves them into a file called "Action Palette.psp".
This file is for Photoshop CS(aka PS8) located in:
Windows
C:\Documents and Settings\<login name>\Application Data\Adobe\Photoshop\8.0\Adobe Photoshop CS Settings\Actions Palette.psp
Mac
<login name>/library/Preferences/Adobe Photoshop CS Settings/Actions Palette.psp
All your settings are stored when you quit Photoshop.
Note: This means when Photoshop crashes or you kill it that the most recent changes maybe lost.
Backup your actions!
To avoid the problem that Paul had you need to backup the "Actions Palette.psp" file. We use FileBack PC to save the settings every two hours and keep also the last 15 different versions. This way we have a good chance to recover a pretty recent set of actions if the current actions got lost.
Before you reinstall Photoshop create a copy of the "Adobe Photoshop CS Settings" folder. After you reinstalled Photoshop you can just copy a backup version of the "Actions Palette.psp" file into the "Adobe Photoshop CS Settings" folder. During the copy process Photoshop should not be running.
Unfortunately we wrote this article to late to save Paul some work.