Backup, Backup
Some people say that disks are getting cheaper and cheaper per GB. True, but the needs for storage grow even more. Here are some of the reasons:
Cameras have higher pixel count
Resulting images get stored in 16bit
Photoshop layers add even on top
The need to have multiple backup versions of your files
It is very clear that you need external storage disks to handle the flood of images.
External Disks
There are quite a few different brands that offer external harddrives with 200-1000GB of storage (Maxtor, Western Digital and LaCie). All these solutions are fine but have these problems:
You have no control which disks to use (good to use server grade disks)
Each disk comes with its own external power supply
The Connection Type
Today we have 2 main connection types for disks:
Firewire (400 and 800)
USB 2.0
Both are fine but we have standardized on Firewire for some years now. Unfortunately most PCs only come with the slower Firewire 400 cards.
Wiebetech Bays and Drive Enclosures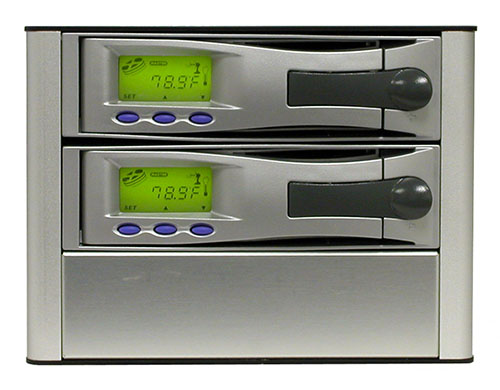 Dual BayDock
We finally set with a solution from Wiebetech. Why?
We can select the disks we want (in our case Hitachi - former IBM)
One enclosure can hold 2 or 4 drives and disks can be swapped
Builtin power supply powers up to 4 disks
InfoTrays that show the temperature of the drives
Wiebetech even offers Firewire 800 solutions (for Macs mainly)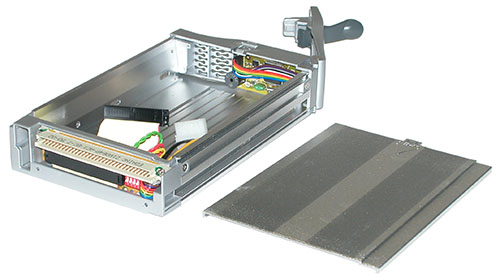 Info Tray
The drives were pure plug--play on our Dell 650 machine and work flawlessly some months now. We also have a very good feeling about the built quality of these products.
Note: We have these disks only off when we leave the house for a couple of days otherwise the disks are on all the time.
Hardware Raid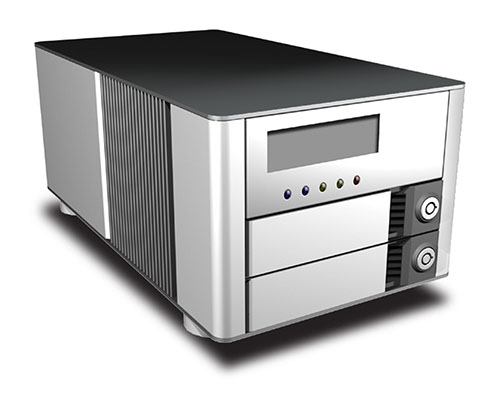 Hardware Raid (we use mirroring)
Wiebetech also offers firewire hardware RAID systems.We use this is an 2x250GB configuration with our key image data. We actually use the Firewire 800 unit without problems on our slower Firewire 400 board.
Note 1: A cheaper solution would be using a solution that mirrors the disks in software. We will have a report on some good PC software soon.
Note 2: We have these disks only off when we leave the house for a couple of days otherwise the disks are on all the time.
Conclusion
We are very pleased to settle with the Wiebetech solution.
For more info check at wiebetech.com.