2003 was a great year for camera technology and as the year winds down, there are still new products coming out almost daily. I made a huge decision in 2003 to move from Nikon to Canon. For over 20 years, I have used Nikon equipment, either 35mm film or various digital cameras. However as I worked with these various solutions, I realized that I need more resolving power for my work. Canon was the only game in town with the 1Ds and its 11mp resolution. Knowing that I would take a considerable loss on many pieces of my equipment, I made the decision to move to the 1Ds, and it was one of the best decisions I have ever made.

In my photographic work, I will tend to find a particular scenic place and revisit it throughout the seasons. This is because Arkansas, my home state, produces such a wonderful seasonal view to every subject.

In 2003, I also learned how to stitch several images together to create a 27mp output. I quickly determined that for my larger printing needs, stitching was really the best solution. After working briefly with Jim Collum in late May, I determined a method of stitching that worked best for me. So during the year, I was posed with two major situations that affected my shooting style.

In the beginning of the year I wanted to go back to many of my favorite spots so I could re-shoot them with the 1Ds. After I started stitching, I went back to many of these spots again so that I could capture them in a stitched format.

I can't honestly say if these ten images I have selected are my top ten as my top 10 constantly changes. These 10 images were memorable for me in one way or another during 2003. So I wanted to take a minute to share them with the viewers of www.outbackphoto.com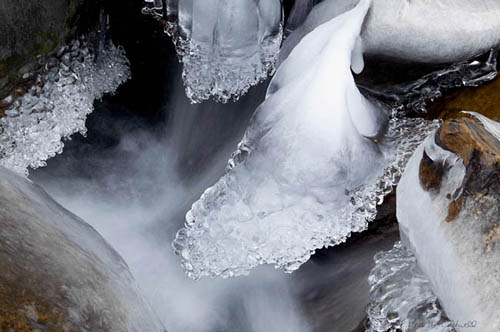 #1
I have always been fascinated with ice. It's a very special creation since what you see on day's shoot will never be seen again. Image number one was taken on an overcast gray day; however it was the first time I had the 1Ds out in the field. As I was crossing the creek I had been shooting, I happened to catch this shot. I particularly liked the way the water and ice combined to make for such a striking shot. I choose to take around a 2 second exposure instead of using flash. I felt that the flash would be too harsh on this much ice.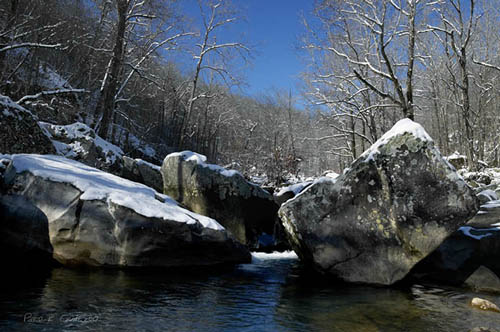 #2
Image number two was taken on February 7th, 2003. In my work, I don't very often get a chance to work a snowy subject. This is because our snowfall in Arkansas tends to be light and infrequent. I had watched the weather the previous night and took a chance that I would be able to make the drive up to this particular creek. I ended up getting a wonderful day, with 100% blue sky and more subjects than I could hope for. This scene was one of the first shots I took that day, and the view looking upstream with all the fresh snow on the branches made for a beautiful subject.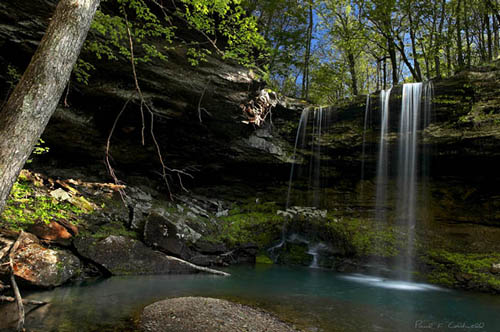 #3
Springtime in Arkansas will always provide some of the best outdoor shooting. During this time of the year, you will get your best chance at catching some of the smaller creeks with water in them. These creeks all have ledge drops that will create some excellent waterfalls. The creek in image number three is called Dry Creek and for most of the year, it is bone dry. On this day, I caught Dry creek about six hours after a cloud burst. I shot this scene in a series of bracketed exposures so I could capture both the tree line above the falls and the darker details below. This particular waterfall is about 30 feet tall and is one of my favorites in the state.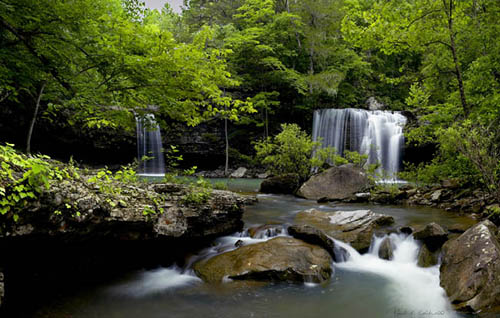 #4
Of all the scenes I shoot in Arkansas, image number four shows one of my all time favorites. However it's one of the most popular spots in the state, so you have to pick the right time to visit as at certain times there will be way too many people around. Image number four shows the Twin Falls of Big Devils Fork. It's actually two separate creeks, Big Devils Creek and Long Devils Creek. They come together at this spot in a twin water fall to create Big Devils Creek. I have been coming to this spot to take pictures for over 20 years and never get tired of it. When I first started stitching images, I made it a point to visit Twin Falls. This scene is a true test for any camera's resolution as you have tons of small tree limbs and leaves plus the additional detail in the rock that makes up the falls. This day happened to be an overcast one, so I was able to take this shot at over 2 seconds. It was here I also realized just how much work is involved with taking three images to stitch. As I started this series of shots, the wind picked up and I was forced to wait many times till the motion in the various leaves subsided.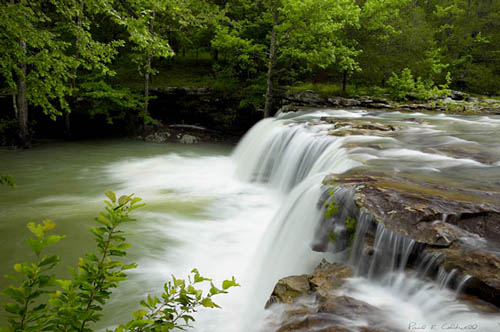 #5
Image number 5 is a view of Falling Water Creek. The name speaks for itself. This spot is probably one of the most photographed spots in North Arkansas as a Forest Service Road runs right along the creek. I have spent many a frustrated hour here waiting for someone to get out of the way of my shot which is why image number five means so much to me. I had been working on another creek all day, and when I passed Falling Water Creek early in the morning, it was hardly running. However during the day, several thunderstorms happen to spring up and one of these storms dumped its rain over the Falling Water Creek watershed. On my way back, just as the last available light was fading, I caught this shot and several others. I couldn't't believe it as no one else was there and I had this wonderful scene all to myself.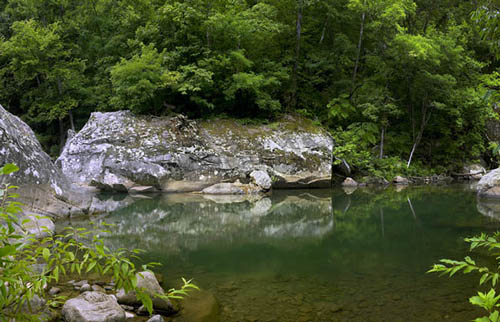 #6
Richland Creek in the north central part of Arkansas is one of my top spots to shoot. I have several scenes that I like to go back to work over and over as each time I will try something new. Image number six shows one of the many wonderful green pools that this creek has during the summertime. I wanted to capture this shot with no ripples on the water and no wind. This image was taken as a 4 segment panorama which I later cropped down. Many times I will extend my pans to 4 full vertical segments and make the determination later in Photoshop as to which part of the overall image I want to print. This shot was taken on late summer afternoon when the sun had gone behind a cloud. I was able to capture the scene with no movement in either the water or the trees in the background. Often I show this shot to people so that they can see just how much detail can be captured in stitching.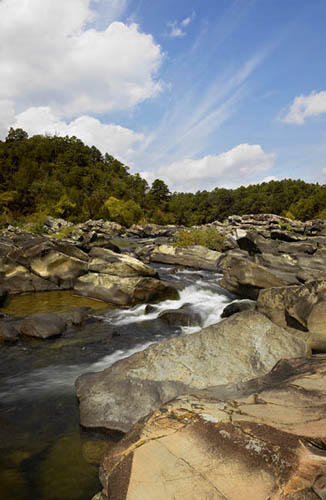 #7
Not many spots in Arkansas are as amazing as the Falls of the Cossatot River which is situated in the Southwest Corner of the state. In 2003, I made a point of visiting the Cossatot several times in an attempt to do a multi-season shoot. Image number six was important to me as it was my first attempt at a "horizontal pan". I had theorized that I could not only stitch in the vertical plane but also the horizontal. The 3 or 4 horizontal images would be later stitched into a portrait orientation image. In this shot, I was able to capture the late afternoon sun on the rocks in the foreground and then one of the most spectacular skies I have ever shot. I didn't even notice just how beautiful the sky was until I started to work the image.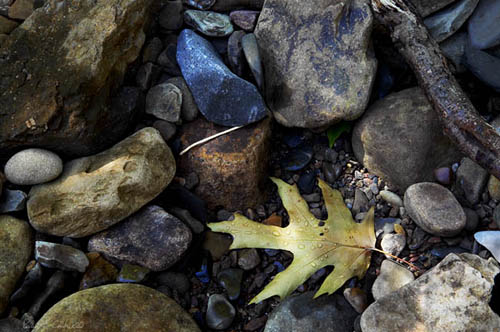 #8
Fall in Arkansas is my favorite time to be out. We get almost 60 days of just beautiful color which ranges across the whole state. You can start in the northern half of Arkansas and gradually work your way down to the southwestern Corner. I work almost every weekend in October and November and take a full week off from work to get out and shoot. Image number 8 is a shot that many people have accused me of staging. I will stage a scene but this one was pure luck. I had been shooting a group of trees and happened to turnaround and look down to view the LCD on the camera. There right next to my foot this scene unfolded. I just loved the way the light was striking this single leaf and all the surrounding rocks were wet from the nearby creek.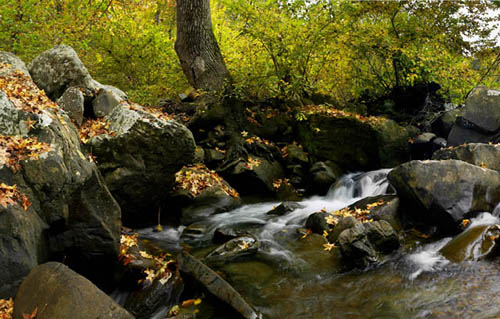 #9
As I mentioned in the beginning of this article, I tend to visit the same spots many times. Image number eight is a spot that I have been to almost as many times as the Twin Falls on Big Devils Creek. Normally I prefer bright sunlight for my fall shots, but this day started out cloudy and as the day wore on, just got worse. This shot was taken on the 11th of October which was the peak for color in this part of the state. As I was walking back to my truck, I went back over to this spot and setup for a panorama. As the day was cloudy there wasn't a single bit of wind to move the leaves on the trees so I took a series of two second exposures to stitch together later. What caught my eye were all the leaves that had fallen on the various rocks. You only get a fleeting chance to capture a scene like this as wind or water will soon wash all the leave off. I recently printed this scene as a 20 x 30 and all the work was worth it.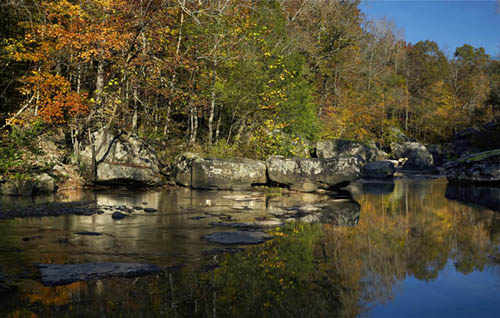 #10
I had to include this shot, as image number 10 is an example of my favorite shooting conditions in the fall. I woke up before dawn to get into position for this shot. I had scouted it the day before and knew that around 6:00 a.m. the sun would hit the far bank just right. The effect I wanted was to capture the full color of the various trees but to also get the reflection. This shot was a 3 segment panorama that I stitched together. In this shot you can see a great cross section of Arkansas fall timber, oaks, maples, and hickories. This shot was taken on Richland Creek, on the 20th of October, and was the last of the fall color for this part of the state.

In conclusion, I just wanted to add my thanks to Uwe for allowing me to contribute to his site. I have enjoyed working with both Jim and Uwe throughout the year we have discussed new products or techniques.
Paul Caldwell
pcaldwe@aristotle.net