Everyone knows that luck is part of photography:
Being there (vantage point)
Weather
Light
Exposure
Framing
Focus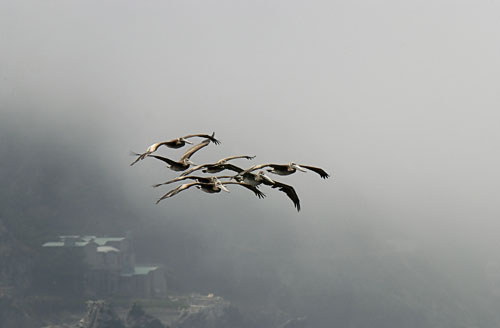 The above photo was taken 8/11/2000 at Point Lobos (China Cove) with a Nikon D1 and the AF-S 80-200mm f/2.8 lens + 2x Nikon TC-20E tele converter (f/12, 1/640sec, ISO 400). The photo was not cropped.
This is one of our best photos for the last 2 1/2 years. Without the fog and the faded coastline of the Carmel Highlands it would be just a nice Pelican group shot. We think of it as a landscape photo with Pelicans.
It should be pretty clear why we were more than lucky:
We had no time to select the background (which is key for this photo)
The birds are in focus
The lens/converter combination does deliver soft images (we later rarely used the TC-20E for that reason).
This is not a problem here as the subject benefits from the slight softness.
Exposure was correct
Our vantage point was near perfect
Shot freehand (was mounted on a monopod, but the legs were not on the ground)
Then there were a few factors that allowed us to take chances:
1/640 was the right shutter speed
The AF worked
We had checked the exposure before we took this shot
The lens is excellent
The 2x adapter not too bad either
The D1 with it's 2.7 MP sensor is a much better camera than some mightbelieve

Note: Actually prints up to 10x15" look much better than the small web image make you believe.
Theory & Reality
All the parameters are not really in favor to get a photo that would be part of our portfolio.That is the theory. The reality tells us that this photo works.
Conclusion
Take your chances
Judge the final photo (reality)
Subject matters
Detail and ultimate sharpness is not everything
Photos like this can hardly be planned