Yesterday we showed this photo as a small print to our friend Jim Collum and asked the question "Do you like it or is it boring". He seemed to like and pointed me to an article in Photo Art International (Dec2002/Jan 2003 issue) by Tony Worobiec titled "Minimalism". This article discusses the concept of minimalism and demonstrates the point with some excellent photos. We can highly recommend to read this article.
Actually minimalistic photos are very challenging:
What is the right contrast or brightness?
What is the best color for the sand?
Needs some saturation corrections?
Is the feather perfect enough? A valid question asked by Bettina.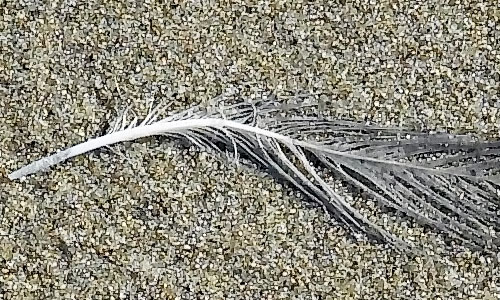 100% pixel crop for your info
Does it need to be perfect?
Can the burned highlights be corrected?
Is it to minimal?
Who wants to hang such a photo on his walls (selling aspect)?
Of course all this can only be validated with real prints and best printed large (about 20x13"). You can imagine the time and paper/ink needed to work towards an optimum. Is it even worth it?
The purpose of this essay is to share with you our readers the photo and also to get your feedback. Qualified (not the usual crop and 2/3 composition talk) feedback will be published at the end of this article.