This is a story that shows that revisiting old raw files can help to find lost treasures.
Here is a photo from a memorable morning. We arrived at our destination at 6am (still dark) to hit a trail and photograph the "Delicate Arch" in the Arches National Park at sunrise. After we put on the headlights Uwe swings his backpack onto his back. This operation was interrupted by a cruel sound: a Canon 1Ds with a mounted 70-200mm f/2.8 IS and a 1.4x tele adapter hit the concrete ground of the parking lot (Uwe did not zip his backpack after getting the headlights). A check verified that the 1Ds still functioned but the 70-200mm lens showed contact problems.
Clearly the 70-200mm would be our lens of choice that morning. All we had left was the trusty Canon 24-70mm f/2.8. Bettina did some shots of the moonset at our destination. This photo seemed for us a lost cause for quite some time if we looked at it with the default settings in ACR (Adobe Camera Raw):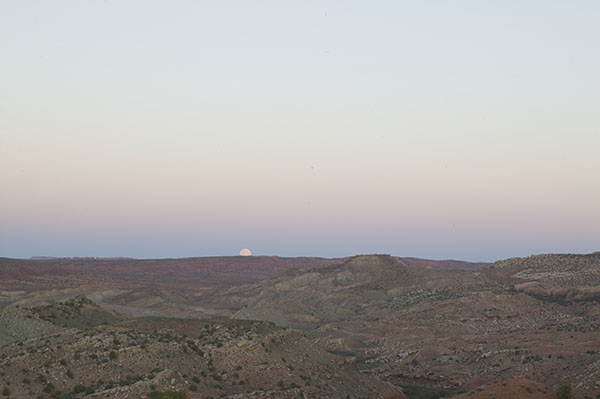 Flat and uninspiring image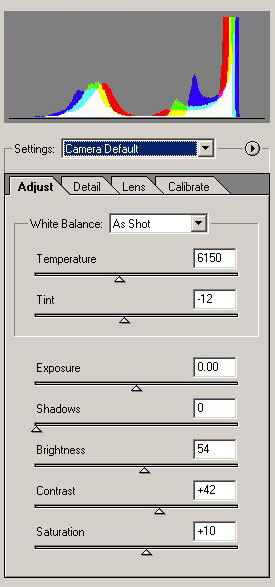 ACR default settings
Recently we revisited old photos (browsing about 10,000 raw files) and paid a bit more attention to this photo and gave it a chance. There are a couple of reasons why actually RAW files improve over time:
RAW converters get better
Your own imaging experience improves
Your artistic vision changes
Don't trust the first preview!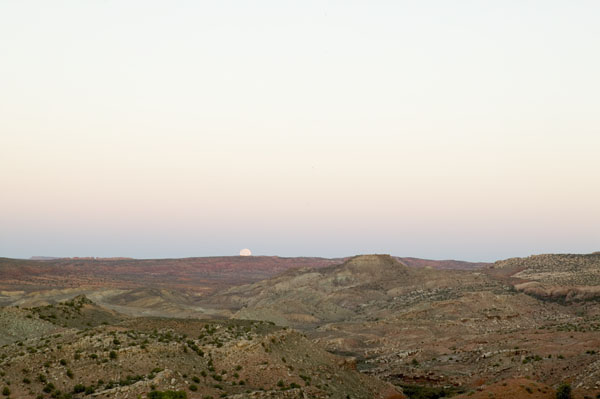 Improved ACR settings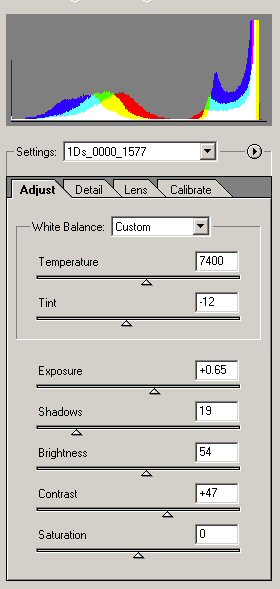 Tuned ACR values
Working on the ACR Exposure, Shadows, Brightness and Contrast settings managed to bring this photo to life. If you use ACR please use all four sliders for your work.
The next major step was cropping to make it a more panoramic picture: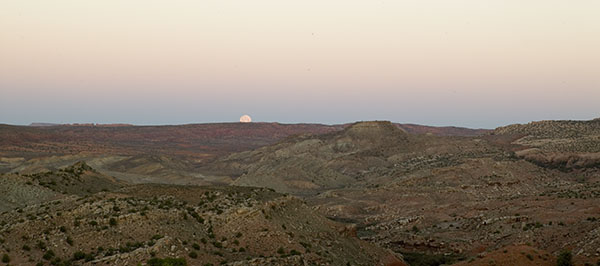 Crops make a difference
Still the the boring sky is an issue. But an overlay with a gray gradient (blending mode "darken" and some opacity tweaking) solved this problem. After a final sharpening with EasyS we got this photo: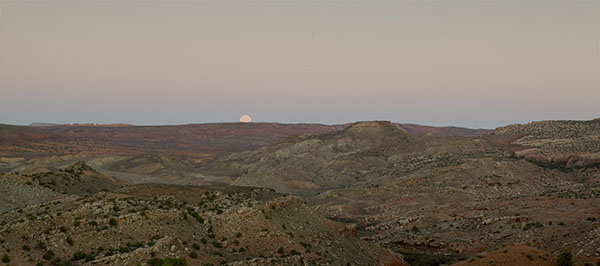 Final picture
We are not sure whether this photo needs to be a bit brighter or not. But overall we think this is now a winner shot.
The only downside: Viewing this image rings the terrible sound of a 1Ds crashing onto concrete in our ears. But maybe this photo is even worth it :-).
Conclusion
Don't trust the first preview!
Here is a different image that looks very boring with default settings and yet is one of our top photos of 2003: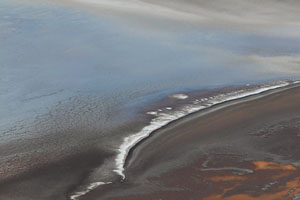 Dante's View in Death Valley