Printing Insights #013
Alain's Epson 9600 Diary

Size Matters (9600 vs. 1270)!

A diary review by Alain Briot
We are very pleased that Alain Briot shares his experience with his new Epson 9600 printer. Alain is a very well known professional landscape photographer. Alain lives in Arizona.
Note: Alain owns an Epson 9600. But as the 9600 and 7600 share the same print engine most of the findings also hold for the 7600.
Testimonial
"If you are just now venturing into the world of fine art digital photography you can immerce yourself in new knowledge about almost every aspect that I can think of. The photographs on the Outback Photo site are stunning, to say the least! The books and handbooks offer a true wealth of knowledge because they are so well thought out and organized in a concise manner, with numerous examples. There are vast quantities of other resources available as well, through linking to other sites. There are interesting and provocative stories and essays written by both Uwe and Bettina Steinmueller and many others. I first found the site while checking reviews of the Canon Digital Rebel and I haven't stopped exploring ... where do Uwe and Bettina find the time to give so much? They are excellent teachers." Eleanor T. Culling 2/25/2004
If you work with Photoshop CS our e-books DOP1009 or DOP2000 are the right choice for you. DOP2000 is the more complete handbook.
The diary always has the latest entry on top
---
4/28/2005 Maintenance Tank Reset problem
Resetting the Maintenance Tank may cause ink cartridges to become inoperable
On recent 9600 models resetting the maintenance tank (following the procedure I described earlier in this diary) may result in one of your ink cartridges becoming inoperable (read "useless"). I have had several reports of this happening to diary readers. Apparently this problem occurs only on recent 9600. I have not had this happen on mine. I have one of the first units, about 3 years old as of today. What seems to happen is that the chip on one the ink cartridge becomes corrupted and erroneously says that this cartridge is empty.
Should you take a chance?
The cost of one 220ml ink cartridge is higher than the cost of a new maintenance tank. Add to that the trouble of figuring out what is wrong, calling Epson technical support and you may find that the trouble is not worth it. Therefore, I don't think you should take a chance, especially if you have a recent unit.
Is there a solution that will allow me to reset the maintenance tank and not damage my ink carts?
There is one that I just thought of but have not tried. It goes like this: keep a spare set of empty ink cartridges and load them in your printer prior to performing the maintenance tank reset process. Then reload the full ink cartridges after completing the reset. I can't guarantee that it will work. It may also cause additional problems so use it with care.
---
4/28/2005 Epson 9600/7600 firmware update Version: BW1452_Q.UPG
Notes
1-This Firmware update is for both the 9600 and 7600
2- The Firmware update is installed with the Epson Printer Service Utility
3- The Epson Printer Service Utility is compatible with Windows and Mac OS 9. If you run Mac OS X you need to launch Classic in order to run the Epson Printer Service Utility.
4- I successfully installed this update on my 9600 running Mac OS 10.3.6 and Classic.
5- The Mac & Windows version can be downloaded from here.

What's new?
1- Super Strong Cleaning Mode
This firmware update improves the printhead cleaning utility to help clean particularly stubborn clogs. To do so it features what Epson calls the "Super Strong Cleaning Mode" (SSCL)which lasts 3 minutes instead of the previous 1.5 minutes.
The new SSCL is effective but very ink thirsty. Use it as a last resource, when the regular head cleaning routine fails. A single SSCL cycle will consume nearly 100ml of ink total. While less expensive than calling an Epson technician this option still needs to be used wisely.
Epson recommends that the SSCL mode be used only "after normal cleanings have failed to resolve nozzle issues." I concur.
---
1/19/2005
Here is a new link to a very complete service manual for the 7600/9600. This manual is the most complete I have seen so far:

http://web.archive.org/web/20030812073637/www.visual-artists.com/Manuals/SP76_9600_A.pdf

It will take some time to download, even with a cable connection, as the PDF file is 18.7 mb.
---
1/5/2005 Field repair guide and exploded diagram
I just found a website where you can download a repair guide and exploded diagram for the 9600/7600 for free: EserviceInfo.com (ESI) This is the site's description as listed on the home page.

Here you can find free datasheets, service manuals, schema, schematic diagrams and software downloads, service menu and mode information and code calculators for many brands of equipment.

Home page:
http://www.eserviceinfo.com/

9600/7600 field repair guide download page (free download):
http://www.eserviceinfo.com/download.php?fileid=10251

9600 exploded diagram download page (free download):
http://fileshare.eshop.bg/downloadsm/11566/EPSON_9600.html



---
12/15/2004 Diary available also on CD
The PDF version is available on my just-released Briot's View Articles CD. This CD features not only my 9600 diary but also all my other diaries and articles available on outbackphoto.com and on Luminous-landscape.com. The CD also contains several unpublished articles such as my How to Stretch Canvas Prints article and other. Each article and diary is in PDF format making them very easy to print and read. Finally, the CD also features all the presentations I gave at the Fine Art Digital Summit in 2003 and 2004.
The CD is available for $19.95, including shipping anywhere in the world. You can order it by clicking here:
---
12/11/2004 See you in the new Alain's Epson 4000 Diary!

Well, as I said a couple of entries ago, this diary is now coming to an end. Unless something significant comes along in regards to the 9600/7600, I will now focus on my new diary (as of December 2004): Alain's Epson 4000 Diary.

This has been a very exciting and educational journey and I want to thank all of you for making it a success. As of December 2004 this diary received just about 100, 000 hits, quite a record for a printer that is far from being the best selling Epson printer. While I don't have exact numbers I do know that Epson sells relatively few 9600 when compared to smaller Ultrachrome printers such as the 2200, the 4000 or the R800.

Before I close I want to mention that this diary is now available in PDF format, complete with a table of content and in chronological order, starting with the first entry and proceeding to the last one. The PDF version of the diary is also re-organized for easier reading and some new material was added.

The PDF version is available on my just-released Briot's View Articles CD. This CD features not only my 9600 diary but also all my other diaries and articles available on outbackphoto.com and on Luminous-landscape.com. The CD also contains several unpublished articles such as my How to Stretch Canvas Prints article and other. Each article and diary is in PDF format making them very easy to print and read. Finally, the CD also features all the presentations I gave at the Fine Art Digital Summit in 2003 and 2004.

The CD is available for $19.95, including shipping anywhere in the world. You can order it by clicking here.

Again, a big thank you to all of you who have helped make this diary a success. See you in the new Epson 4000 diary! Please stay in touch and do not hesitate to email me at alain@beautiful-landscape.com with your comments or questions.

---
12/10/2004 Changing the blade on the Manual Cutter

I recently had to change the blade of the manual cutter. The blade wasn't dull but it was leaving black particles on the paper each time I used it. It took me some time to find out where these black particles were coming from. Under close inspection it turned out that the cutting blades (there are 2, rolling one against the other to cut the paper) have a black coating on them and that this coating was starting to come off. This was due to the blades wearing out and starting to rub upon each other.

The cost of a replacement hand-cutter blade is about $100. There is no way to sharpen the blades so you have to replace the whole cutter assembly. Doing so is very easy. Simply remove the screw located on the left side of the cutter-holding bar, slide the old blade assembly out, and then slide the new blade assembly in. There you are. It took 2 years in my case for the blades to wear out.

Please note that this is not the built in cutting blade. This is the blade for the optional manual cutting attachment. The built in cutting blade is located next to the print head and replacing it is an entirely different process. I personally do not use the built in cutter because doing so wastes a lot of paper.

Incidentally, the built-in cutting blade holder also acts as print head locking mechanism. If you need to move the print head simply open the printer door, push on the built in blade cutting assembly and the head will be freed from its resting area. The built in cutter is easy to locate: it is the only spring-mounted device near the print head. It is located in front of the print head. Just push on it to release the head.

Here are photographs of the paper cutter replacement blade and box: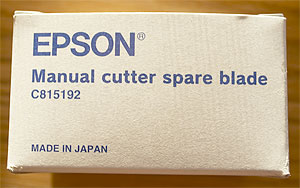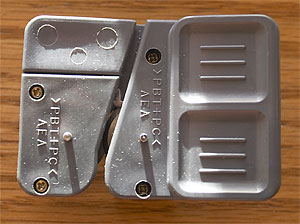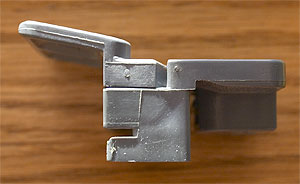 ---
12/9/2004 Loading large sheets or custom size sheets

You need to create a new sheet size in the page
Setup menu and type the exact dimensions of the sheet you are using.

Make sure that the width you enter matches the actual width of the paper. That is because the print head will actually measure the sheet of paper when it is loaded and if the sheet is smaller than the size you enter the "paper not loaded" message will come up.

Also keep in mind that sheets smaller than 8.5" in width cannot be loaded in the 9600. That's because the minimum width the printer will accept is 8.5". I have tried several times but I have not been able to load a sheet less than 8.5" wide. If you have, then let me know. I don't mind if you prove me wrong because my goal is to provide accurate information.
---
12/8/2004 Service Manuals

Do you feel like learning more about how your printer operates? Do you want to read the manual that Epson Techs use to fix your printer? If yes, you can buy and download the service manual, and the parts list, for your 9600 from this web site:

http://www.2manuals.com/index.php

From there do a search for either Epson 7600 or 9600. You can also find the manual to many other printers, either Epson or other brands.

Two documents are available for the 9600:
- the Printer Service Utility User's Manual
- the Parts List

The Printer Service Utility User's Manual is very "thin" and duplicates information available from Epson, either in the printer manual that comes with the 9600 or in the firmware update package available from the Epson website (see prior entry on firmware update in this diary). The Printer Service Utility User's Manual does includes software called the Epson Printer Service Utility. However, it will only run on a PC to which the printer is connected. It says in the manual that this program will only run on Windows 98. It did install on my Sony Vaio running Windows 2000. However, my 9600 is connected to my Mac G5 so I cannot use this program. So far I have not taken the time to disconnect the printer, reconnect it to my Sony Vaio, install the 9600 Windows driver and test the software.

The second document is the Parts List, which shows exploded diagrams of the printer parts with all the parts names and numbers listed separately. In my estimate this is more interesting than the service manual (and 1/3rd the cost), unless you want and can run the Printer Service Utility software.

Keep in mind that making sense of black and white exploded diagrams and parts list is not easy. Neither the "manual" nor the parts list explains how to take your printer apart or how to put it back together. Also keep in mind that it is a lot more difficult to put something back together than it is to take it apart… We've all had the experience of opening a watch, "fixing it" and then having parts leftover after we reassembled it… Those parts did come from inside the watch, and they must have a purpose. If you have had the experience of staring at those parts and wondering, "where do they go and what purpose do they serve? " you may want to think twice before dismantling your wide format printer…

The cost for the 9600 manual is $8.99. The parts list is $2.99. They can be downloaded separately.

The service manual and the parts list are provided as PDF files, which, as any PDF file, can be opened on a Mac or PC.

Please note that we do not recommend you work on your printer yourself besides regular cleaning and maintenance (remember the watch story). If you decide to do so we will not accept responsibility for any problems you may encounter. Repairs are best left to a certified Epson technician. Epson Technicians do charge a fair amount but they have factory training, extensive experience and their repairs are guaranteed by Epson. Fixing your printer yourself may save you money initially. But, if your repairs do not work you may end up spending more time and money than if you had called an Epson technician in the first place.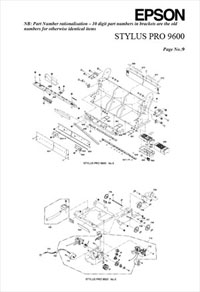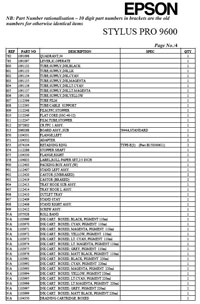 Here is a screen shot of two pages of the Epson 9600 Parts List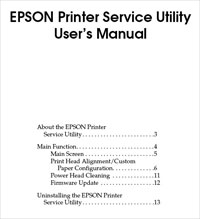 Here is a screen shot of the table of contents of the Epson Service Manual:

---
12/7/2004 Controlling the Amount of ink laid down through the Printer Driver->Print settings dialog box
Selecting a specific Media Type from the drop-down list in the Printer Driver>Print settings dialog box essentially changes the amount of ink laid down on the canvas.
On the Epson 2200 as you go down the list the ink amount goes up. This means that when you make a paper selection lower and lower down the list, you get more and more ink laid onto the paper. The lowest amount of ink laid down, for the 2200, is with "plain paper" selected and the highest amount of ink laid down is with "Watercolor Paper Radiant White" selected.
On the 9600 the list is not organized the same way. The 9600 Media list may be reversed, i.e. it may go from the highest amount of ink (at the top of the list) to the lowest amount of ink (at the bottom of the list). I am not absolutely sure, but if it is then the Enhanced Matte Poster board which is the very last setting, at the bottom of the list, would get the highest amount of ink while the Double weight Matte Paper which is at the top of the list would get the lowest amount of ink. If you know for sure email me!

---
12/6/2004 Premier Art Print Shield Spray Coating

This is the Spray recommended by Premier Art for the Water Resistant canvas. Why do you have to spray water-resistant canvas? Well, good question! After all, the idea behind using water-resistant canvas is to not have to coat it. But, Premier Art does recommend coating this canvas anyway.

This fact first motivated me to use only Epson Canvas and not Premier Art Water Resistant Canvas. Since I will have to coat both of them, I might as well use a canvas that does need coating in the first place and is therefore less expensive since it is not pre-coated. Plus, if I decide to not Spray the regular Epson Canvas I get a matte surface, which I very much like. If I coat it I get a glossier surface, which is nice too but has a sheen and a slight glare to it.

But, to make sure I made the right choice I conducted a test which proved extremely worthwhile: I took four canvas prints as follows, put them in the sink and ran them under running water. Here are the four prints:

• Print #1 was made on regular Epson Canvas
• Print #2 was made on regular Epson Canvas coated with Premier Art Print Shield Spray
• Print #3 was made on Premier Art water resistant Canvas
• Print #4 was made on Premier Art water resistant Canvas coated with Premier Art Print Shield Spray

The results were as follows together with photographs of the prints after being washed:

Print #1 lost most of the ink on the canvas right after being placed under water. After rubbing it with my hands all that was left was an artistic looking smudge. Both the ink and the canvas coating ran off: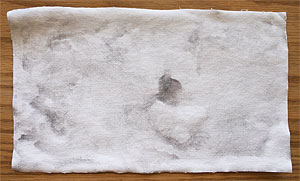 Print #2 held up pretty good under running water but started loosing a lot of ink and some canvas coating after heavy rubbing: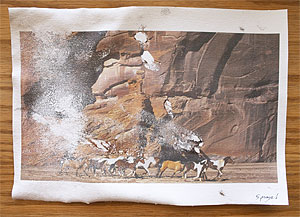 Print #3 held up perfectly under running water without any ill consequences. After heavy rubbing it started loosing some ink: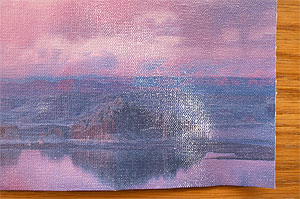 Print #4 held up perfectly under running water. After VERY heavy rubbing some of the ink came off: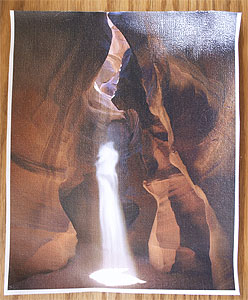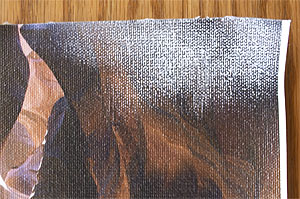 Conclusions
Being concerned with your canvas prints being waterproof – or being water resistant- is important. After all, it is likely that water -- or a cocktail :-) -- may be splashed onto the print at some time.
To make your canvas prints waterproof your best bet is to use the Premier Art water resistant Canvas and either spray it with Premier Art Print Shield Spray or not. As my tests showed me, the Premier Art Waterproof Canvas is waterproof right out of the box. Spraying it with the Premier Art Print Shield Spray does reinforce its waterproof quality but unless you rub the print heavily with water no damage will occur. Since the typical risk is water splashed on the print, and not heavy rubbing under running water, I believe coating Premier Art water resistant Canvas is optional.
If you are concerned with waterproofness I definitely recommend staying away from the regular Epson canvas altogether since my tests show that even coated it is only marginally waterproof and that uncoated it is a complete disaster in terms of waterproofness.
Do keep in mind that the above comments are only indicative of the waterproofness of each canvas and do not address the print quality, color and contrast of these two canvas materials. Color and contrast issues were covered separately in the previous diary entry.
---
12/5/2004 Epson 9600 Premier Art water resistant Canvas for Epson

I started using the Premier Art Water Resistant Canvas for Epson. Here are some of the most important aspects of this paper:

- You need to use Watercolor Paper Radiant White as paper choice in the Printer Driver > Print settings dialog box

This canvas has a higher contrast than the regular Epson Canvas. It prints well with the Bill Atkinson Premier Art Canvas profile available at
http://www.homepage.mac.com/billatkinson/

- It is slightly sticky to the touch and has a certain smell to it while the regular Epson canvas has neither.

-It has a shiny or glossy finish and appearance. The shiny finish is more noticeable after printing. While this is good for light reflectance, it does hinder viewing the print since at certain viewing angles the print shimmers making it hard to see. Hopefully spraying the print will not diminish this effect. In my view a matte canvas finish is preferable. I believe Premier Art also makes a matte canvas.

- Premier Art, the same company that makes the Premier Art Print Shield Spray, makes it. In fact, on the flyer included with the Premier Art Canvas, they recommend you spray the finished print with…guess what… their spray! (why does this not come as a surprise? If you know, email me!) I was surprised that they recommend spraying their canvas since it is advertised as being waterproof. Usually, waterproofing is one of the most compelling reasons for spraying a print.

Well, the reason why they recommend you spray the finished print is because the canvas is coated with an ink-receiving layer that remains receptive, i.e. subject to change when exposed to the air and other contaminant. The ink-receiving layer will cause the print to deteriorate if it isn't "deactivated." The main risk is yellowing of the print, caused by the ink-receiving layer turning yellow. Spraying the print "deactivates" the coating by sealing it under the layer of spray, thereby preventing the print from yellowing.

Two other ways to prevent yellowing are to either frame the print under glass or laminate it. In either case the print is isolated from the air and from airborne contaminants,

In my estimate neither laminating a canvas print nor framing it under glass are valid options. To me a canvas print needs to be mounted and framed like a painting, by stretching it over stretcher bars and framing it without glass. If you want to learn how to stretch and frame your canvas print this way read my "How to stretch your canvas Prints" article in PDF format. This article is now available on my "Briot's View Articles CD" together with a formatted version of this diary complete with table of contents for easy searching, and copies of all my other diaries and articles published so far (over 30 articles total. You can order this CD here for $19.95 only. This price includes shipping anywhere in the world.

- Besides the increased contrast and the waterproof quality I do not see much of a difference with the regular Epson canvas. The weave is the same, and the canvas thickness is the same. Since the canvas has to be coated you can dismiss the waterproof aspect since coating the canvas will make it waterproof anyway. That leaves you with the higher contrast as sole benefit of using this canvas instead of the regular Epson canvas. On the other hand the glossy aspect makes me think I may prefer the regular Epson Canvas.

---
12/4/2004 Welcome back

I have not added new entries in this diary for some time. This is because I have just about covered every aspect of this printer :-) This diary has been a very interesting and informative journey.

I have a couple more entries to add at this time and then it will be time to move on to the next Epson printer. I just purchased an Epson 4000 and I started a diary on this site about this new Epson Printer: Alain's Epson 4000 diary. Take a look at this new diary because I believe you will find it just as helpful, interesting and thought provoking as my other diaries. You will also find out that the Epson 9600/7600 and the Epson 4000 have quite a few things in common. Therefore, some of what I will be writing in my new Epson 4000 diary will apply also to the Epson9600/7600, such as which papers I am currently using, how to print with RIPS and so on.

To continue with my previous entry here is a photograph of the completed canvas print I was working on in the last entry. Here it is, stretched, framed and proudly displayed as a centerpiece: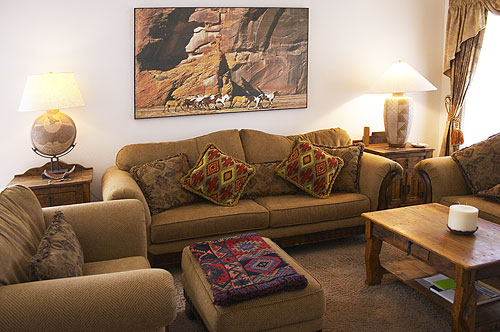 ---
7/28/2004 Very large prints
Today I printed the largest print so far on the 9600. This print is precisely 35"x70". It is made from a 6x4.5 transparency scanned at 8000 dpi on a Howtek drum scanner. The transparency was taken with a Fuji 645zi. The resulting scan is about 800mb. The original file was cropped at the top.

I previously printed this image in a longer panoramic version. This previous version is available here.

This time I used more of the image and did a taller panoramic version. I like this new version very much.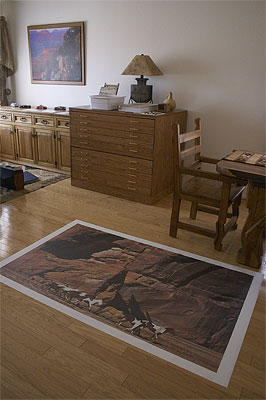 The image was printed on Epson Canvas using Bill Atkinson's Epson Canvas profile. Several test images (6"x10")were necessary to insure that the color balance, the contrast and the density were optimized before the final print was started. I printed this image using the Super Microweave option in the printer driver. This increased the printing time considerably to well over an hour. However it insured a very fine print quality.
I had an interesting problem while attempting to print this image. I could not print the original 700mb, 300 dpi file. I kept getting an error message. Assuming this file was too large to be printed, or that I did not have enough Ram to print it, I progressively lowered the resolution to 240dpi while keeping the original image size. It printed without any problem at 240dpi. While the 240dpi print is beautiful it would be good to know why I couldn't print it at a higher resolution especially since I had no problems printing 40x50 files at 300 dpi in the past. I print from Photoshop CS running on a double processor Macintosh G5 with 3.5 gigabytes of ram and a 130GB hard disc. If anyone knows why I had this problem please let me know as I find it puzzling.
The print will be stretched on stretcher bars custom cut and assembled to the exact size of this print. If you are interested in learning more about this mounting process I wrote a detailed and illustrated article describing how to do it. This article is available as a pdf file. You can get the PDF from here.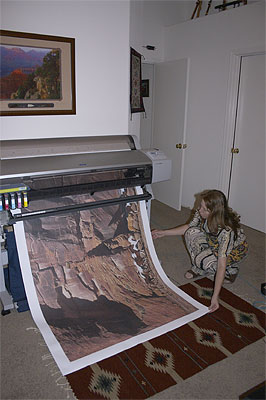 ---
6/3/2004 How to calculate how much to charge for inkjet prints
Calculating how much you need to charge for inkjet prints can be challenging. Many factors go into figuring out the price you charge your customers. Keeping track of all these factors can be challenging.
I found an interesting solution in the form of a pricing software package offered by a company called Estimate. This software solution will work particularly well if you are in a "print for pay" situation, for example if you run a print shop and are making inkjet prints from customer files or if you photograph artwork and then create Giclee reproductions of the artist's work. If you are an artist, and are printing and selling your own work, you will have to include an extra pricing factor for the artistic value of your work.
This full-featured demo version will run for 60 days. After this evaluation period you can upgrade to the permanent version for the price indicated on their web site.
Note that the part of estimate that applies to inkjet printing specifically is found under the "Quick Quote" menu and then under "Wide Format Prints". Since the "Wide Format Prints" is a plugin you will have to add it to your order if you upgrade to the permanent version of Estimate.
Estimate, Price Watch and Vendor Mate are Windows-based programs.
Please note that I have no connection with Estimate and that I do not derive financial benefits from this diary entry. I received Estimate as part of a software package for a new mat cutter and thought it would be of interest to 7600 and 9600 users. Estimate can calculate pricing for a variety of applications besides Inkjet printing
---
6/1/2004 How to flatten your 9600/7600 prints
Curling is a serious problem with photographs printed on roll paper. In this entry I provide two ways you can de-curl your inkjet prints.
1- First, Jerry McCollum developed a personal technique aimed at removing curl. Here is how Jerry does it together with instruction on how to build the jig you will need. Please note that I did not try this technique myself.
Materials needed:
- 3 inch PVC pipe
- 0.010" polycarbonate sheeting (comes in rolls, look for it on Google)
- packaging tape and a sheet of paper
I routinely cut 36" wide rolls into 24x36 sheets for my 7600. I currently use Hawk Mountain paper.
After cutting the sheets with a standard mat cutter, they roll themselves into tubes which must be de-curled into sheets before using them in the 7600.
I made two de-curlers. While one unit is de-curling, I am loading the other and then switching back and forth every minute to load tubes and unload sheets.
My tubes are 40" long
The polycarbonate sheets are 40x28"
The TWO sheets of 0.010" polycarbonate material I use on each tube gives me superior quality.
The polycarbonate sheets are taped to the PVC tube so that they open and close like 2 pages in a book. There is no tape between the two sheets. A piece of paper the thickness of the material I normally cut is glued around the PVC tube up to the edges of the polycarbonate sheets. This creates a contiguous surface when the tube is rolled (no seam pressure marks).
Use is simple. Work the edge of the curled sheet of paper between the polycarbonate sheets. The 0.010" polycarbonate is just stiff enough to keep the paper flat so it slides easily. Once the paper is slid between the polycarbonate sheets the tube is flipped and rolled. A simple Velcro band keeps the tube rolled while the other tube is loaded in exactly the same way. Once the second tube is loaded, the first tube is allowed to unroll.
Voila - flat sheets!!
Polycarbonate is the ideal material for this process because it takes repeated rollings yet always remains stiff. Through trial and error, I found that 2 sheets of the 0.010" polycarbonate are ideal for my sandwich on papers ranging from 100 gsm to 400 gsm.
2- Here is a second way to remove curl. This time you don't need to buy any materials since you can reuse what you already have.
- Use the cardboard tube at the center of Epson 24" or 44" roll papers
- Tape a long piece of 24" or 44" archival paper to this tube
- Place the photograph between the archival paper and the tube. Make sure the printed side is facing the archival paper
- Roll the curled photo paper and the Archival paper around the tube
---
4/25/2004 How to change from matte black to photo black without wasting money and ink
Today I received this tip from Rüdiger Schäfer who lives in South Africa. Rüdiger has posted this tip to the Yahoo Epson wide format forum and forum members confirmed that it works. I have not yet tested it because I do not need to change black inks at this time. However I decided to post the tip to my diary right away so that you can benefit from it immediately.
If you try this tip please email me at alain@beautiful-landscape.com to let me know how it worked for you.
Here it is:
How to change the photo/matte ink in the Epson 7600 and 9600 printers without using the costly Epson draining procedure:
1 – Make sure your printer is not switched on
2 - Open the ink cartridge lever in the ink cartridge bay
3 - Replace the photo black cartridge with the matte black cartridge (or vice versa)
4 - Leave the ink lever open !
5 –Using the printer control panel go into Maintenance Mode 2 by by switching power ON while pushing the 'Paper source', 'Cut/Eject', and 'Paper Feed down' buttons.
6 - Press the 'Paper Feed down' button until you see "SERVICE CONFIG" on the display - press the 'arrow right' button. It then shows 'XXD' in the lower part of the display.
7 - Press the 'Paper Feed down' button until you see "NPD" - press 'arrow right' button. A value of '1' appears in the display.
8 - There are 3 possible value settings for NPD:
0 - no ink check
1 - pigmented ink (there should be s star "*" at this setting)
2 - dye inks
9 - Change NPD setting to '0' (no ink check) and press "Enter" - a star should now show next to the '0' value
10 -Switch printer off
11 - Switch printer on
12 - Close the ink lever in the ink cartridge bay
13 - Printer and driver shows the matte black ink is installed (or photo black ink)
You can use the same procedure to switch from matte black to photo black or from photo black to matte black.
What happens is that once you change the ink in that way the printer
re-sets the 'NPD' value back to '1' the next time you switch on the
printer in the normal way (non maintenance mode).
At that point the previous black ink, either matte or photo black, has not been flushed our of the printer. Here is what you need to do to flush the remaining ink:
A- With the 7600:
The 7600 uses approximately 10 to12 ml of ink before the previous black ink is flushed out.
1 - Create a 23"x 40" image in Photoshop and fill it with pure black (RGB 0,0,0).
2 - I use inexpensive matte paper and print that image at 720dpi.
3 - When you look at the finished print you will see that 2/3 of the print is photo ink as it looks a little bit dull and the rest of the print shows the nice dark matte ink.
4 - When this image is done printing the ink line is charged with matte black (or photo black).
B – With the 9600:
The 9600 uses approximately 20-22ml of ink before the previous black ink is flushed out.
Use the exact same procedure as described above but create a larger image: 43"x40".
This larger image is needed to flush the longer ink lines of the 9600:
1 - Create a 43"x40" image in Photoshop and fill it with pure black (RGB 0,0,0).
2 - I use inexpensive matte paper and print that image at 720dpi.
3 - When you look at the finished print you will see that 2/3 of the print is photo ink as it looks a little bit dull and the rest of the print shows the nice dark matte ink.
4 - When this image is done printing the ink line is charged with matte black (or photo black).
---
4/20/2004 Lightfastness
Recently I received a number of emails asking me to compare the lightfastness of Ultrachrome prints on glossy and matte papers. This is a relevant matter in the wake of Epson's release of the R800, a printer able to create glossy prints without bronzing. It is also of importance to 9600-7600 users who are printing on glossy and matte papers.
Apparently there seems to be a myth that goes something like this:
"Ultrachrome prints on matte papers are more archival than ultrachrome prints on glossy papers. " Let's take an objective look at this subject.
First, the archivability of a print needs to be looked at on a paper by paper basis, not on a paper category --i.e. glossy vs matte, matte vs glossy, etc.-- basis.
Second, we need to look at color prints and black and white prints separately. As we will see color prints and black and white prints, done on the same paper, do not have the same longevity.
Third, Wilhem Imaging provides us with reliable data in regards to the longevity of matte versus glossy papers done on the Epson 9600:
http://www.wilhelm-research.com/epson_9600_preview.html
1-Color Ultrachrome prints
According to the Wilhem pdf chart, and looking only at uncoated Ultrachrome prints framed under glass, Enhanced Matte Paper has a display life of 64 years while Epson Premium Glossy Photo Paper is listed at 85 years (displayed prints not framed). According to this data Ultrachrome prints on Epson Premium Glossy Photo Paper have a higher longevity --9 years more-- than Ultrachrome prints on Epson Enhanced matte paper.
According to the chart Epson Premium Glossy Photo Paper outlasts all other Epson papers except for the Epson Watercolor Paper Radiant White (Sheet) and Epson Ultrasmooth Fine Art paper.
One thing which helps explain the high longevity of prints done on Epson Premium Glossy Photo paper is that this paper, as well as other glossy and luster papers, use a very different type of coating technology than matte papers. Many glossy and luster papers use an ink-encapsulating coating. When the inks are deposited on the paper the liquid ink softens the coating which becomes porous. The ink immediately starts to "sink" into the wet coating and when this coating dries it effectively seals the inks into the coating layer, effectively encapsulating them.
The Epson R800, which embodies Epson's latest ink technology, adds one more layer of protection by applying a clear varnish to the print after printing is completed. This varnish further seals the inks in the print, preventing them from evaporating or migrating to the surface of the paper. The paper of choice for the R800 is Epson Premium Glossy Photo paper. It's excellent lightfastness is great news to those of us who enjoy printing on glossy papers.
Glossy prints have one additional benefit when compared to prints on matte papers: they are not affected by scuffing. While scuffing can be minimized by coating the print and by careful handling it is a serious problem with matte papers.
2- Black and white Ultrachrome prints made with the full color Ultrachrome inkset
When looking at black and white prints Enhanced Matte paper is the longest lasting at 150 years. Second is Epson Ultrasmooth at 140 years and third Epson Premium Glossy Photo paper at 135 years.
It is interesting to note that longevity ratings are much higher for black and white prints. This is most likely due to the fact that, while all the inks are used, the main component of a black and white print is black and light-black ink. Clearly. Black ink is far less subject to fading.
Methodology
Again, I am only looking at uncoated Ultrachrome prints, framed under glass. The reason for looking at uncoated prints is that potentially all prints can be coated but the chart only shows coating longevity ratings for a few papers. The reason for looking at prints framed under glass is that this is that this is the presentation Wilhem considers "the single most important of the three display conditions listed." I also had to make a choice to avoid making this comparison unnecessarily complicated.
---
4/16/2004 Making big prints (42"x72") in Windows XP
I received this via email today. Jim had a problem printing large images to his Epson 9600. His prints are 42"x72" precisely. Here is the solution he implemented at the recommendation of Epson Technical support:
First make sure (in XP) you have the SP1 and 1a service pack installed.
Open the 9600 printer properties (start/printers and faxes/9600/ advanced tab/..) and click off "enable advanced printing features."
Save that.
In PS, click print with preview, open the printer and ensure the paper size is bigger than the print (roll paper selected, paper size is user defined, make a 44x76 page and save it).
In the driver window, turn off "finest detail" (doesn't matter what the DPI of the print is, 360, 720 or 1440. Finest detail only applies to sharpened text).
Save that and go back to your print with preview window.
Image should appear correctly for printing.
Hit print!
This worked perfectly!
---
4/7/2004 Maintenance tank - replace or reset?
In recent weeks I have received a high number of emails asking about what to do when the maintenance tank is nearly full and the printer is saying so. It seems that a number of 9600's are getting to the point where their maintenance tanks need attention!
My recommendation is this: pull the maintenance tank out of the printer and inspect it visually. See if the tank is full of ink or if the pads still show some white padding. See if the ink is leaking
out of the tank (hopefully not).
If the tank is full and the white padding is saturated with ink, replace the tank. If ink is leaking out replace the tank immediately.
If the padding is still able to absorb ink, and if it shows some white padding, reset the tank according to the instructions I provided earlier on in this diary. To see these instructions scroll down on this page and you will find them.
Resetting the tank is done through the printer control panel. Once the maintenance tank is reset the printer thinks a new maintenance tank has been installed and the maintenance tank counter goes back to zero. You didn't physically change the tank but you made the printer believe you did. This saves you the cost of a new tank and has no adverse effects on the printer as long as you make sure that the tank still had some white absorbent material in it prior to resetting.
After you reset the tank you will need to monitor the tank's capacity on a regular basis. If you use your printer a lot I recommend you do this once a week. Doing so is easy and only takes a few seconds. Make it a habit, each Monday for example, so that you don't end up with a full tank which is leaking ink all over the place! You want to save money but not create a mess which is going to take forever to clean and which may damage your printer.
I also heard that recent Epson maintenance tanks use a lighter padding material than previous maintenance tanks. If I am correct this new and lighter padding will result in maintenance tanks which fill up faster, which may or may not be resettable, or which can be reset only once instead of several times. If you purchased your printer a year ago or less you may have one of these new tanks. In this case, if you reset your maintenance tank, you need to be particularly vigilant about how full it really is.
---
2/27/2004 Epson Ultrasmooth paper
I just tried the new Epson Ultrasmooth paper on my Epson 9600. I have to say that this is a success. I love this paper!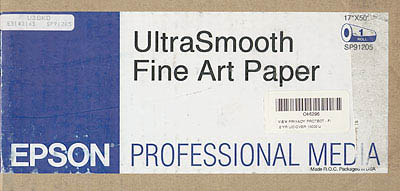 Ultrasmooth has been promised by Epson for a long time and is just becoming available. It comes in both rolls and sheets, in 250 gram and 500 gram versions. The 500 gram version is only available in sheets since it is too thick to be rolled.
At this time I tried the 250gram, 17"x 50 feet roll. The roll fits in the 9600 although it is much smaller than the usual 44" rolls I normally use.
Since Epson does not provide profiles for Ultrasmooth yet, and since I did not have this paper profiled yet either, I used my Epson Enhanced Matte profile with Ultrasmooth as recommended by Epson.
The results are great. The prints look wonderful with this profile. I will of course have it profiled but at this time I can say that using enhanced matte profiles with Ultrasmooth works very well.
The quality of Ultrasmooth can best be described as "Fine Art Paper." This paper does not have optical brighteners, meaning that you don't get this pure white, sometimes almost "too white"appearance that some papers have. Instead you get a nice, smooth, velvety quality with an off-white tone to it.
This paper also has one of the finest textures I have ever seen on a matte paper. The smallest details are rendered perfectly and come out extremely sharp.
I plan to make this paper my primary paper for fine art. I also plan to purchase 24"x30"sheets as soon as possible. These are 500 gram sheets which mean you do not have to mat or dry mount these prints. You can simply leave a nice wide border all around the print, create a deckled edge, and add your embossing stamp for a beautiful "Museum quality"appearance.
My current print of the month (actually 2 prints this month) are printed on Epson Ultrasmooth. Click on "Prints" on this site's homepage to read all about it. If you want to see this quality for yourself this is a great opportunity to do so while building up your fine art photographs collection. And if you haven't tried Epson Ultrasmooth yet you owe it to yourself to give it a try. If you like Enhanced Matte you will love Ultrasmooth!
---
Alain Briot