8/17/2006 Getting Started
At PMA 2006 Canon announced their first 12 pigmented ink printer: IPF 5000. We have now this printer installed in our printing studio.
Installation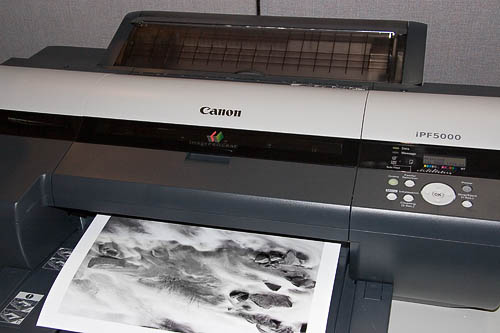 Canon IPF 5000
Once you have the printer out of the box (it is very heavy at 99 lbs. and you need a second person to get it out of the box) the installation went smooth and we started printing about 30 minutes later. Twelve inks is impressive and we will likely check at a later time whether it really improves the gamut in practice (there are indications though that it matters).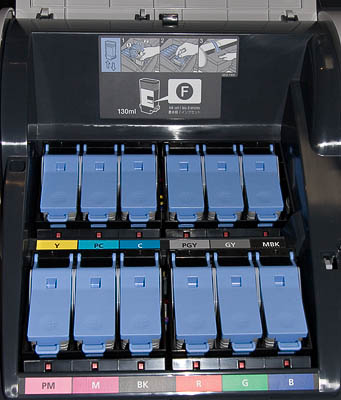 12 inks
The inks set:
Cyan, Magenta, Yellow, Light Cyan, Light Magenta (that is typical these days)
Red, Green, Blue (this makes a difference as these colors don't need to be mixed from other colors)
Black, Matte Black, Gray and Photo Gray (a lighter gray)
The ink tanks normally carry 130ml ink but the starter ink tanks hold only 90ml. While we find it kind of strange to have starter ink tanks with less inks it is on the other side no big deal if you deal with a printer of this level. Important to note is that the IPF 5000 does not require to switch inks when changing from matte to glossy media or back.
Paper Feeder options
Cassette for thinner and flexible papers
Top single sheet feeder
Rolls up to 17" wide and cores 2" or 3" thick (roll adapter costs extra)
---
Setting up the Printer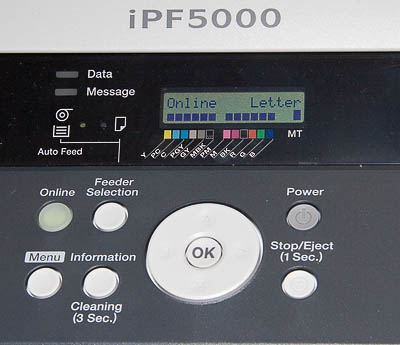 IPF 5000 controls
Different from many other printers you need to setup the right paper size and paper type on both ends: the printer and the driver. If there is a size mismatch it won't print. This maybe sometimes a hassle but no big deal. On the other side it prevents a bad mismatch. If the paper type does not match this is less of a deal as you get a warning. Better of course have both sides match. The software comes with an extra utility to add new paper types. If we use non Canon papers we prefer to set both ends to a paper that comes close.
Printing from Photoshop
Why don't we just say printing here and mention Photoshop? The reason is that the IPF 5000 software comes with an extra Photoshop Export plugin to ease printing. If you use other applications you may need to use the normal drivers.
What is so special about this Photoshop plugin?
Printing from Photoshop is no real pleasure. You have at least three dialogs to synchronize to get a proper print:
Photoshop Print dialog
Print Size dialog
Driver dialog
If something does not match you wasted time, ink and paper (and may even spill inks in the printer). The new Canon export plugin is a one stop printer control and seems to even get around the normal driver's 8-bit limitations. There is also one other potential benefit:
Allows 16 bit data transfer to the printer and may avoid posterization in some cases
We will compare the normal driver and the plugin sometimes later.
Because we mostly print from Photoshop anyway there is no reason for us not to use this new plugin.
---
Canon imagePROGRAF Print Plug-In for Photoshop
This plug-in controls your complete print job with all parameters.
Main Tab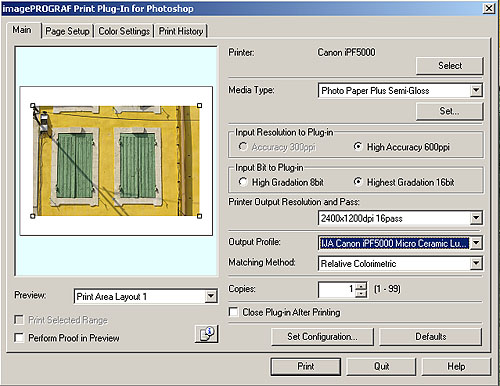 Plug-In main tab
The main tab controls:
Printer (if you have more than one)
Media type (select the Canon media type or a paper type that comes close)
Input resolution (we use 600ppi)
Input bit depth (we use 16 bit which of course makes more sense with 16 bit images)
Output resolution (we mainly use the maximum 2400x1200dpi 16pass)
Output profile (can be also "Auto (Monochrome Photo)" for B&W)
Matching method is the so called rendering intent (we mostly use "Relative Colorimetric")
Set Configuration allows to set the upscaling algorithm and extra sharpening (we left it at zero so far)
for the other entries you should consult the manual or play with the dialogs)
Page setup tab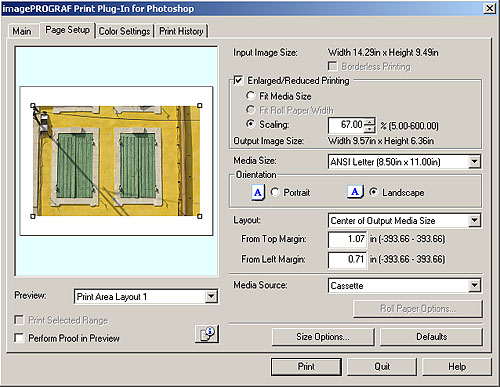 Page setup
You can resize but we prefer to do this in Photoshop because we don't find scaling by percentage that appealing (this is actually our only minor issue so far)
Media size (needs to match with the printer setting)
Orientation (Portrait or Landscape)
Layout
Media source (also needs to match printer settings)
Size options allows you to create new custom paper sizes
Color settings
In normal color mode you get the following dialog. We never tweak colors in the driver and leave all at the default.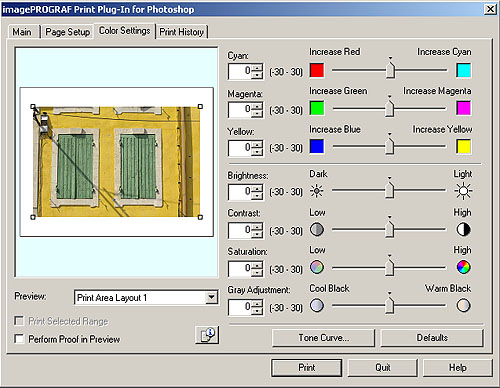 Color settings for color images
In "Auto (Monochrome Photo)" mode you have a different dialog: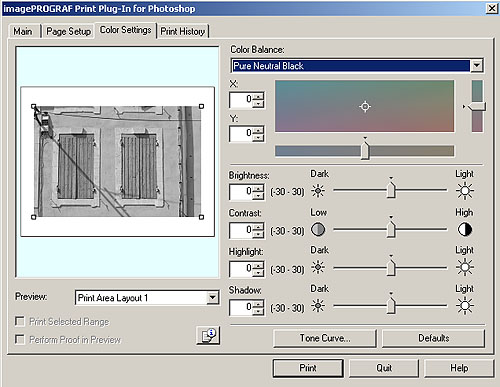 B&W settings
This dialog is used to tweak the B&W output. Most important to us is the control of the B&W tone. We used e.g. X=-2 and Y=-10. You may also tweak the Tone Curve to better match the preview and the print: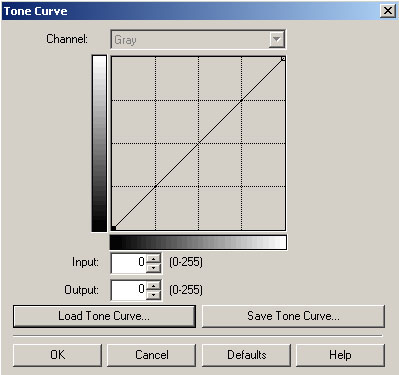 We will later also check out the B&W profiling with QTR tools.
Print History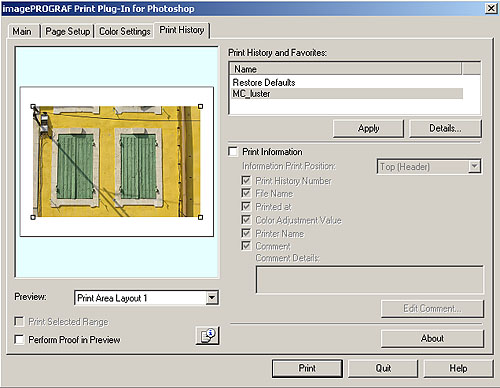 Print History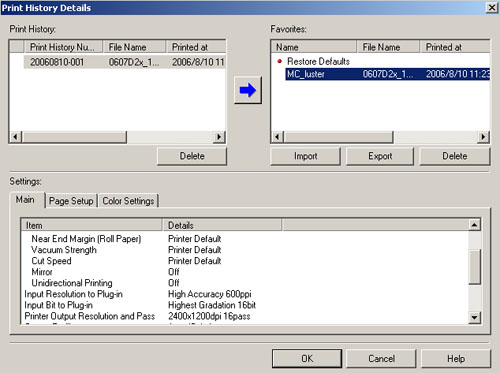 Print History Details
This tab is very helpful for your print workflow as it serves two purposes:
Revisit and recall recently printed jobs (last 100 are recorded)
Save print job settings as favorites that can be later applied to new prints
This is a very useful tool.
Conclusion on the PS plug-in
Overall we love this plug-in and don't want to be without. We have to check into the 16bit operation later.
We just would wish the following improvements:
Allow resizing by entering width or height
Allow a larger preview (means resizing of the full dialog box
---
We will cover different papers used with the IPF 5000.
Printing with Paper #1: Canon Heavyweight Satin Photographic Paper
Paper Data
300gsm
16x100' roll
Satin surface
Item Code: 0849V330
Of all more glossy surfaces we prefer satin or semi-gloss look. This Canon paper pleases us a lot. With 300gsm it feels solid. Paper handling by the roll feeder works just fine so far. There is a special dialog in the plugin to control the roll feeder: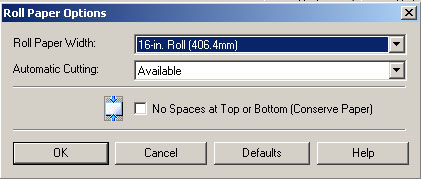 Roll Paper Options
Roll width (mainly 16" or 17", our roll came in 16")
Automatic Cutting (yes, no, print cut line)
"No Spaces on Top or Bottom" prevents paper waste. We found the default border just right for our print and left this option off.
The Heavyweight Satin Photographic Paper did not show up in the printer or driver settings. We used the settings for "Semi-Glossy Photo Paper" and got very pleasing results using the generic profiles of the printer. We have to create more dedicated profiles in the future but are actually very happy so far.
Color Prints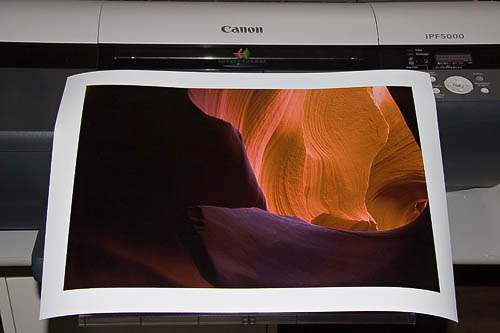 Color print on Satin
To our eyes the color prints look excellent and at 2400x1200dpi 16pass you need a good loupe to detect the dot pattern. Even then the dot pattern looks very smooth. Actually we find the color prints on this as good as on any printer that we used with a Satin paper. Very satisfying.
B&W Prints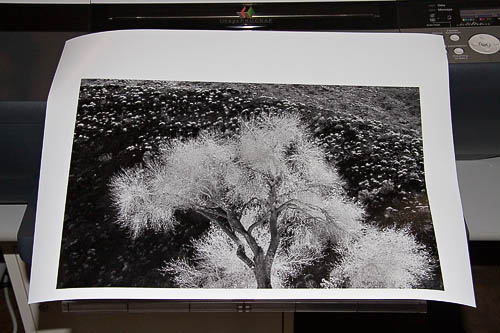 B&W print on Satin
The B&W print was made using the "Auto (Monochrome Photo)" mode and the above mentioned toning settings. There is some slight bronzing visible but really needs a close inspection. We personally don't find this to be a problem even for prints that are in an open portfolio. Otherwise the B&W prints looked excellent and we did not find any objectionable metamerism.
For us this printer paper combination provides excellent results. We are especially impressed by the B&W performance.
To be continued...