12/16/2006 Getting Started
Today I received one of the first models of the new Epson 3800.
Everybody reading at this diary knows what this printer is all about: an incremental improvement (print-quality wise) over its predecessors (to be verified!), matte and photo black ready for use without costly swaps, no roll support and 37" of max paper lenght using the standard Epson driver.
Many people will probably spend a few sleepless nights pondering whether they should replace they current printer with the Epson 3800.
Do I really need the roll feeder? How many times a year would I switch the black inks on the 4800? Interesting price tag, isn't it? Yes, but why only 37"? What if I print panoramas? And so on...
This article will not cover any of those arguments. This article will focus solely on the printer itself. I'll do my best to review it in-depth and in a timely manner, so that you can have a source of good information to help you decide if this printer is for you.
Having an Epson 9800 for all of my big prints and knowing what a pain is feeding it with sheet paper, I knew I needed a 17" printer with cut-sheet handling capability. Also, the claimed better print quality (due to the redesigned screeening algorithm) was something I coudn't resist trying, therefore the Epson 3800 had my name on it since it was announced.

The shipping box measures 31"x16"x21" and weights 55lbs. I was able to load it in and off the trunk of my car without any help. Compared to the Epson 4800, it is definitely a manageable beast. Here is the first look into the cut open box.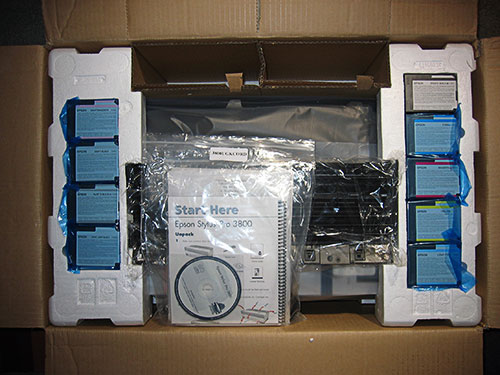 The new 80ml ink cartridges look exactly for what they are: something in between the small and un-economical small cartridges of the 13" Epson printers (the 2200 and R2400 for instance) and the more substantial 110ml and 220ml ink tanks used on the Epson 4800/7800/9800 series. You can view here the entire ink set.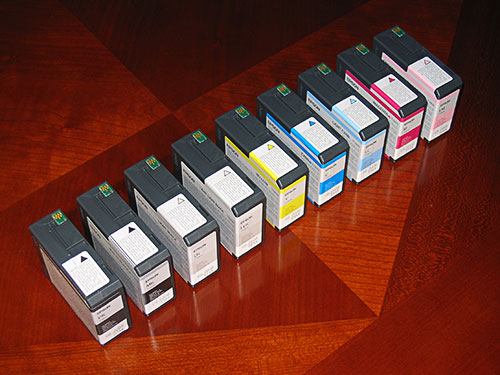 And a close up of one of them.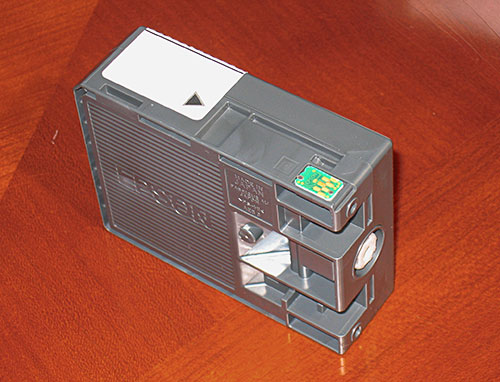 In case you ever dreamed about the green microchip disappearing, wake up, it's still there to prevent you from buying the 220ml cartridges and use them to refill the Epson 3800 80ml cartridges for better ink economy.

Though not quite as big as the 4800, the 3800 is still a big printer. After placing it in a temporary location, I removed the usual large amount of blue tape and foam spacers that the good guys at Epson seem to enjoy placing everywhere outside and inside the printer.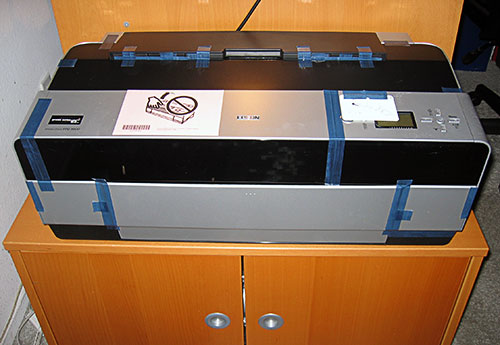 After removing all the tape, my first instinct was to take a look inside the ink compartment, but this is impossible at this time because the ink cover is locked and can only been released by turning on the printer.
After turning the printer on (as the manual says, do not connect the printer cable yet), the ink cover is automatically released...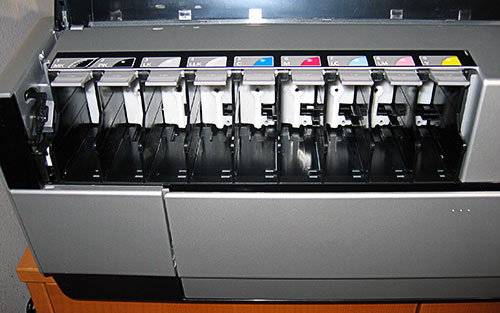 ... and the printer LCD panel will guide you through the ink installation process.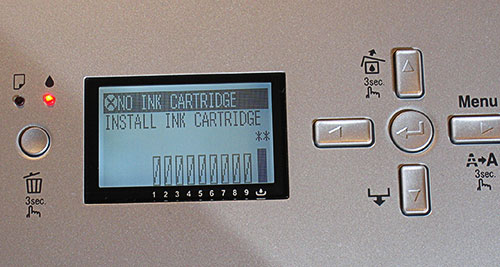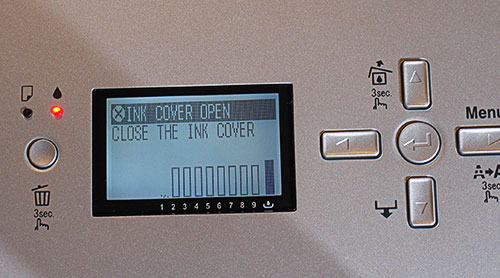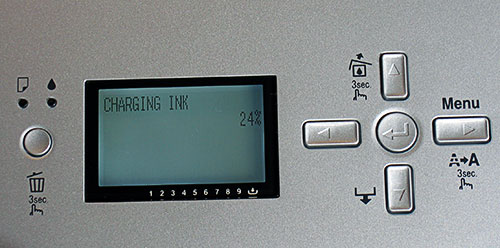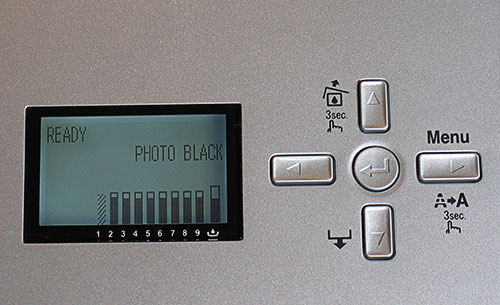 Running a Printer Status report on the ink level soon after bringing the printer to life, shows the following levels of ink left in each cartridge:
90% - Matte Black
87% - Photo Black
80% - Light Black
80% - Light Light Black
80% - Cyan
80% - Magenta
80% - Light Cyan
80% - Light Magenta
80% - Yellow
The maintenance tank remaining life is reported at 64% and the tank looks like this.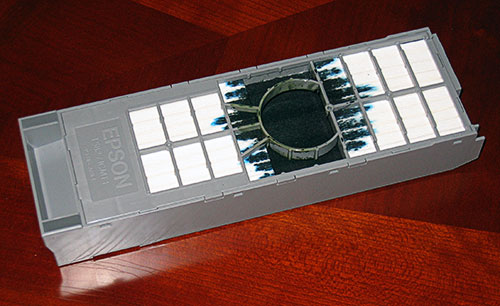 At this point I run a nozzle check with my finger crossed. It came out perfect and quite honestly, a clogged print head within the first 10 minutes of operation would be considered a very bad sign, but so far so good!
I also run an automatic head alignment and the printer is now ready for some real testing that will be performed in the next few days. Stay tuned!