3/5/2007 Note: Olympus announced the new E-510 camera which features image stabilization on the sensor level.
Recently we had two Four Thirds cameras for test. What is a Four Thirds camera? Olympus influenced (created) a industry consortium to standardize cameras for a new lens mount and sensor size. The proclaimed goal was to initiate cameras that can use lenses only designed for digital cameras.
Up until recently only Olympus produced cameras and lenses for the Four Thirds system. Then Sigma was the first third party company that produced lenses for the Four Thirds system. Likely the most important news for the Four Thirds system is that Panasonic (with Leica lenses) is producing its own Four Thirds cameras and using Leica zooms on it. Different to Sony (buying Minolta) and Samsung (OEM Pentax cameras) Panasonic uses a more open lens mount standard. Hard to tell whether this will allow the Four Thirds system to be a broader success in the future. The key questions we see are:
How will future Panasonic and Kodak sensors compare to the ones by Sony and Canon?
Is the Four Thirds sensor size ("The standard diagonal length is 21.63 mm (half that of 35-mm film format)" a limit for higher demand on resolution?
Will Fuji and Kodak (both members of the Four Thirds consortium) also develop own Four Thirds cameras. We don't think Kodak will do this.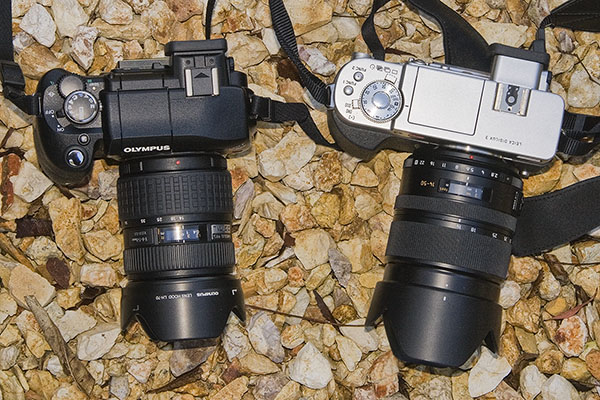 Olympus E330 and Leica Digilux 3
Here are some notes on two Four Thirds cameras launched in 2006:
Leica Digilux 3 (Panasonic Lumix DMC-L1)
Olympus E330
---
Leica Digilux 3 and Olympus E330
We think of the Leica Digilux 3 mainly as a Panasonic camera from the body part and of course with a Leica zoom lens.
Panasonic licensed quite a few features from Olympus to build this new body:
Viewfinder

Anti dust technology (first introduced to digital SLRs by Olympus and now followed by many other companies: even by Canon in the new 400D/Rebel XTi)
Four Thirds lens mount
In return Panasonic licensed it's new Live MOS sensors (more info from Panasonic) to Olympus for the E330.
This is by no means a review. We try to communicate some of our observations while handling both cameras.
Overall we liked both cameras but we are not sure how much of an alternative these cameras are compared to Canon's and Nikon's offerings. For sure the Leica zoom seems attractive and the Olympus lenses are also good performers. Hard to say how bright the future for Four Thirds cameras will be.
We expect new Leica lenses shown at PMA 2007
Also Olympus should get closer to their next flagship camera after the E-1
Here are some RAW files from both cameras.

For a reference there are also two shots with a Canon 5D and the extreme sharp Canon 50mm f/1.2 .