Imagine this scene. You are hiking up a new trail to get to a scenic spot you want to shoot. As you round a corner in the trail, you come to a considerable creek crossing. The water is deep, mid thigh, and moving fast over a broken rocky bottom. The total crossing is over 15 yards wide. Your view of the bottom is obstructed since the water is off color due to recent rains in the area. The shot you are after requires you to cross this creek so you zip up everything, hitch your pack up tight and start across. About half way across you left foot slips, you spin around trying to regain your balance and as you do the force of the water knocks you over on your back……… as the water closes over your head, you think, "Oh no, what about my camera!"

For photographers who carry camera gear in the field, I feel this is a subject that is often overlooked. If you are working around water, you need to be able to focus on the task at hand; the crossing, not if your gear will be OK. When you consider that you also may be carrying as much as 30 to 35 pounds on your back, then the pack you pick becomes even more important as you need security for you gear but comfort for your back.

Personally, I want to be able to carry everything I will need for the day's shoot in a comfortable platform. Since most times I am in the outdoors either on trails or bushwhacking, I prefer to use a backpack. I want this pack to provide easy access to everything, but at the same time provide a secure and well padded environment for my gear. I also want to be able to secure this pack from any water penetration that may come about during a fall while working around a creek or sudden cloud burst. I need my pack to have enough space for the camera gear but also to leave room for other gear I may need to carry for that day. This could range anywhere from rain gear, wadding shoes, or a laptop and of course lunch.

Lowe Pro Dry Zone 200

My current pack is actually a combination of two different packs, the Lowe Pro Dry Zone 200 and a Dana Designs Far Flung. I use the interior camera bag compartment and water proof enclosure from the Dry Zone 200 and use the Far Flung pack to carry it. The Dry Zone is unique, in that it offers a fully water tight design. It has two zippers; the outer zipper provides a water tight seal around the bag. For my work, this is critical as I am often forced to cross creeks where one slip may allow the pack to get immersed in water. The last thing you want is to find yourself in the same situation as I describe at the beginning of this article. Net result---an entire day is ruined not to mention a considerable amount of camera gear. Here is a view of the Dry Zone 200.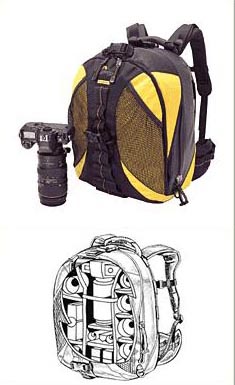 Dry Zone Pack, Image from Lowe Pro
The Dry Zone pack consists of the inner camera bag compartment and then an outer waterproof enclosure which the camera bag fits into. The camera bag compartment is very similar to the other bags that Lowe makes. It consists of a well padded bag with adjustable dividers with a zippered lid. This in turn fits inside the waterproof enclosure which is made from ballistic nylon sealed by a waterproof zipper. The last part of the Dry Zone 200 consists of a shell that fits over the waterproof enclosure and provides shoulder straps, a waist strap and some additional storage pockets. The dimensions of the camera bag are 14.5W x 11.5D x 19H in. This is a nice overall size and allows me to carry all the camera equipment I need for a day's shoot.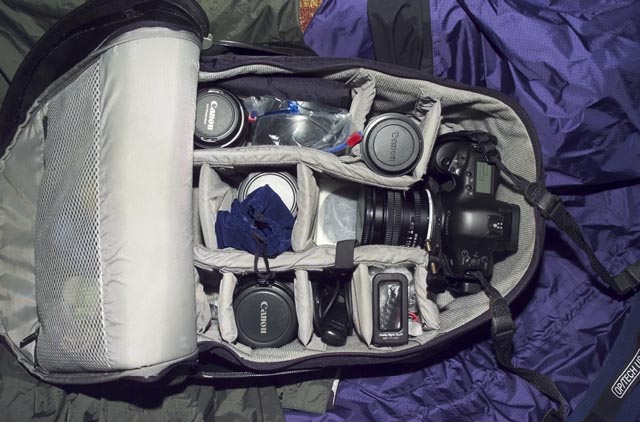 Caption: Camera bag for Lowe Pro dry zone

In this image you can see a view of my camera bag compartment laid out for a day's shoot. I have placed the camera at the top of the bag. Currently in this view this bag contains the following:
Canon 1ds with Canon 24mm TS-E attached
Canon 45mm TS-E
Contax distagon 28mm and 35mm lenses
Filter pouch
Spare 1ds battery
Canon 100mm Macro lens
Mamiya 35mm F3.5 lens
Zoerk Lens adapter
I arrange my gear with the camera at the top of the pack. I prefer to have the heaviest piece of gear well up on my shoulders, not at the small of my back when I carry the pack. I may occasionally change this up slightly depending on the situation, but in the picture shown above you can get a pretty good idea of my standard array. This amount of gear weighs in at around 35lbs. The lid of the bag has a separate zippered compartment to hold smaller stuff. I use it to carry some of my miscellaneous adapters and cleaning materials.
With the camera bag zipped closed, you then seal the outer protective shell with the waterproof zipper. Lowe Pro provides a T-Zip for this which gives you a better grip on the zipper pull. Always make sure that you have fully closed the zipper as the slightest gap will allow water into the pack. It's also a good idea to keep the waterproof zipper lubricated. Lowe kindly provides a tube of lubricant for this purpose.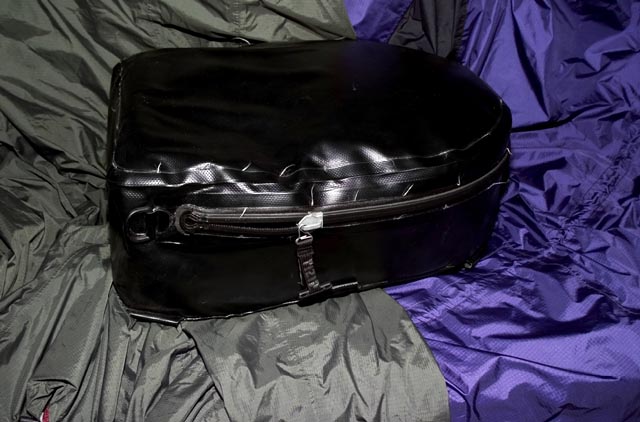 Waterproof enclosure & zipper
Dana Far Flung
Here is where I change things up. I found that the soft shell that fits over the Dry Zone 200 didn't offer me a very comfortable fit as I am 6-1 and have broad shoulders. I never could get the pack to fit where I liked it. I also didn't like the waist band that is provided. The waist strap is very critical in providing an overall good fit for a pack. You want the waist strap to fit right around your hips and to have enough padding so that over time it won't dig into your hips. The padding that was provided on the Dry Zone 200 wasn't very impressive to me. If you have carried a backpack in the field you will understand this.
Because of this, I decided to keep the waterproof enclosure and camera bag, but use a different pack. I choose the Dana Design Far Flung, mainly because it has a fully zippered opening and has an internal frame design. It's my opinion that the Dana pack has a far superior suspension system than the Dry Zone. It also fit my frame much better. With the fully zippered opening, it is easy to place the Dry Zone enclosure inside the Dana pack and then head off to your destination. With the Dana Far Flung, I also have more room for other items such as water bottles, rain gear, food and other non-critical gear.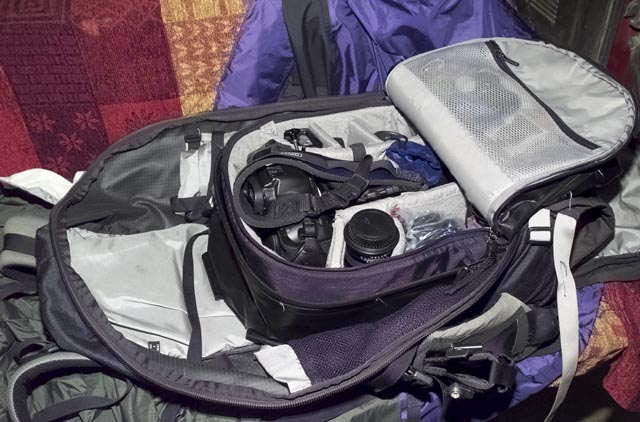 Dana Far Flung and Lowe Pro Dry Zone Bag

I have used this combination now for almost 3 years. On a couple of my trips I have had occasion to test the Dry Zone for water tightness and each time the seals held. I don't want people to get the impression I am carefree when I attempt a crossing, but with this pack setup I can focus more on the crossing, and not worry about my gear. When attempting a crossing of a swift creek, you really only want to have to be concerned about where each foot is placed and even that can get tricky. One note, I tend not to seal the outer waterproof seal unless I am fording a creek or in a hard rain. The inner zipper will work the rest of the time and you also have the outer cover provided by the Far Flung.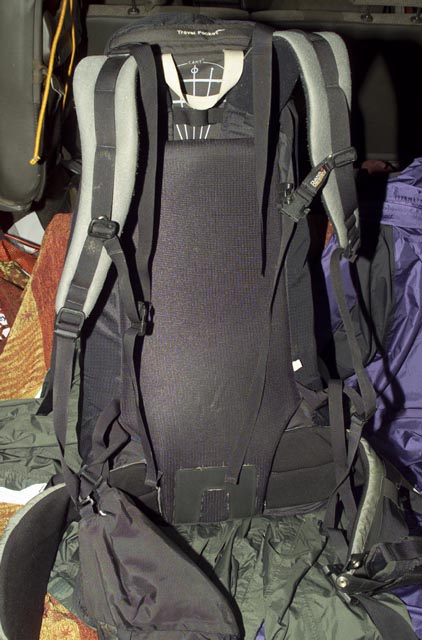 Dana Far Flung pack showing the suspension and support
In this last image you can look at both the full suspension system provided by Dana Designs and the considerable amount of padding provided by the pack. The Far Flung comes in several sizes so if you order one, make sure you consult with a local dealer.
The only issue I have found with my Dry Zone is that the black color will absorb heat very quickly. So when you are in the field keep the back out of direct sunlight. Both Dana Designs and Lowe Pro offer strong warranties on their products. More details can be obtained on their respective websites.
For further information on either Lowe Pro or Dana Designs, I have provided the links to their websites.
www.danadesign.com
www.lowepro.com
Feel free to email any inquires to me at pcaldwe@aristotle.net