This toolkit is long time in the making by a group of Photoshop masterminds like: Bruce Fraser, Jeff Schewe, Andrew Rodney, Martin Evening and more. We were using a late beta version of the PhotoKit so there might be some changes last minute.
The Idea
Give the users a set of Effects that give solutions in Photoshop and only use as much as possible photographic terms. Also the other idea is to have an effect toolkit which means: mix and match!
The Problem
Developing sophisticated actions costs a lot of time and needs even more experience. But once the actions are on the market it is very easy just copy them.
The Solution
PhotoKit provides the actions (it can do even much more than just plain actions) as a Photoshop automation plug-in and this needs to be licensed (about $49.95 for the full set). At a first glance using the plug-in looks more clumsy than using actions. But as these tools can be used inside actions you can easily build action wrappers.
The Principle
If you run a PhotoKit effect it always will result in a new layer on top of your current layers.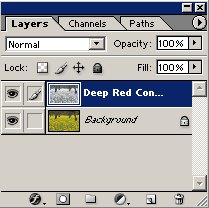 Layer created by a PhotoKit Effect
This has two advantages:
1. You can stack PhotoKit effects
2. You can change the opacity of the new layer and that way reduce the effect