There are several tools on the market to create panoramic images. The granddaddy of them all is of course the free Pano Tools (created by Helmut Dersch), usually complemented by any one of a slew of (shareware) front-end interfaces. Adobe Photoshop CS also includes its own Photomerge tool. I find these tools difficult to use, often producing results that are far from perfect, and limited to 8-bit images. Interested in finding a good, easy-to-use, pano tool I came across Panorama Factory (available for Windows®) and find it very easy to use, capable of producing automatically excellent results.
The program's interface is straightforward and is supported by a well-written Help file. In addition, Panorama Factory offers a wizard mode, which I recommend for the first time user.
In the following, I describe how to make a panoramic image using the program's wizard mode, using my preferred settings. I started by shooting a series of images on a tripod and keeping some overlap (about 20%) from image to image. All images were shot in manual mode with the same exposure, and the RAW conversions were set with identical conversion parameters for all images in the set.
The Panorama Factory wizard is straightforward to use:
Step 1 - Import your images - Click the "Import" button and select the set of images.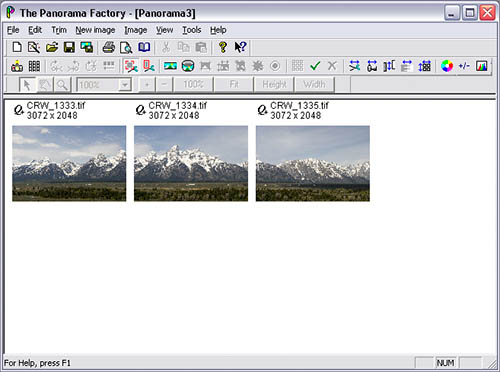 Step 2 - Describe your camera - select camera/model (many popular cameras are supported). Choose also automatic focal length detection and check "Correct barrel distortion" and "Correct brightness falloff."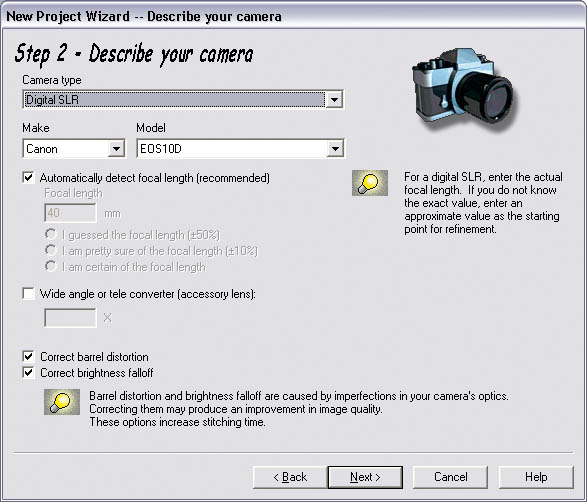 Step 3 - Control Image Quality - check the fine tuning boxes but do not check exposure adjustments (this should be left off for images shot with the same exposure settings).
Step 4 - Select panorama type - Set Partial panorama and Spherical reprojection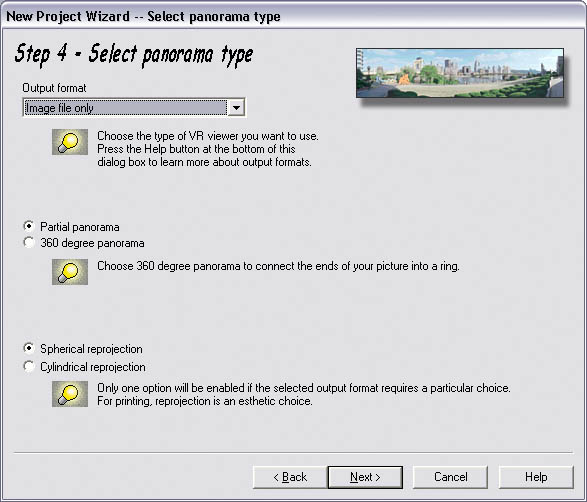 Step 5 - Create your panorama - Check Prepare image for printing and Default resolution
Click Next and the Panorama will be built. If image overlaps are less than optimum (minimum 20%) you may see a warning message regarding focal length refinement.
Step 6 - Save & print your panorama - Click Save final image (you can choose a variety of image formats - see Note1 below).
Once you open the pano in Photoshop it appears that the image RGB space is stripped. Assign whatever RGB space was attached to the original component images.

Resulting panorama of 3 individual landscape images
Click here for a large panorama of 6 stitched landscape shots.
Beyond the workflow presented here, the program offers a series of additional adjustments, including exposure compensation (if needed), color adjustments and batch processing.
I have created panoramas with Panorama Factory from sequences of images shot handheld. The program had no problem in creating seamless unions, where other image stitchers failed.
Panorama Factory V.3.3 (Standard Edition) is available for the Windows OS at a license cost of $59.95. A trial version is available from the vendor's website.
---
Note 1 - Windows TIFF bug

Windows users may have problems with large TIFF files as there is a bug in Windows Explorer. This is not a Panorama Factory bug. Instead of using TIFF files, panos created as 16-bit PNG files had no problems.

Note 2 - 64-bit Edition

The vendor will soon release a 64-Bit Edition, making it possible to create much larger images when running in 64-bit CPUs. As the resolution of digital cameras increases, this version becomes more interesting. Some users with 12 and 14 megapixel cameras are already starting to have the dreaded "out of memory" problem when they try to stitch a larger number of images. The 64-Bit Edition resolves these memory limitations. See more details here - http://www.panoramafactory.com/pfactory64.html
The Standard Edition and the 64-Bit Edition are functionally identical - except that the 64-Bit Edition cannot import or export QuickTime movies (see here).