Photoshop Corner #022
All new Photoshop CS (aka PS8)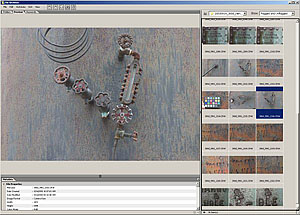 a note

Uwe Steinmueller
New Photoshop CS announced
Now the time of rumors about the next Photoshop is over. It is not called Photoshop 8 but got the marketing name Photoshop CS (Creative Suite). Nevertheless we will call it PS8.
This note is not a full review of the new PS version but tries to give an overview of what to expect from PS8.
As part of the pre-release team for PS CS I could use PS CS already for quite some time. I always concentrated on the main features that seem for me especially important for Photographers.
Most operations and Layers(!) can be done in 16 bit
"All core Photoshop features are now available to 16-bit images, including layers, painting, text, and shapes."
Although we applaud this development you have to know the price:
You more memory
and even more disk space

a 16 bit layered PSD file can use up more than 3x the space of the 8 bit equivalent
Using compressed TIFF with ZIP compression wins space but costs performance and compatibility
Much improved File Browser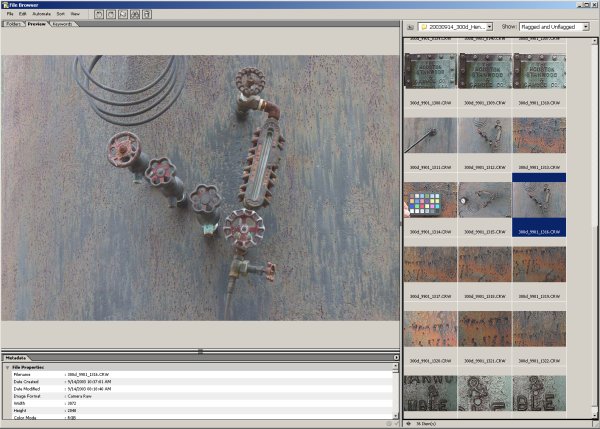 This is an all new file browser with:
Much larger quality previews
enhanced integration with Camera Raw 2.0 (now an announced part of PS8)
Background rendering of previews and thumbnails
We miss:
adhoc slide shows (PS allows PDF slide shows)
New integrated Camera Raw 2.0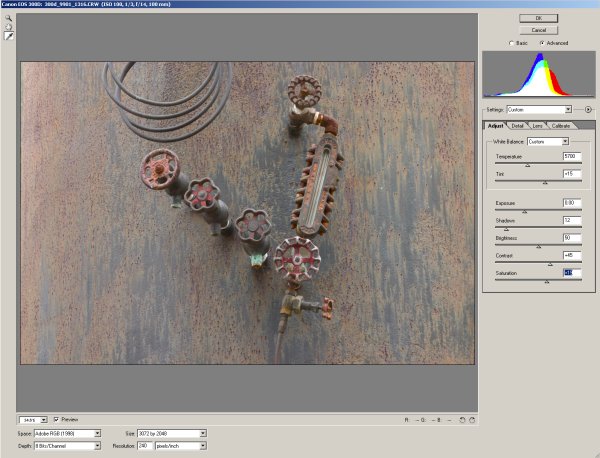 We plan for the near future a more elaborate review on Camera Raw 2.0. But here are the highlights:
Improved quality
Popular cameras like Canon EOS 10D and Canon EOS 300D can be opened
Much improved colors for Kodak cameras (Pro Back and 14n). Don't let you scare away using CR 2.0 for these cameras because they are not officially supported by PS8
Filters for CA (chromatic aberration) and vignetting. Both is very much needed for some consumer cameras and even with some lenses for the Canon 1Ds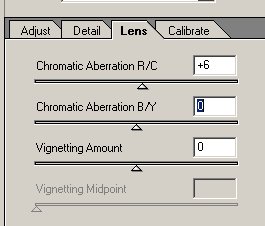 Possible color calibration for your taste and camera. We are sure that this tool is powerful but also think that these features are not for everyone as you can easily mess up your colors.
Now you can save your setting also selective (e.g. the WB only) and apply these settings to other pictures
Shadow/Highlight Corrections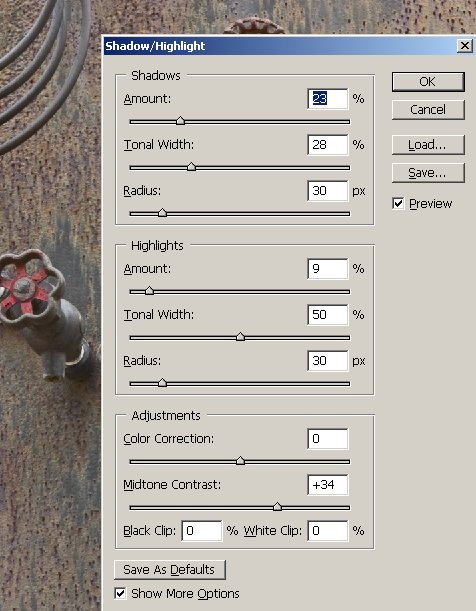 Adobe advertises this tool as a correction for snapshots
"Use the Shadow/Highlight adjustment to modify shadows and highlights while preserving existing image midtones, easily correcting over- and underexposed areas in any image" (PS8 help).
We think nearly all photos can benefit from this tool if used carefully. If you would like to simulate the effect in PS7 you would need very complex masking, simple curves won't do.
Note: Avoid high radius values if you use this filter on high contrast scenes.
Very, very powerful tool that we all have to learn to master. 8 sliders and two clip values should indicate its endless complexity. These kinds of tools make PS8 very valuable for us photographers.
Highly recommended
Photo Filters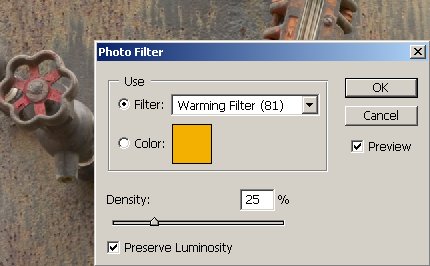 Not only are Photo Filters very useful (e.g. warming and cooling filters) but they can even be used in adjustment layers (means can be tweaked later).
New Histogram Palette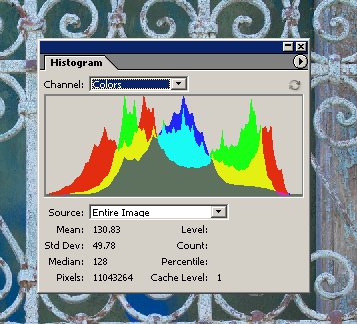 The new histogram palette sports many new features (e.g. display of RGB channels) and is much more live than previous version.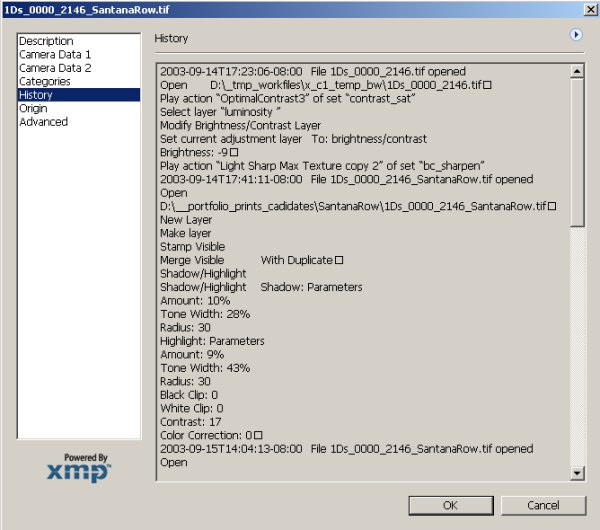 PS8 can be setup (in preferences) that the editing history is recorded as part of the image metadata. We always dreamed of such a professional feature. If now the formatting would allow for easier readability it would be nearly perfect.
Keyboard Shortcut Customization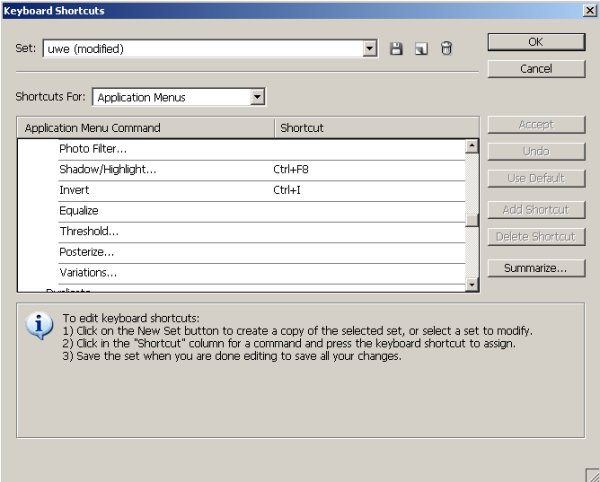 On one side the keyboard customization is just wonderful. On the other side shortcuts lose their universal meaning.
Use this feature cautiously.
Image Stitching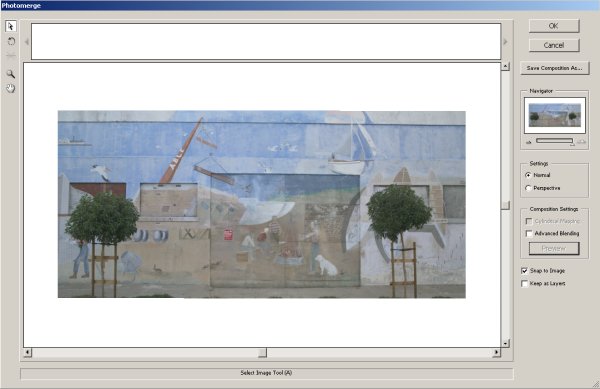 PS8 inherited the Photomerge tool from PS Elements 2.0 but allows (of course) the use of 16 bit images. We only looked into early versions and cannot tell about the stitching quality.
But probably the most powerful feature of Photomerge is the following:
Photomerge can leave the stitched images in layers so that you can do final tweaking yourself
New Upsizing Options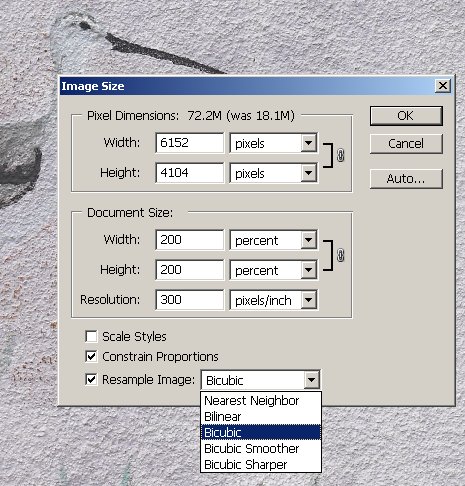 PS8 implements also improved upsizing options:
Bicubic Smoother: Best used for upsizing to avoid too many artifacts
Bicubic Sharper: Best used for downsizing to avoid softening of images in the downsizing process
New Limits
New File dimensions
Photoshop supports a maximum pixel dimensions of 300,000 by 300,000 pixels per image. This restriction places limits on the print size and resolution available to an image.
New File Format
"The Large Document Format (PSB) supports documents up to 300,000 pixels in any dimension. All Photoshop features, such as layers, effects, and filters, are supported by the PSB format. Currently, if you save a document in PSB format, it can only be opened in Photoshop CS. Other applications and older versions of Photoshop cannot open documents saved in PSB format."
Memory Limits
PS8 has the same memory limit of 2GB as PS7.
Conclusion
Photoshop CS delivers a lot of interesting new features that should make your upgrade decision quite easy.