Getting the white/gray balance right is key to any good raw conversion. In the end often personal preferences count but we find often that a good gray balance helps for a start. We looked at five different solutions here. We want to revisit three prime candidates from these solutions and tell what we use now in the field.
There are two different ways to perform white/gray balance:
1. In camera: Here we have little experience as we always use method #2.
2. In the RAW converter where the gray card is used for click-WB. We use exclusively this method.
1. GretagMacbeth Mini Color Checker
Plus:
Gray patches
Reference colors
Minus:
Expensive
No real white and black
Fragile to use outdoors (don't even think of rain)
needs to be carefully stored and protected
2. Robin Myers Digital Gray Card
Plus:
Nice, sturdy
very reasonable priced
Minus:
No white and black as reference
Just a slight bit too big (even the smaller version)
3. WhiBal by rawworkflow.com
Plus:
Compact, sturdy and weather proof
good White and black reference (if the preview blinks on the white you have a good chance that you overexpose real whites)
Good to handle
Each card measured to ensure neutrality
Minus:
Conclusion
Overall the winner for us is WhiBal because it is very well designed for the task at hand.
The form factor and the ease of use help in the practical outdoor work
The white reference is also a big plus for critical exposures
Even the WhiBal accessories make sense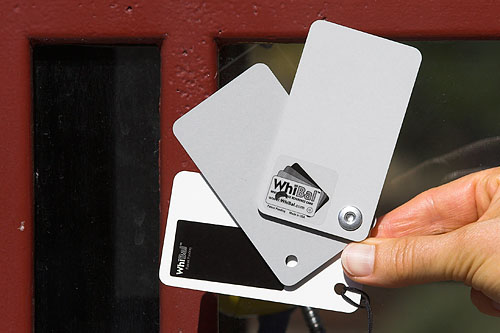 The other two solutions would also work for us but overall we find WhiBal a better solution for our work in the field.