Finding a good tripod and head for still photography is often not that easy:
Weight
Size
Solid (twisting, wind, vibrations)
Solid ball head
Useful outdoors
Price
We actually photograph often without any tripod (hardly ever with video). All this gets at least one dimension more complex if you plan to use one tripod for video and still photography. And here we mainly mean outdoors.
The requirements for the video tripod legs are not that much different for a good photo tripod. But unfortunately your beloved ball heads don't work for video. Why? For still photography you want the tripod/Head rock solid. For video of course too. But then you want to move (pan + tilt) the head as smooth as ever possible. With video the term to learn and live is "Smooth movement". All movement should look like a smooth glide. Here all ballheads fails miserably. Whether you like it or not you need a good fluid head for your videos. Actually using small Video DSLRs (VDSLRs) makes it even more complicated because the low mass of the cameras gives very little resistance to the movement of the head.
Lets look at the updated criteria list for a HDSLR tripod and head:
Weight
Size
Solid (twisting during movements, wind, vibrations)
Smooth fluid head
Useful outdoors
Using same tripod and head also for tripod based still photography
Fast switching between video and freehand still camera use (this is even more tricky, see below)
Price
If you plan to have a video tripod that allows for smooth pans and tilts (not all filmmakers use much pans or tilts) you can easily say goodbye to light tripods as they can twist during pans.
We tried quite a few simpler heads and did not really like the results. Then we saw the Miller DS20 Solo Review by Philip Bloom and knew we had to try one. Miller is an Australian manufacturer of professional video support systems. We got our DS-10 tripod (DS-10 is all we need) from the US office of Miller. We opted for the alloy version (about 400g or 10% more heavy than the cabon tripod) to avoid twisting at pans.
Miller DS-10 Solo 2 Stage Alloy Tripod/Head Combination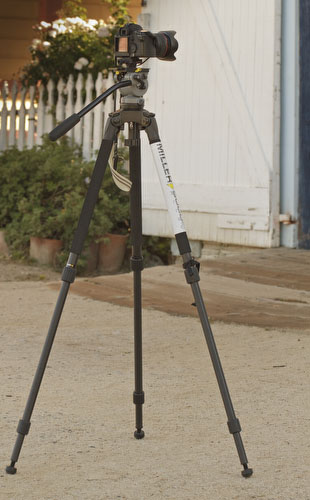 DS-10 Solo not fully extended
The tripod can be adjusted for a 12" - 63" height range. The above picture shows our normal working height with plenty extension height left.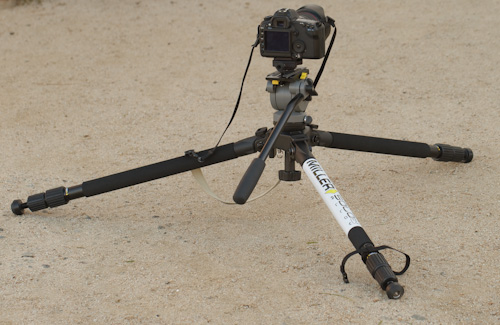 DS-10 in lowest position
This tripod does not have any spreaders as they would be often in our way in the outdoors. This tripod is only useful for cameras up to 10lb. Our combinations Panasonic GH1 or Canon 5D Mark II /7D are way below this limit.
Feet: Spike or wind-down rubber feet
As mentioned we could use our Gitzo legs here. This means the DS-10 head is what makes the big difference. Lets have a look at the top sections of our DS-10 setup: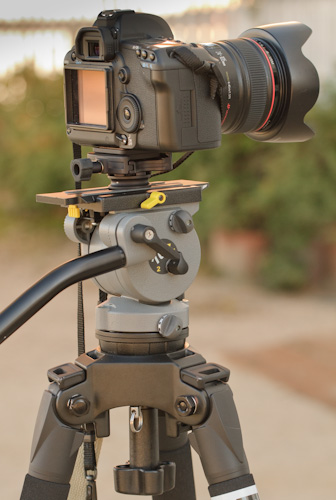 From bottom to top (shown with a Canon 5D Mark II). We talk about these section in more detail below.
75mm standard ball leveling base (integrated with the DS-10 head)
DS-10 Fluid Head
Miller quick release plate
Acratech Arca Swiss style clamp (prototype, see the gap between clamp and the Miller quick release plate)
Camera plate (standard Arca Swiss style plate)
Note: We want to use Arca Swiss style plates for two main reasons:
Our cameras should also be easily used on our dedicated photo tripods and here all our heads have Arca Swiss style clamps
Arca Swiss style clamps can also be used with L-Brackets for vertical still shooting
Leveling Base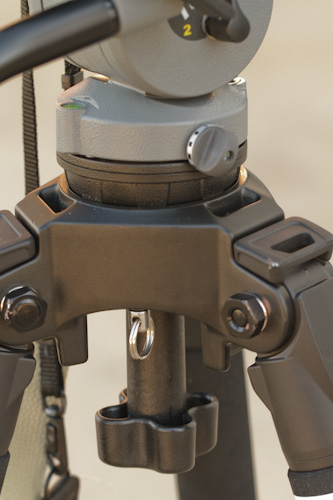 75mm ball leveling base
All video tripods need a leveling base because video heads only move in two directions (pan and tilt). The integrated bubble level (unfortunately not illuminated) assists you to level the head.
The DS-10 Fluid Head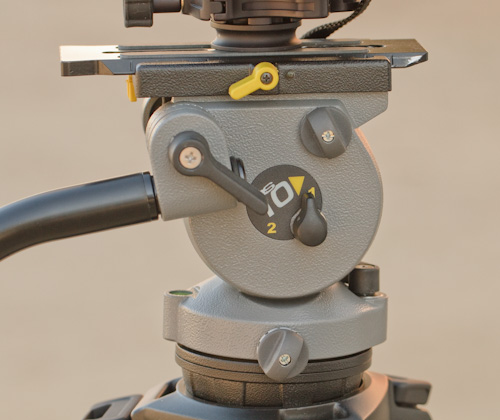 DS-10 Fluid Head
The fluid head is the key element here and also the most expensive part. We find the DS-10 behaves smooth in both dimensions (pan and tilt). The jerkiness we see in some of our pans is likely more related to the camera Codec that gets overwhelmed by the amount of data changed (mainly GOP - Group of Pictures - Codecs that store many frames only as a delta information). Then of course we have to practice to get smoother pans and more often better avoid pans altogether.
Most of the knobs you set once and then don't touch them. We mainly use 3 knobs:
Tilt lock (used often, not shown here because on the other side of the head).
Pan lock (on the front, most of the time unlocked, we lock it for tilts)
Handle lock (to bring the handle from transport to operation position and back)
If we pan and tilt at the same time both the pan and tilt locks are unlocked (quite rare actually).
Miller quick release plate and Arca Swiss style clamp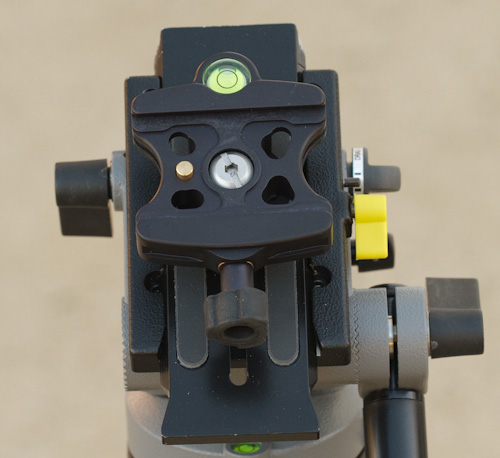 Miller quick release and Arca Swiss style clamp
Why are we mounting an Arca Swiss style clamp on to of the Miller quick release plate? We are Video-Photographers and need to be able to remove the camera fast and use for freehand photography. The Miller quick release plate is made for traditional video cameras and would be much in our way for normal handheld photography.
Unfortunately most Arca Swiss style clamps would not work because the tighten screw collides with the quick release plate. Acratech is developing a special clamp that gives the screw some extra room (we use a prototype here). We will announce the availability when it is ready.
The tripod/head comes in a bag and also tripos strap is included.
Conclusion
It took us quite a while to come up with a solution that fits our needs. The Miller DS-10 2 Stage Solo is definitely a major investment. We feel is it worth it if you want to do video long term. Our main goal is the create some simple yet nice documentaries and a solid tripod/head combination is essential. We think that for now our search is over. We find that the Miller DS-10 2 Stage Solo is exactly what we need. At our summit we shot all video clips and many still images from this tripod (we actually tested the DS-10 now for about 2 months).
Update: We bought a Miller DS-10 for our work.
Miller DS-10 Solo 2 Stage Alloy