As a videographer you have to balance the following things:
Camera stability (no shake)
Positioning flexibility (how fast can you change your position)
Time to setup for the shoot
There are different solution with different trade-offs:
The clear champion of stability is a good sturdy tripod. But even minor corrections of your position take time. Depending on your gear the setup time can be also substantial.
A shoulder mount can work quite sturdy too but is much faster to position and also often to setup.
A steadicam can show hardly shake and allows fast positioning (even walking). But setting it up (e.g. balancing or attaching a vest) is time consuming. Also operating a steadicam is more like an art form and needs lots of practice and experience. Most often the main DP in a movie is not also the steadicam operator.
DVTEC DSLR Extreme DeLuxe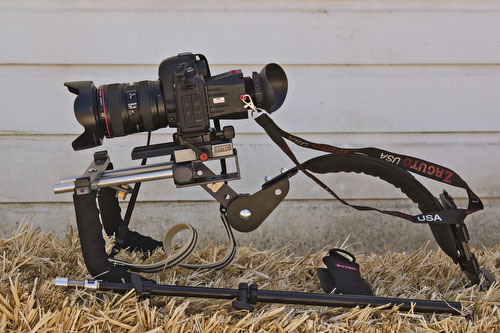 We feature here the DVTEC DSLR Extreme DeLuxe shoulder mount rig. This rig was designed with the new HDSLRs in mind. These camera are very light. This is nice for holding but not good for stability. They tend to show all body movement. Also the IS (Image Stabilization) in most HDSLRs is not efficient enough to stabilize the camera and also often even noisy (e.g. Canon IS Lenses).
Note: We mounted the handles 180 degrees twisted and it worked fine for us.
The bars are very much in line with other rigs: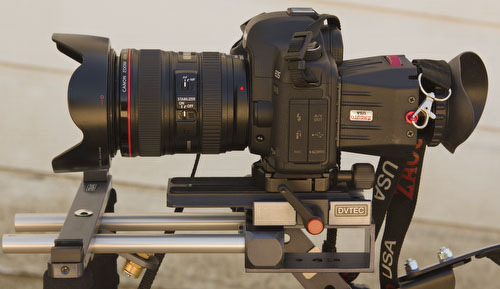 Canon 5D Mark II mounted with Zacuto Z-Finder
We mounted on top of the supplied QR/Plate combination an Arca Swiss style clamp as all our cameras feature Arca Swiss style plates.
The core rig can easily be separated from the shoulder mount (by unlocking the back large locking knob). On the bottom there are holes to fit a tripod QR plate. This way you can then mount the rig on any tripod head.
We can use the camera with LCD or viewfinder: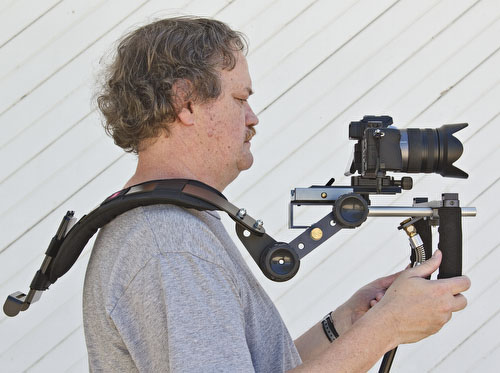 Here Panasonic GH1 with its swivel LCD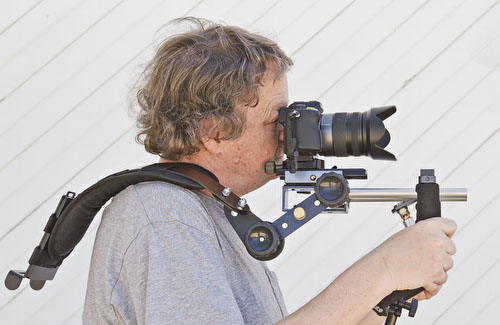 GH1 using the EVF
As you can see the camera can easily be adjusted in height and also distance (with viewfinder or LCD). The shoulder pad is soft.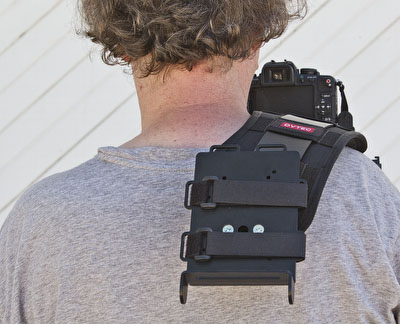 The back has a removable counter weight and also can be used for extra accessories (e.g. extra batteries or audio transmitters).
QR spring loaded support pod
DSLR Extreme DeLuxe has a very unique feature: QR spring loaded support pod. This was actually our main reason to look into this rig.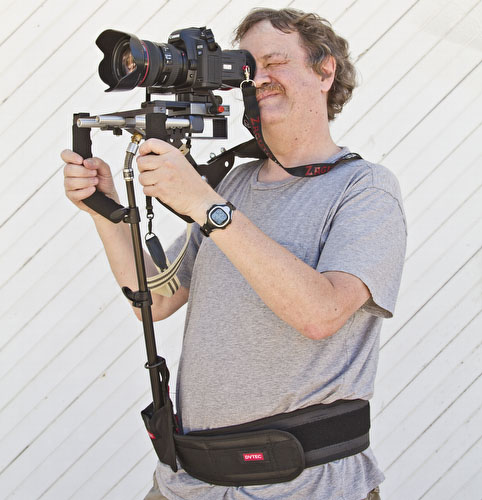 The QR spring loaded support pod allows for an extra support and allows you to take off the hands to adjust the camera. The DeLuxe version comes with the QR spring pod and a special belt.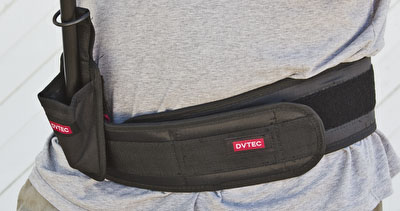 We always ware a belt anyway and here we can fit the holster for the pod at your own belt: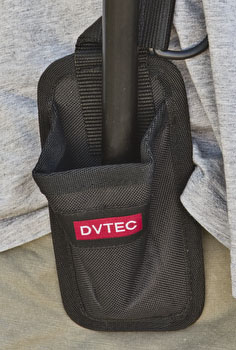 We find the build quality very high and did not find any issues with it.
Conclusion
The DVTEC DSLR Extreme DeLuxe rig is a very well build and engineered shoulder mount for HDSLRs at a very fair price. Beause you have more points to hold the camera it is easier to keep it steady. We still need more practice to keep the shots even more steady.
For more information please visit the DVTEC web site.