YouTube and Vimeo changed the way how to share your videos. We are no more limited to showing our work to close friends or creating DVDs. Interestingly enough DVDs cannot really be used to share HD content (720p or 1080p). Blu-ray did not take the audience by storm because normal DVD content can look pretty good. On the other side online video is on its way to make DVDs obsolete. Yes, download videos may only be 720p but they can look quite fine. For very high-end video content Blu-ray rocks (try to watch the movie Baraka to see what quality is possible at 1080p, it was scanned from 65mm film at 4K!).
Our main ways to show our videos are clearly Vimeo and YouTube. We try to create the content at the highest quality possible and then publish it down sampled to 720p in Apple TV format. Why then shoot at best 1080p quality? We want to keep the way open if we ever may want to create a Blu-ray disk.
While both YouTube and Vimeo allow to share videos these services could not be more different. Even if a Vimeo Plus account costs money it is always our first choice. We explain why in this article.
Essentially the main audiences for Vimeo and YouTube are:
Vimeo: Filmmakers share and discuss their work
YouTube: Whoever wants to share a video (everything goes)
We now talk a bit more about both services.
Note: We use the term "filmmaker" in a very broad sense. Everyone creating a film on his own (short or long) is a "filmmaker". We struggled first to call us filmmakers but it is exactly the same as saying we are photographers. Every filmmaker or photographer has to work hard to improve over time. We feel way more secure as photographers than as filmmakers. This only means we have to learn more to become better filmmakers.
---
Vimeo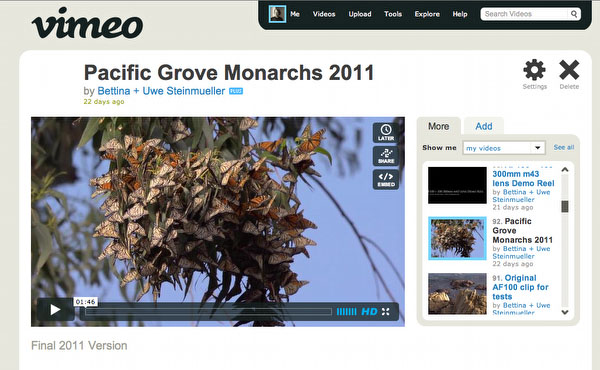 Vimeo is the prime place for aspiring filmmakers to communicate with their peers. Don't worry if you are a beginner like we are, Vimeo can help you at every level. If you are interested in learning how to make or improve your films Vimeo is the place to be. Overall it is a very friendly place and lots to learn. Filmmakers at every level join and help each other.
Share your videos
Vimeo has two levels of membership:
Basic: free, ok for many
Plus: $59.95 per year (prices may change of course), unlimited uploads (5GB per week though)
Important rules:
Noncommercial use only (not for advertising)
Only videos you create (this restricts it to original content only)
Respect your community. This is a major rule that helps to make Vimeo an overall very friendly place.
Uploading is easy and if your internet connection allows also quite fast.
Organize your videos in Channels and Albums
We often also upload test videos for discussion in camera oriented groups (read below). This makes the video stream a bit cluttered. Creating Channels and Albums helps to organize your work.
We created a Channel "B+U Steinmueller Mini Documentaries" to feature our better work. Better relative to our current level, we do not plan for Hollywood. If people find some of our videos nice then we are happy.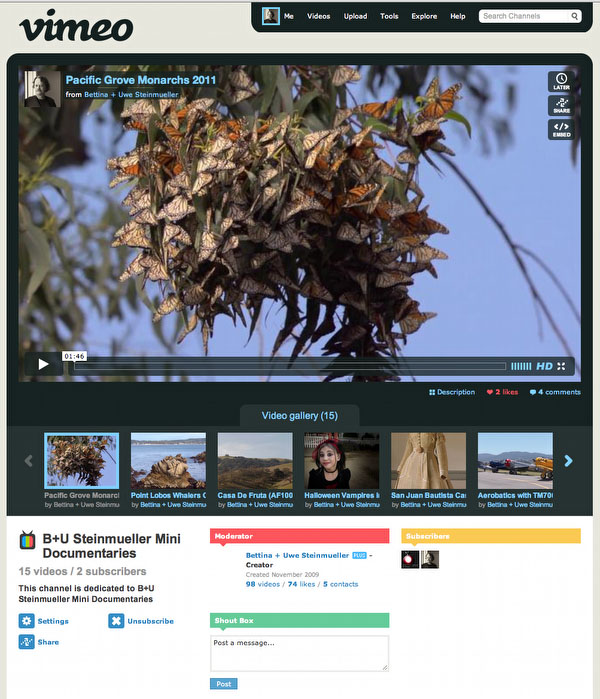 In our short "Pacific Grove Monarchs 2011" (featured in our channel) we show a wonder of nature. This is not Hollywood like polished work but it shows scenes that we find so lovely and unique.
You will also learn that you can show a lot in a short movie of just about 2 minutes.
Vimeo Groups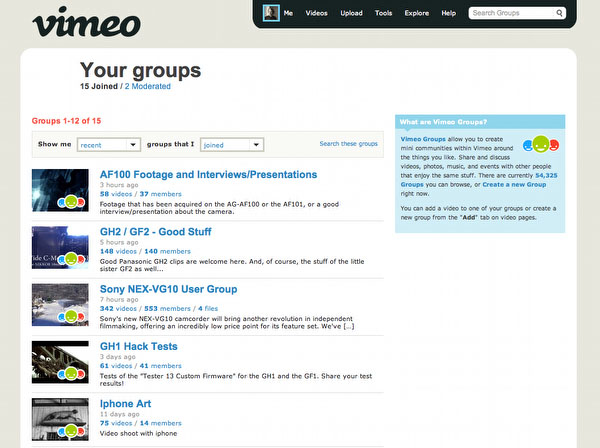 Vimeo Groups are a key place to share videos and discussions with other filmmakers about certain topics (e.g. camera and other gear related groups).
Our Take on Vimeo
We love Vimeo and you can be sure we don't overuse this term. This is the place where we learn to improve and find our audience. That Vimeo is such a wonderful place is by design. Everything is aimed to easily share video content and for civilized discussions between all kinds of filmmakers.
If you are even remotely interested in filmmaking then Vimeo is for you.
---
YouTube
YouTube is a very different place. It feels much more busy.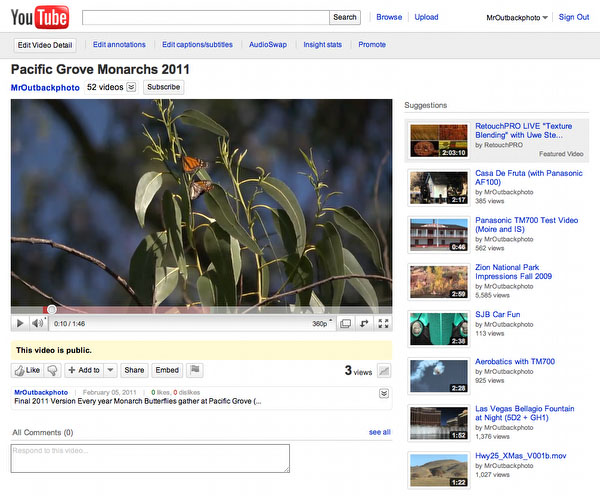 YouTube has everything. As always this is good and bad at the same time. It leads to a lot of "noise" but you can also find the gold.
We publish some of our videos on YouTube just in case we reach other people.
Our Take on YouTube
YouTube is important but it is not our first choice to share and discuss with other filmmakers.