pCAM is an iPhone and iPad application to perform various calculations that are needed for filmmakers and photographers in the field.
Note: pCAM is an iPhone application but works excellent on the iPad in 2x mode.
The Options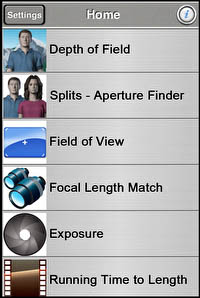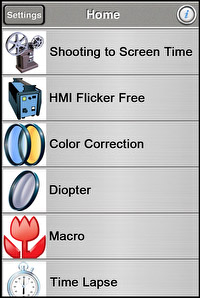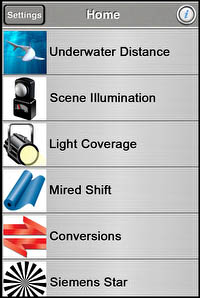 There are so many options that we are only glancing at some of them.
Depth of Field Calculator
Depth of field (DOF) is one of these basic but very important calculations needed by all photographers. pCAM offers all results in a beautiful graphical display. Key features are:
Presets for many film, video and stills cameras
Customizable CoC (circle of confusion) settings
Can create own custom format presets
You can customize how fine grained the aperture increments are
Distance can be set to meter or inch (is a setting in the presets)
Calculates the hyperfocal distance on just one click
Aperture and distance can be changed by using swiping instead of just entering numerical values)
Field of View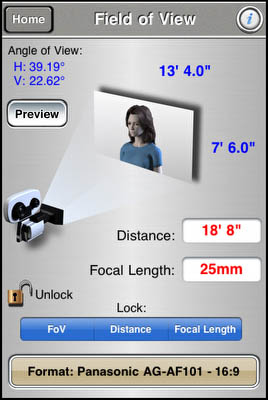 The sceenshot speaks for itself.
Focal Match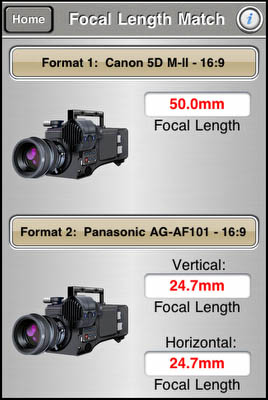 These days many filmmakers and photographers work with different sensor formats. Matching lenses can be very useful. Most of the time you are not really interested in the focal length but the field of view instead (besides the DOF of course). For some camera (sensor) formats you have learned which focal length will do the job best. Now you can easily find a matching lens for a different sensor format.
Exposure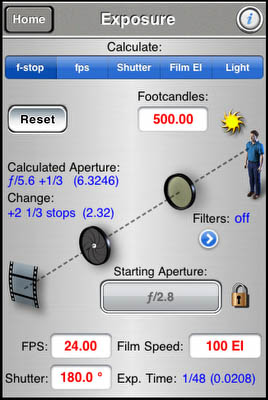 Again the screenshot speaks for itself.
Time Lapse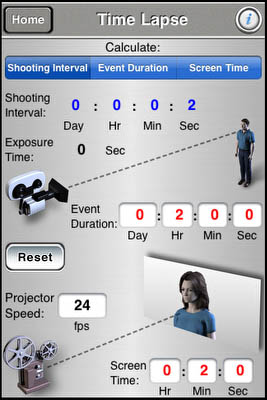 Find the best shooting interval for your time lapse clip. Having more shots always gives you more flexibility in post processing.
Siemens Star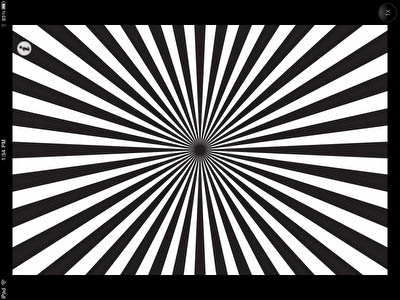 With the Panasonic it is hard to focus for low contrast (e.g. in shade) scenes. We plan to try the Siemens Star on the iPhone/iPad and see whether the focus aids on the AF100 work with it.
Insert Slate
A very important function for filmmakers (especially feature films).
Conclusion
Very high quality and dedicated application for filmmakers and photographers. The user interface is beautiful and easy to use. At $29.99 it is not one of these cheap iPhone applications. Remember this is not a mass market app. It targets professional photographers for film and stills. If you need/want this information in the field at your fingertips you will find the pCAM price quite fair.
Note to author of pCAM: Amazing work!
Here is the official pCAM web site.