10/19/2007 CS3 16-bit Export plugin
We just installed the new CS3 plugin for the iPF6100. A long section in our iPF5000 review covered all the details.
The new plugin is basically the same in terms of functionality but also works under Photoshop CS3 (and we don't use CS2 anymore). After revisiting the new version we find it overall excellent. Having all settings (size, print settings, profiles, driver settings, flexible presets, ..) in one place prevents a lot of errors.
This driver also works in 16-bit and this is likely a benefit for subtle gradients.
There are still some things we like to see improved:
Select the presets directly from the main dialog tab
From now on we will use mainly this plugin to print on the iPF6100. Once use to it you don't want to go back to the usual print dialog hassle.
---
10/14/2007 CS3 plugins available via Unofficial IPF 5000/5100/6100 Wiki
So far we did not receive the official CS3 plugin for the 6100 from Canon and have no idea what the status of this unofficial download is. Nevertheless we will check it out soon.
For more information check out the Unofficial IPF 5000/5100/6100 Wiki.
---
10/5/2007 Catching single sheets
We mentioned before that we don't like that single sheets fall into the basket. The new top class glossy fiber based papers have a very delicate surface. Even light scatching of one paper corner can be seen. We found a simple solution. It may not look elegant but works like a charm.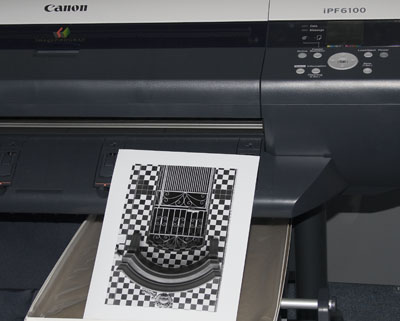 Catching single sheets
We put an A3+ paper box onto the baket. This feels now much better.
---
9/30/2007 Issues List
We keep now a list of issues we encounter with the iPF6100. We keep this list to have them all in one place.
---
9/28/2007 Manual
At first grlance the manual (the one that comes on CD) seems to contain not a lot of information. But if you browse the Index you find many questions answered.
---
9/27/2007 Getting Started
The iPF6100 is Canon's second generation pigment based professional printer. In many aspects it inherited properties from the iPF5000 (read our review here) but there are some new and improved features to look at:
24" (ok, that is just wider than the iPF5000)
Claims less bronzing due to new black inks
Calibration
Installation
Installation takes its time but the guides are well documented:

Stand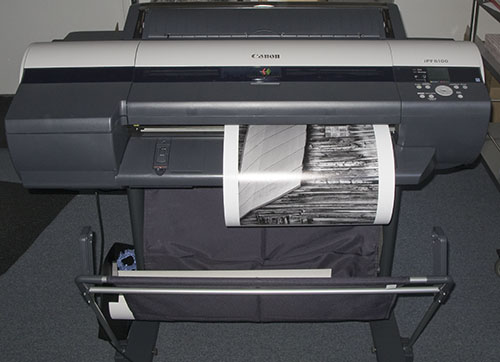 Complete iPF6100
Installing 2 heads and 12 inks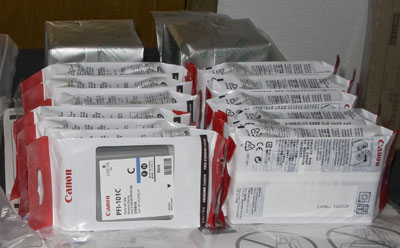 Heads and Inks
Note: The heads are quite expensive (more about the head warranty can be found here). The 12 ink cartridges are not 130ml but hold 90ml instead. As much as this maybe disappointing the 12 ink cartridges still hold a lot of ink value. Also the Canon iPF printers seem to be quite frugal using inks.
Installing the software was very easy on our MacPro (Intel Quad Mac). We connected via USB2 and may also try the network later.
We won't check out the Canon Photoshop plug-in because it works right now only for Photoshop CS2. On the other side we use most of the time Lightroom for printing and don't really need the plugin.
Calibration
One complaint about the iPF5000 was that there were too much variations between printers. This makes canned profiles close to impossible.
The iPF6100 features now a densitometry to linearize the printer. Canon claims that after calibration the max color difference is about 2.0 Delta-E. We have right now now way to verify this but think that a calibration feature is a must for printers using thermo heads (HP and Canon).
The calibration is performed using the Canon Premium Heavyweight Matte paper.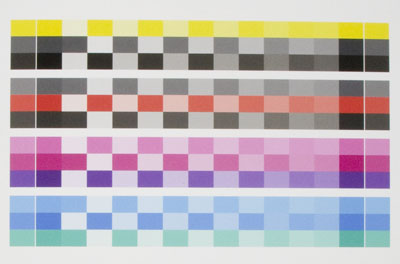 Calibration Chart
There are some obvious questions:
How often should we calibrate?
When is calibration mandatory (for sure if you switch the heads)?

Some answers quoted from the CD manual:
After initial installation
After Printhead replacement
If colors seem different from before (however, make sure you are printing under the same conditions and in the same printing environment)
When consistent color is desired from multiple printers (in this case, also use the same version of firmware and printer driver and the same settings.)
Using the driver
We show the central dialogs for the Mac.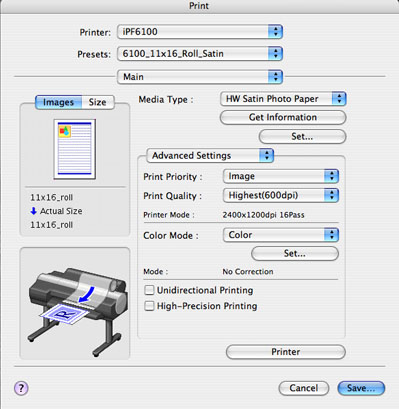 Main Settings
The most important settings are defined in the "Main" portion of the driver.
Some notes:
"Get Information" is a nice feature because it gets the info from the printer about the currently loaded paper, size and feed
Behind "Color ... Set..." you find the very important color dialog: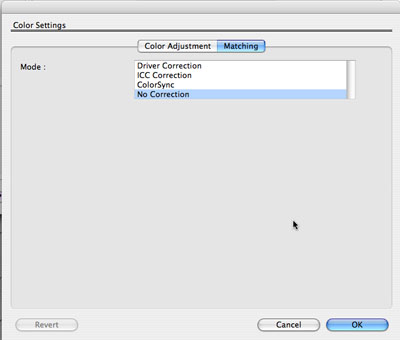 Set to "No Corrections"
We always use Application managed colors. This means all printer color corrections should be turned off. We think this control should be either in the "Main" section of the driver or in a different section "Color Settings". Here they are well hidden and you have to use at least 2 mouse clicks to see the settings in the driver. In practice this is not that bad because we use driver presets on the Mac (would do the same on the PC).
There are also some important settings in the "Page Setup" section: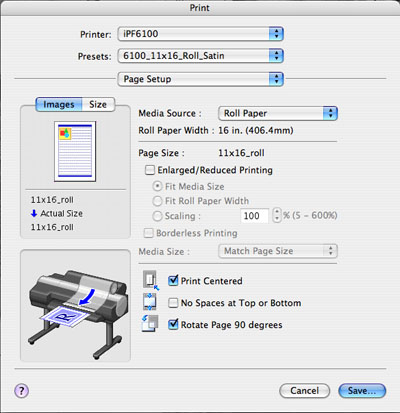 Page Setup
Media Source (make sure it is correct).
Print Centered
Sometimes "Rotate Page by 90 degrees"
Note: Not sure why getting custom paper sizes (especially the landscape and portrait orientations) is often so complicated. But we fight with these settings all the time. What is the width and what the height :-).
Support Tools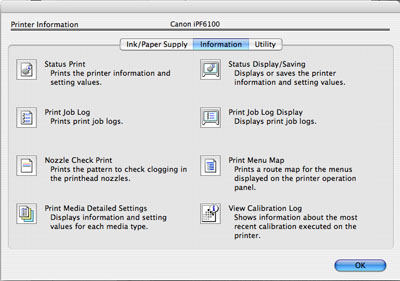 Printer Information and Utility
The iPF6100 driver provides a lot of useful information (some examples):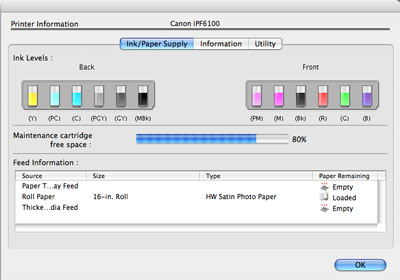 Ink/Paper Supply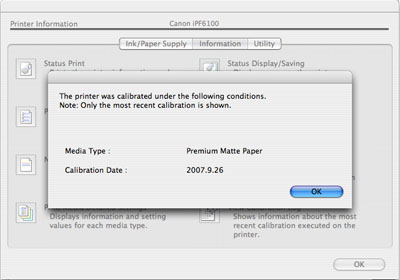 Calibration information
First Printing Experience
As mentioned before we printed from Lightroom 1.2. The presets in Lightroom make our life much easier than in Photoshop.
Single Sheet Feeding
Sheet feeding works fine (we tested up to 308 gram papers). We don't like that the single sheet fall into the basket (we had no damage though).
Roll Feeding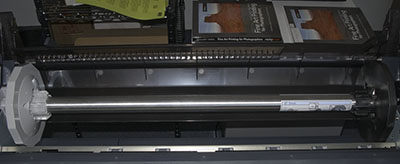 The motorized roll feeding works as one would expect. Nothing to complain about.
Printing on glossy media
We printed on Canon Heavyweight Glossy and heavyweight Satin paper (from roll) and only used the Canon Generic profiles. Our printer evaluation image looks good on glossy media. Special note on bronzing (or lack of) see below.
We measured a dMax of 2.1 for Canon Heavyweight Satin paper. This is a fine value. Overall the images look good.
We got a dMax of about 2.35 from the Harman Gloss FB AI.
B&W prints
We love the B&W prints on glossy media. They are very neutral (using the Canon canned profiles). Hardly any bronzing and no metamerism.
Preliminary note: We printed on the new Harman Gloss FB AL paper. The prints look excellent. We have to play a bit with the head height though because otherwise we get very faint head scratches (only seen at certain angle to the light).
Printing on fine art papers
We think the generic profiles that come with the iPF6100 are to generic for fine Art Papers. We cannot imagine that the following papers should only be covered by one set of profiles:
Hahnemuehle Photo Rag
Somerset Velvet
Other rag papers
We made our own profiles using EyeOne Match and get very good results. In some way we think that photographers using printers of this class need also to invest into a decent profiling tool and EyeOne Photo is an excellent solution (read this review note about EyeOne Photo).
dMax
We measured 1.58 on Hahnemuehle Photo Rag. This is a good value.
Note: There were sone discussions about this value. As I recall the Epsons got about 1.60-1.64 ant that was considered good. HPs get about 1.70 and that is excellent. We will try to explore how to enhance the dmax. But by any means we found our evaluation image on Photo Rag very nice for a matte paper. If we want rich deep blacks we use the new Baryta papers with Photo Black.
Bronzing
We wrote over one year ago about the iPF5000:
"There is some slight bronzing visible but really needs a close inspection. We personally don't find this to be a problem even for prints that are in an open portfolio. Otherwise the B&W prints looked excellent and we did not find any objectionable metamerism."
This was written before we got the HP Z3100 and the Epson 3800. Today we would be more critical. Actually while the bronzing was not to bad for a first generation pigment based printer is was clearly one of the major shortcomings of the iPF5000. As we all know the better is the enemy of the good. And the Z3100 and 3800 are clearly better.
This was the iPF5000 and to our great surprise (before using the iPF6100 we were not sure what to think about Canon's marketing claims) the iPF6100 improved a lot in terms of bronzing. In some way we think we can forget bronzing with the iPF6100. It is so faint that it get academic to even talk about it. We really have to congratulate Canon to solve bronzing by just changing the black inks.
Paper Naming
Looks like there are so many papers that manufacturers get confused. There are actually at least 4 places where the paper name plays a role:
Printer setup (load)
Driver
Profile file names
Internal names of the profiles (shown in Photoshop and other applications)
We miss a consistent naming here. Example:
Satin or soft gloss?
What does heavyweight mean in grams?
Some issues (maybe minor but that depends on your perspective)
No info on Calibration in the reference manual
We don't like that the single sheet fall into the basket (we had no damage though)
The Plug-in is right now not ready for Photoshop CS3 (we were told soon)
Too generic profiles for fine art papers
Note on Photo and Matte Black installed at the same time
It was always annoying to switch inks on a printer. But in the past there were actually three fractions:
Mainly using glossy media (RC papers)
Mainly using fine art papers like Photo Rag
Using both
The third group were often only the professional printing services and they solved the dilemma by using multiple printers. But with the new fiber based papers (we want to mention especially the new Harman Gloss FB AL) even the photographers of group 2 may want to switch between fine art papers and the new fiber papers. This makes it essential to have both matte and photo black installed all the time.
First impression summary
We think this printer is a big step forward from the iPF5000. The new inks really deliver. So far using the iPF is a pleasure.
We don't want to sound like "new == great" but we have to say what we find and we know the competing printers very well. We also discuss our prints with some of our editorial members who all have long printing experience. The quality level of these large format printers improved quite a bit since begin of 2006.
---