11/26/2006 Configurator Documentation
11/19/2008 First version of Adobe Configurator ready for download
Learn more what the Configurator is about below and download from here.
---
If you work in Photoshop you want to access all the tools you use the most as fast as ever possible. Clearly the fastest way is to use keyboard short cuts. There are two issues with this:
How to remember all of them
You run out of keyboard combinations
Why are the menus (commands), the toolbar and running actions/scripts in Photoshop not fast enough?
Accessing a nested menu is really not very fast
The toolbar contains so many tools that many of them are also nested
If you have many actions (we do) already finding them takes its time
Scripts are hidden in a nested menu
By no means Photoshop is to blame for it. There are just too many tools to make them available at the top level. Some smart people will say that the number of Photoshop tools should be reduced. Better they think hard and find any tool that is not used by many other Photoshop users. You personally may only use a smaller subset of all these tools and here the new Adobe Configurator 1.0 comes into play. This tool allows you to organize the tools, commands, actions and scripts you use the most into your own custom panels.
Note: Adobe plans to release a first version of the Configurator at Adobe Labs once CS4 ships.
Adobe Configurator 1.0
The new CS4 allows the development of so called flash panels. These panels behave like the panels that come with CS4 (can be docked and easily organized on the screen). In the end flash panels are more suited to software developers than most of the end users.
The new Configurator allows all of us to create new panels with simple drag and drop.
Sample 1: Tools Panel
In the configurator you can create in minutes a new tools panel: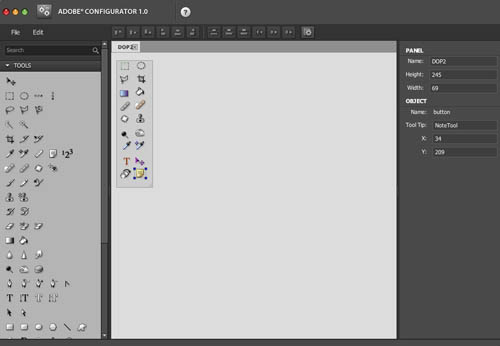 Configurator: Creating a Tools Panel
All the tools are in the left palette and can be placed on the new panel. Once you have all the tools placed in your panel you save the panel (for later refinement) and then export the panel to Photoshop CS4 (yes you need CS4). After a fresh start of Photoshop you can show the new panel and even dock it with other panels. The new panel can be found at Window->Extensions: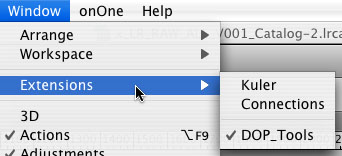 The new panel looks like this:

What is the difference to the standard Photoshop tools pallet? We have placed all the tools we use most of the time on this panel that there is no need to look for nested tools. We find that simple yet very effective.
Sample 2: Command/Menu Panel
As mentioned before menu access is not really fast. Here a panel with just access to commands you use the most come in handy.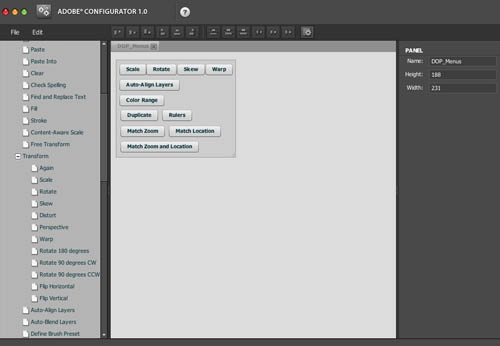 Configurator: Creating a Command Panel
The creation process is the same as before and here is the result panel: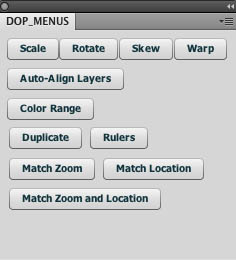 Sample 3: Scripts and Actions Panel
Note: We only show a panel to access our scripts (the ones we sell by the way). You also can call actions instead of scripts.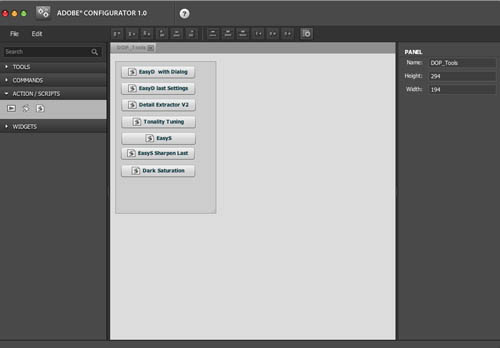 Configurator: Creating a Scripts Panel
We personally find calling scripts via menus slow and creating keyboard shortcuts via actions is also limited (we easily run out of function key/modifier combinations and also forget them). With this new panel all our key scripts are just one click away. Here is the final panel.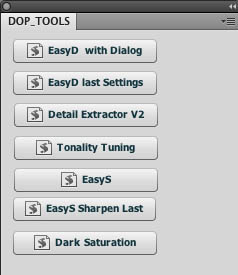 Note: All these types of shortcuts (tools, commands, scripts and actions) can be mixed on the same panel.
Conclusion
We personally love the new Adobe Configurator 1.0 and of course the created panels. They allow to avoid the use of nested menus and nested tools. Scripts and actions finally become first class citizen tools in CS4. Using the new Configurator is as easy as gets.