As mentioned before we (Bettina and I) loved B&W all the time. Over the last year we worked more and more also in B&W. We use LightZone 2.0 for all our color and B&W work. LightZone is not only easy to use but also extremely powerful if it comes to B&W. We will show the main steps in two samples.
From Color Image
We start with a ready to print color image (all steps done in LightZone 2.0). It does not need to be perfect if you only want to make a B&W version.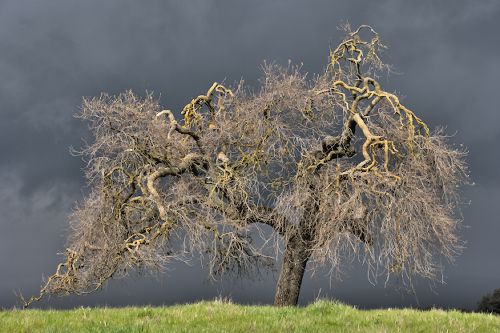 Oak in Storm
There are essentially just a few steps to follow: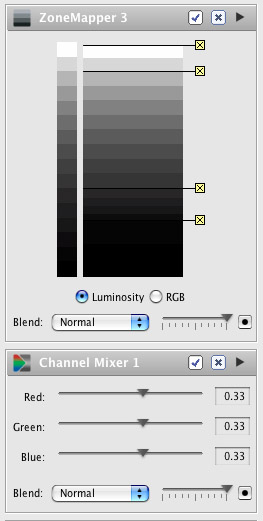 Channel Mixer & ZoneMapper
The Channel Mixer provides very fine control for your B&W conversion. The ZoneMapper layer on top allows to fine tune tonality for the B&W version. Often B&W images can take more contrast and deeper blacks than the color images.
In some cases we also put a Hue/Saturation layer underneath to punch up saturation and use false colors for filtering.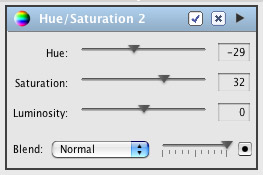 Hue/Sat layer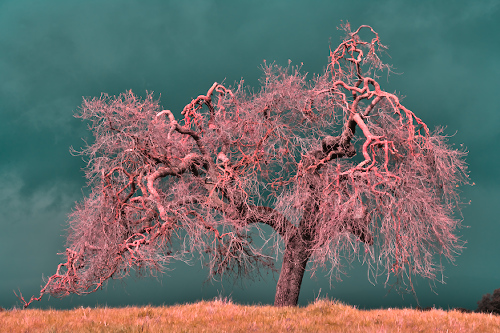 False color image (nearly looks like color IR film)
On top of these layers we put two Color Balance layers. This technique was shown to us by Fabio Riccardi (chief developer for LightZone).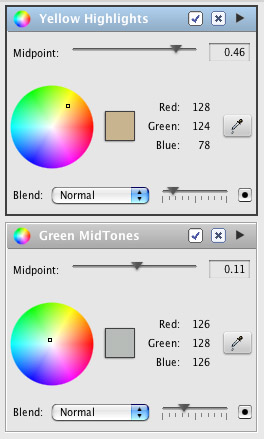 Split toning in LightZone 2.0
The top layer tones the highlights with a very light yellow (see the low opacity) while the lower layer tones the midtones to shadows a bit green (again lower opacity). This recipe works very well for us. We plan to have a special contest to invite our readers to share their own recipes.
The final B&W image looks like this: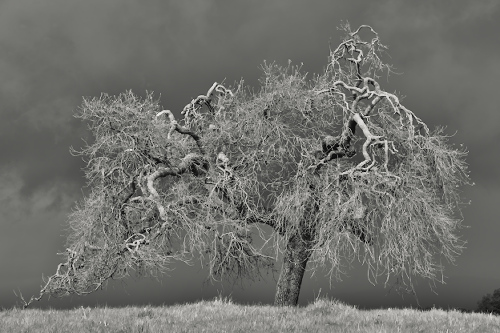 B&W version
We did not do any dodge & burn on this image. We show in the next image why LightZone's dodge & burn capabilities make it a first rate B&W tool.
B&W from Digital Infrared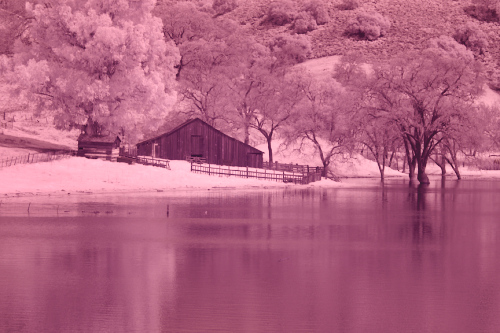 IR from the camera (some contrast adjusted)
Our principle layer stack looks like in the first example: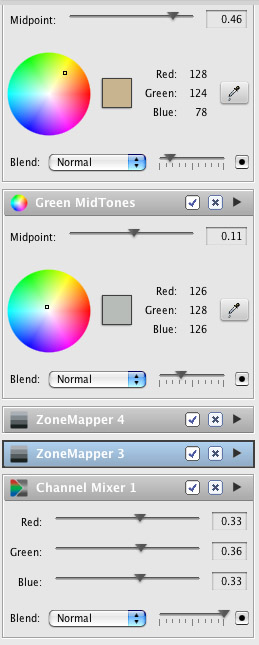 Tools stack for toned B&W
You may realize that this time we have two ZoneMapper layers. We use the second layer to tune the tonality in one area of the image. Here is how our region (mask) looks like: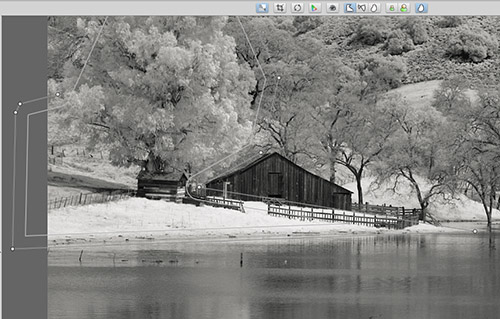 Region in LightZone
LightZone is so easy to use for dodge & burn techniques that these tasks can be done really quickly.
Here is the final B&W converted and toned image (we have created a template for these toning settings).

Toned B&W image
Conclusion
We have yet to find a method to work with B&W for color RAW files that is as easy to use as LightZone 2.0. Yes, there are excellent B&W plugins for Photoshop but they all lack the power of the LightZone ZoneMapper and especially the easy to use dodge & burn capabilities.