Photoshop Elements is now announced as version 3. Elements is the small brother of the industry imaging standard Photoshop CS. Here is a brief overview of the changes we find most important.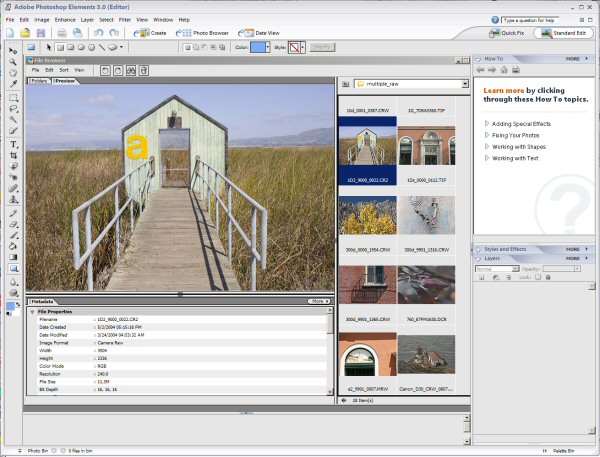 First of all Photoshop Elements 2.0 was a serious application at a price point of $99 and even bundled for free with many digital cameras. Elements 3 improves on Elements 2 to compete with applications by Jasc and Microsoft in this price segment.
File Browser like Photoshop CS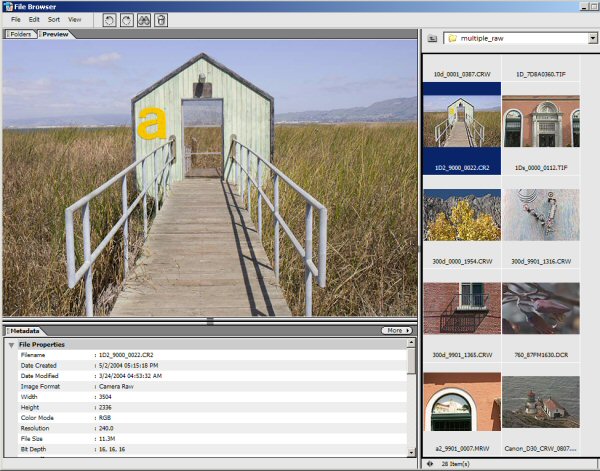 The file browser feels very much like the one in Photoshop CS except of some more advanced automation features. Elements 3 still does not support Photoshop actions.
Integrated Camera Raw for Elements
Elements 3.0 integrates a version of Camera Raw. This is the real big news for us. That is also why you find this article in our series "The Art of Raw Conversion".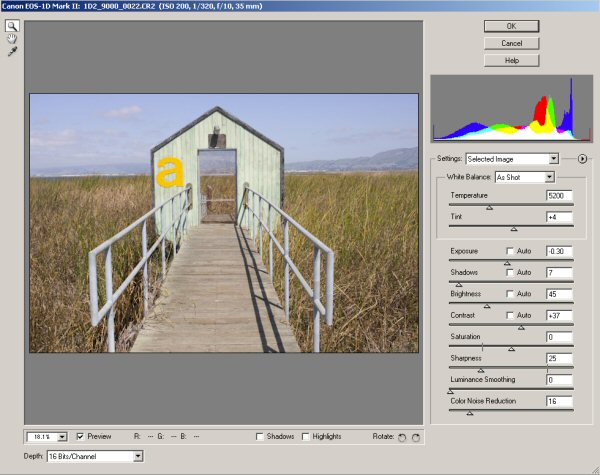 Even if Camera Raw (ACR-E) for Elements 3 does not support the full functionality found in PS CS Camera Raw 2.x (read our review and/or get one of our e-books) it features all(!) the key tools from ACR. To be honest we hardly use in PS CS any of the features not available in ACR-E.
ACR-E even allows you to open the converted file in 16-bit mode!
16-bit Mode
Some operations in Elements 3 can be performed in 16-bit and mainly where they matter most:
Tonality: Levels, (still no curves), Brightness/Contrast and new Shadow/Highlight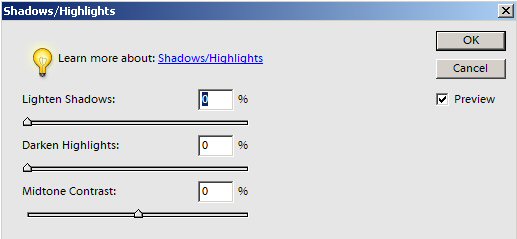 Shadow/Highlight in Elements 3
Colors: Color Cast, Hue/Saturation
Healing Brush
Very good news is that Elements 3 also supports the healing brush (only at 8 bit though)
Photo-Browser
Elements 3 also features an Photoshop Album like photo browser. Sorry, but we did not spend any time using it as our main application for imaging is still Photoshop CS.
Summary
For us the inclusion of Camera Raw is the main new feature in Elements 3.0. Here Elements 3 is ahead of the competition (e.g. Paint Shop Pro) for a an imaging package in the $100 price range. We could go a long way working on our images and just use Photoshop Elements 3.0. We mainly would miss Photoshop CS because we know how much more things can be done in the full Photoshop. The good news is that with Photoshop Elements 3 most of what you learn can be used later in the full version of Photoshop (if you feel you need it).