In February we published the first preview of RawShooter essentials (RSE). This was/is a quite powerful and also free RAW converter. It was clear from the beginning that RSE is just a first version on the way for Pixmantec to produce their first and hopefully improved commercial product. Even as Pixmantec never really announced when they plan to release this first advanced product those who liked to use RSE were getting inpatient to know what would be in the new version and when they can buy it.
RawShooter premium 2006 (RSP)
The wait is now over as we publish here an exclusive first preview of the new product (based on our beta version).
At a first glance there seems not that much new in RSP compared to RSE. This means also that RSP is a true extension of RSE. This preview hopefully shows that RSP is not just a minor upgrade to RSE. Nearly everything we said about RSE is also true for RSP. If you are new to RSE/RSP we encourage you to read our full RSE review (see also the latest issue of Fotoespresso 3/2005) because we will only cover the main differences in this preview.
More Cameras
RSP supports many new cameras like: Canon 5D, 1D Mk. II N, Nikon D50 and the Leica DMR. Check the readme for more detailed info.
The RSP "Tonality Center"
While RSE had these minimal yet powerful four sliders to control tonality quite a few users wanted more control through Levels and Curves (us included for lower contrast images).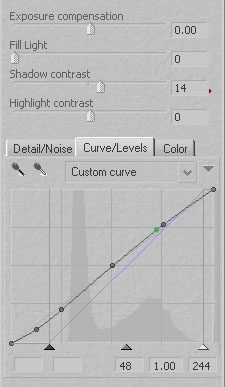 RSP tonality controls
RSP keeps the powerful four sliders and adds Levels/Curves. We find this a very powerful way to control tonality (although also quite a bit more complex). Especially important is that all controls are closely grouped together which makes the use a lot of fun. B&W photographers will find the control in tonality very helpful too.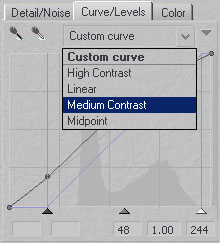 The user can save custom curves and have them available for later use.
Additional Color Controls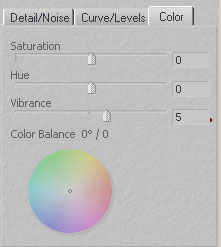 RSP adds two new controls Vibrance and Color Balance. The Color Balance allows to create/remove certain color casts (globally). Many users (us included) will find the Vibrance tool more exciting. It actually does what the name says: Create more/less vibrant colors. We were never a friend of the classic Photoshop Hue/Saturation tool but this tool may be more to our liking. Also toning down Vibrance can be very useful. Here is a sample: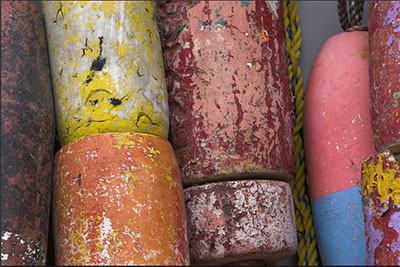 Vibrance 0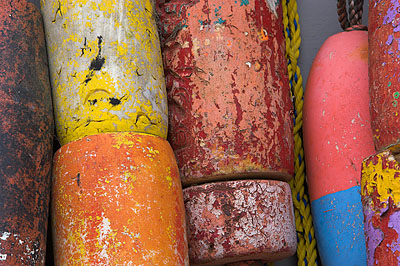 Vibrance 10
Best you check it yourself (free 15 day trial version is available) and experience that it works very differently from the classic saturation.
Additional Noise Tool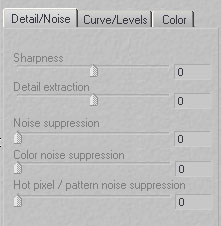 The Hot pixel and Pattern noise removal is more useful for longer exposures and consumer cameras. We did not find a picture to test it with.
Custom Appearances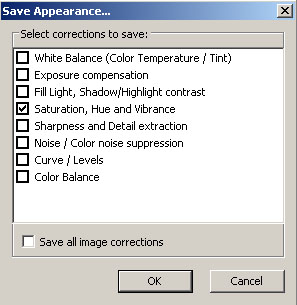 The RSP user now can store custom settings (all settings or subset) and recall them later at any time.
Crop, Straighten and Resizing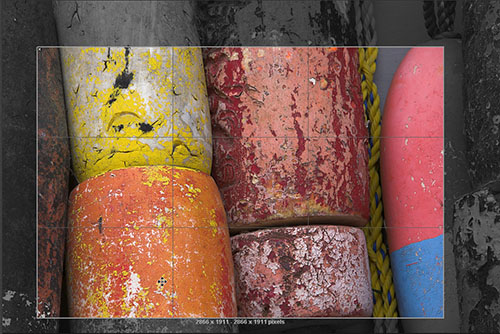 Crop
This is a classic and nice crop tool.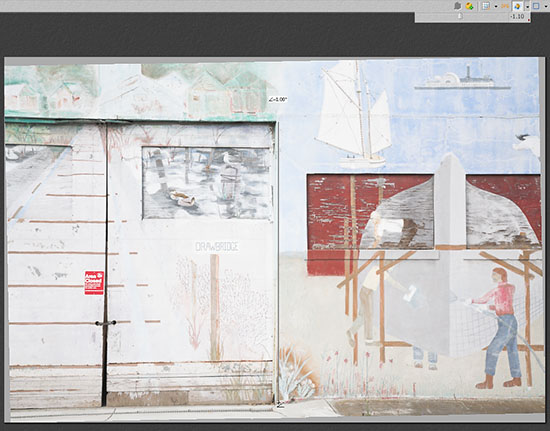 Straighten Tool
Straighten works in two modes:
Drawing a horizontal or vertical line
Selecting an angle (slider or numerical values)
We like especially that we can first use the drawing tool and then fine tune the numerical values. We personally would like to see a grid (selectable raster) to aid the user.

You can now also upsize/downsize in RSP. We did not yet check the quality of the results because we hardly upsize in the RAW converter.
Image Comparison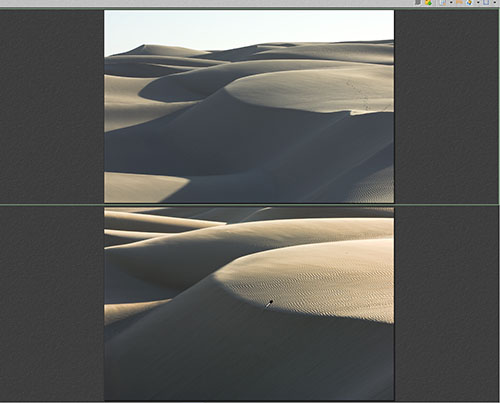 Image Comparison Feature
RSP allows to compare up to 4 images (depending on a preference setting). The screen can be split vertically or horizontally. We can think auf many situations where we want to compare at least two images to match them or find a winner picture. As of now the images you compare have to be in the same folder.
Image Downloader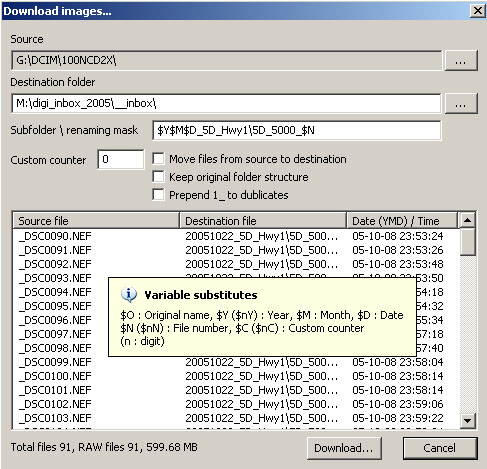 RSP Image Downloader
First we thought "oh there is one more image downloader". You get these days one with every editing tool on the planet. We spend half of our life disabling them :-). Actually the renaming functionality of the RSP downloader is probably not a match for other more advanced downloaders. But then we got excited as this is a downloader that is tightly integrated into RSP.
We often download 200-400 pictures from a 4GB card and find that even the fast preview generation of RSE/RSP takes its time. This means after the waiting for the download we wait to have the previews created. The RSP Downloader creates the previews during the download. This means you can already start working on your first images while the rest is downloaded. We find this a very strong feature as we can save real time using the RSP downloader.
Right now the RSP Downloader does not support to add IPTC data but we hope future versions will deal with this too.
Improved Snapshot functionality


Snapshot Names
You can now give your snapshots meaningful names. There is also a feature that the snapshot name will be included into the name of the converted file.
Magnifier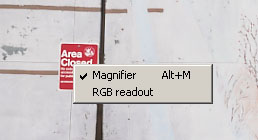 Select Magnifier on right click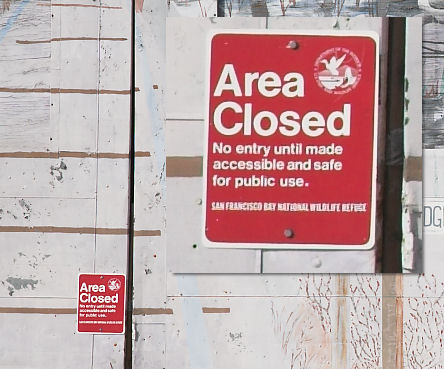 Working with the magnifier
This is a very nice feature to inspect files for sharpness, focus, details or noise without even the need to zoom into the file.
What is more?
Bulk Rename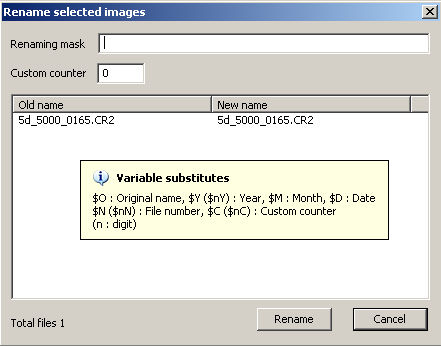 Bulk Rename
FastProofs

FastProofs
FastProofs are especially useful for all photographers that want to get some proof JPGs out of the door. We tried it and it is really very fast. If you then use Qimage or the Photoshop Proofsheet feature you have proofs printed in no time (the printer is mainly your bottleneck here).
New Thumbnail display options


Display thumbnails with info


Display thumbnail lists
Conclusion
With all it's new features:
Curves/Levels
Dowloader
Vibrance
Named snapshots
Image comparison
Straighten and Crop
FastProofs
New camera support
and the already excellent image quality of RSE we think that RSP is a bargain RAW converter ($59 is the introductory price).
Does RSP do all we want? Of course we hope that RSP can improve in some areas with future versions. We would like to see support for:
Perspective corrections
Dust removal
IPTC support
Selective color corrections
"Always perfect images" :-)
of course we would like it on the Mac too (not likely though, maybe in the future MacIntel can run Windows apps fast enough)
RSP was worth the wait and improves on the excellent RSE in many areas: test it yourself and upgrade now.
Highly Recommended
2005/11/19 How to use the RSP Color engine
There seemed to be some confusion on how to use the RSP Color Engine. We will try to explain what to do.
1. You install the Color Engine (like any other application)
2. You also install the license key when asked
3. Start RSP as normal
4. Now you can select camera profiles from the "Batch convert" tab
Let's assume you have selected an image from the Canon 5D (same for other Nikon and Canon cameras):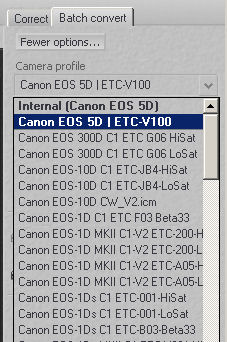 The "Camera Profile" drop down list shows two sections:
Bold: Internal and an alternative profile from the Color Engine (CE). Internal is the profile that comes with RSP and the second profile is from the Color Engine. You will only be able to see the CE profile for your camera. All other profiles would be only color gambling anyhow.
Not bold: Shows all the profiles that maybe valid camera profiles. Only use profiles that you know are made for RSP and not just play with them.
Once you selected a profile for your camera this selection is fix until you select a new one. This means this profile is used for all the images with the same camera. If you want to use profiles on an image by images basis you need to do the following:
select the image
select the profile
convert the image
and use the same process for the next image.