While there have been a lot of serious raw converters that have been first or only available on PCs there are now also some that start or stay on Mac. We follow all developments also on the Mac but use the Mac clearly as test platform only. This actually has nothing to with the infamous Mac/PC discussion but with our personal history.
RAW Developer (RD)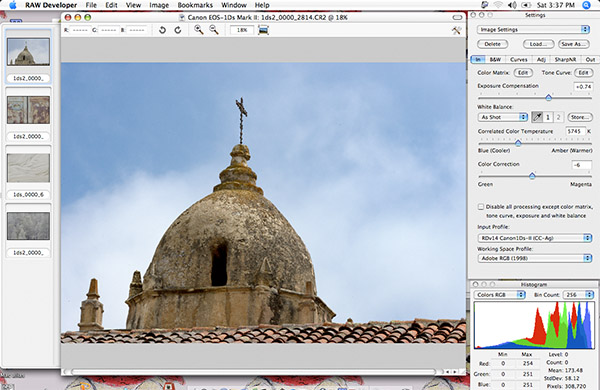 RAW Developer main User Interface
When the developer of RAW Developer notified us about about his new version 1.4 and claimed good colors (read our article about this theme) we wanted to give the software a short test spin. Often new converters only need a few checks and then put to rest because they fail minimal requirements for the digital workflow. This time it was different because we started to like what we saw.
Note: Because we only have a 800Ghz Powerbook with 1MB RAM we cannot make any statements about speed. We are quite confident though that in terms of pure workflow speed applications like ACR or RSP will win. By what a margin is hard to say. We did the conversions on the Mac and then all analysis and post processing on the PC.
Note 2: My friend and co-author Juergen Gulbins in Germany confirms that working with RAW Developer on a Quad Mac is fast (he mostly uses 350D pictures while we work with larger RAWs).
What us get started was the fact that we really liked the colors we got. Also the details did not look bad at all. As we stated here colors are a very complex topic. To our subjective eyes the colors from RAW Developer looked at least as good as anything we have seen from other RAW converters. All this from the default camera profiles provided with the software.
Note: We worked on quite a few images from the Canon 1Ds, 1Ds Mk. II, 5D and Nikon D2x.
The feature set is quite big. Best we show the different tabs for all the corrections possible.
Input Tab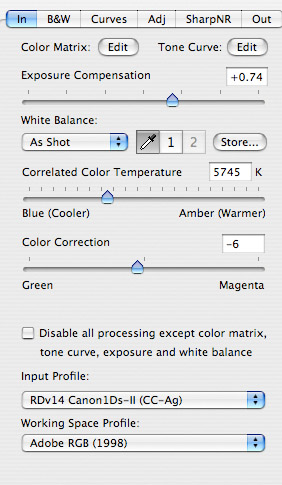 Input Tab
Exposure compensation
White Balance with many different modes (D2x owners should read the documentation how to enable the color temperature settings for this camera, the "as shot" WB worked great as did "click WB").
Camera input profile (here default but you can also create your camera own profiles and use them here)
We use Adobe RGB as our working space (the default is ECI-RGB)
You can also edit your own tone curves and save them (be careful):

Tone curve
B&W Tab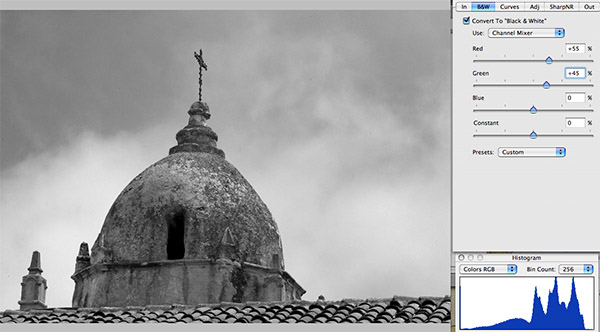 B&W conversion
RD allows many ways to create B&W from color images. More than other RCs we have seen so far.
Curves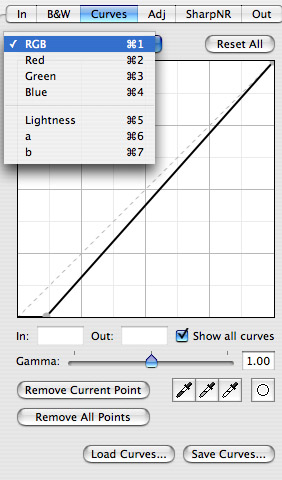 Curves
The RD curves allow you also to work in LAB mode which can be quite useful to avoid color shifts. The Gamma slider allows you a Gamma brightness correction on top of the curves.
Adjustment Tab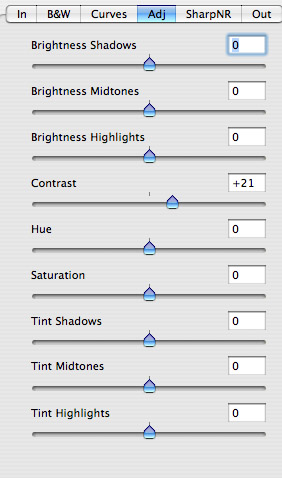 Adjustment Tab
These are quite a few useful controls. RD lacks adaptive controls like Shadow/Highlight in CS2 or RSP's Fill Light. Still RD is quite complete with its set of tonality adjustments.
Sharpen/Noise Removal TAB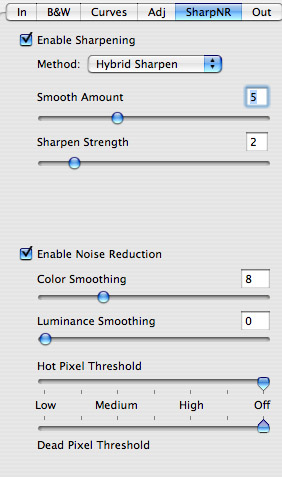 Sharpen/Noise Removal
We used the default sharpening.
From the manual: "Hybrid sharpening uses a combination of low pass/high pass image convolution filters to achieve increased sharpness and offers two slider controls for adjustment. Smooth Amount can be used to adjust the smoothness or reduce noise levels in the image. Higher values for Smooth Amount will give less noise, but will also reduce the effectiveness of the Sharpen Strength control. The Sharpen Strength setting is used to adjust level sharpening level. Higher values will give a sharper image."
Overall we liked the detail and also low tendency to produce halos.
We did not use the noise removal as most of our images are in the low ISO range.
Output Tab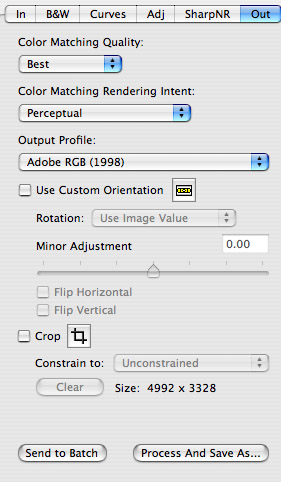 Output Tab
Except for changing the "Output Profile" we stayed with the default. We rarely upsize or downsize already in the raw converter. Here is also the crop and arbitrary rotate tools located.
You can either process and save the image or hand it over to a batch queue. Once in the batch queue you can process new images. We missed a function to open the converted file directly in Photoshop.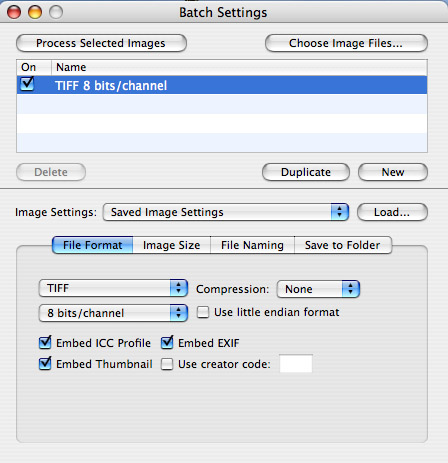 Batch Settings
The batch settings allow you to define what RD will do in the batch phase.
Note: Our current version 1.4 has a bug. You need to manually save the current settings otherwise the conversion would use the previous saved settings.
Extra features
RD features a multiple undo/redo
Missing Features
Conclusion
RAW Developer is a very serious RAW converter that we will also follow in the future. If you are on a Mac check it out. It is always good to have an alternative RAW converter at hand because no single RAW converter we know produces the best results for all images all the time. Honestly, we are very pleased and surprised how much we like this tool.
Highly Recommended
---
More on RAW Developer
For information go to the Iridient Digital web site.