Digital Outback Fine Art Photography Handbook
© Bettina & Uwe Steinmueller
3 Outdoor Photography
This book is about outdoor photography. The question we often get asked: Why not people? First of all it is just a personal decision and as such it needs not really a justification. But this question often comes as an offending "Don't you like people?". Why should we not like people because we like nature?
We like Photos of friends and children. But then these photos are part of our private life and will not be shared in a book like this.
So here we are: Outdoor Photography is our main subject. If you like other areas of photography that is wonderful and we might enjoy them.
3.1 Nature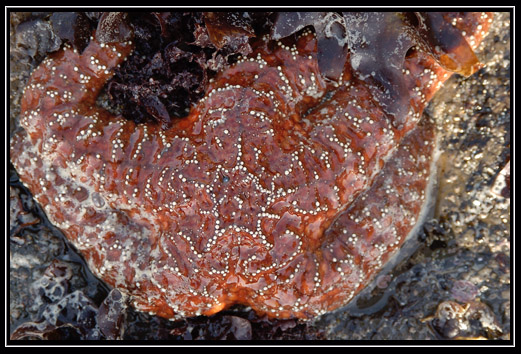 Star Fish in Tide Pool
In our normal life we are often distant from nature which is not mainly formed by man. What draws us to photographing nature:
Infinity of different landscapes, animals and plants
Patterns of color and structure
Nature is so organic and not constructed on a design board
Watch a flying bird and you can realize how primitive a modern airplane is
Nature differs over the seasons and with the weather. The same place looks never the same.
3.2 Landscape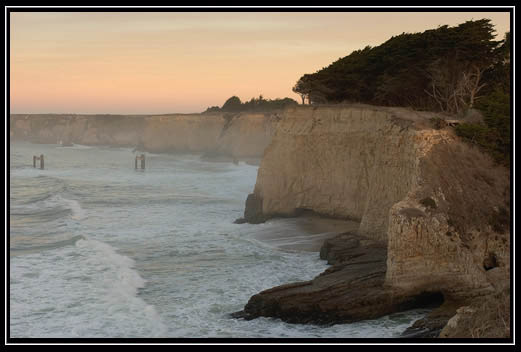 Davenport in Morning Light
We started photographing mostly landscapes. This is the nature at large. Nearly all landscapes today have some traces of man and it can even be a beautiful part of it. Especially landscape photography is dominated by the light and weather conditions. Many landscape photographers rarely photograph outside the sunrise/sunset boundaries. We think there is a lot to be photographed outside sunrise/sunset but have also to admit that the light condition during day time is often far from ideal.
3.3 Animals and Birds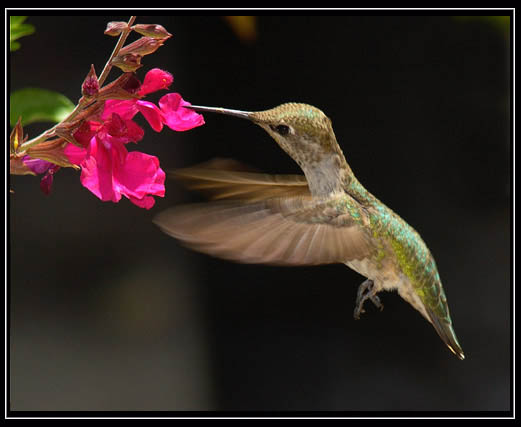 Hummingbird in our Backyard
Seems to be a strange to talk about "Animals and Birds". But actually we consider Bird photography as an photographic topic by itself. The reason is that there are so many and good bird photographers. Birds are around us everywhere and there are so many species with spectacular shapes, behavior and colors.
The famous bird photographer Arthur Morris made even the term "Birds as Art" the name of his web site. There is a whole school of bird photographers following Arthur to create very artful bird photographs.
Photography of wild animals has also a long history and the "National Geographic" magazine got work for many wildlife photographers.
Since we are in California we also love to photograph birds and other wildlife but more from the perspective that we find a lot of birds if we look for good landscape photo locations.
3.4 Flowers & Cactuses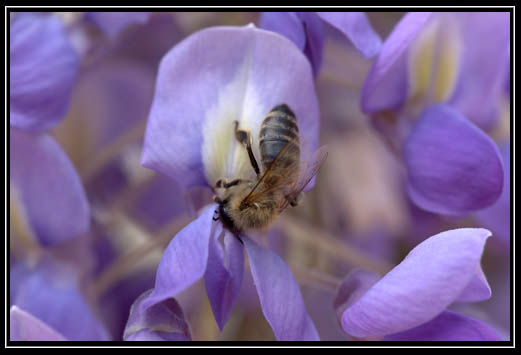 Bee at Villa Filoli
Also a broad special section of photography is the art of flower photography which we like very much. Flowers come as wildflowers and cultivated garden flowers. Both show rich colors and patterns. Also recently we discovered the beauty of cactuses.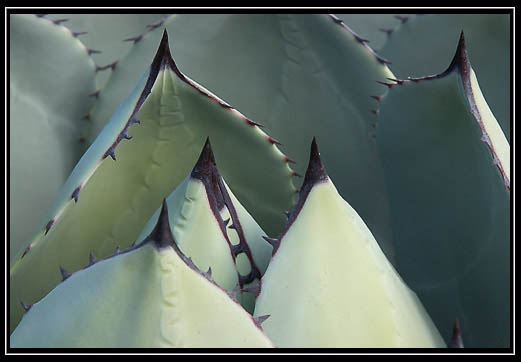 Cactus at Big Sure
3.5 Travel or Urban Landscapes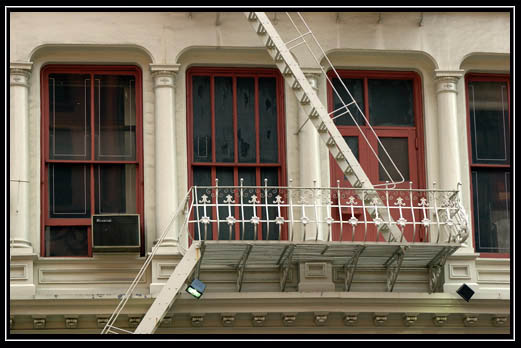 Soho NY
We also love to travel and photograph what we find on our way. The urban landscape can be as exciting as pure nature. Take New York as an example. It draws us to Soho and Greenwich to explore this kind of landscape. These are mostly places where time painted and structured the scene.
Our most loved urban landscape is Venice in Italy. This city is created by man but the time/nature made it so beautiful. We always regret finding places which underwent restoration as one has to wait for many years until it gets beautiful again.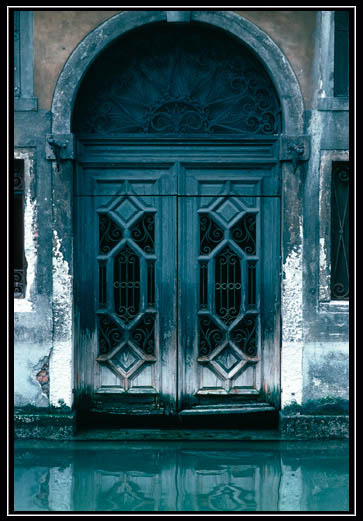 Venice Portal
3.6 Colors & B&W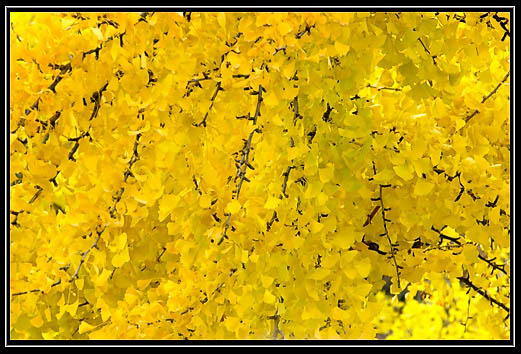 Fall Colors
Color is a very subjective issue and even very much related to the social life in different countries. It is also very much related to the intensity of the sun. Some colors which might look beautiful in Mexico look very off in Germany and vice versa. We now live in California where the sun is so different from our home country Germany. This new environment also changed our photography a lot.
We will not show a lot of B&W here in this book as we currently less focussed on B&W. But first let us say that we love the abstraction of B&W photography. So why not do both? We really would love too but we feel it is hard to switch instantly between thinking in color and in B&W. That is why we right now concentrate on color and of course we love color too. It might also explain why we love also photos which are quite monochrome.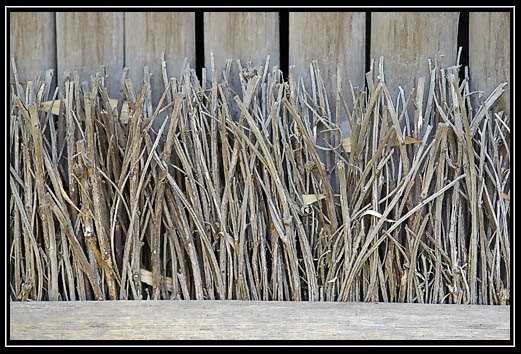 At a Japanese Tea House in Hakone Gardens, Saratoga CA
Still it is our dream to make a B&W book about Venice: the probably most colorful city in the world.
3.7 Nature Patterns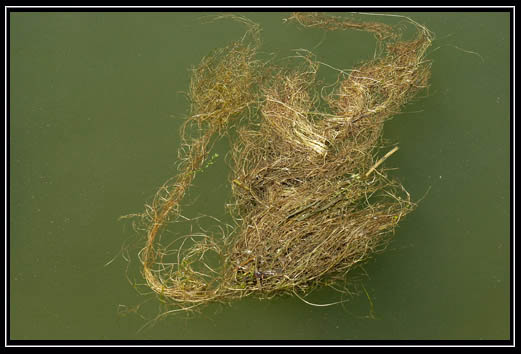 Floating Grass at Alviso
Nature patterns are organic and hardly can ever be created by man. Most of the patterns are hard to to show in their full beauty on a photograph. Even the size of the print can then make a big difference. We have seen the wonderful structures of the Bryce Canyon photographed by thousands of photographers and only few succeed to capture Bryce beyond it's cliché. Please understand us correct we still have to do this exercise and will most likely fail too on our first attempt. It is just so difficult to capture the nature at large on small photos.
But this challenge is the fun of nature photography. There is never the one and only perfect picture.
3.8 Macro
Although macro photography opens an entire other spectrum of nature photography this is not really our subject. We rarely photograph objects with a ratio larger than 1:2. We need to se objects with our naked eyes before they get our attention and then we think about how to capture its colors or patterns.
© Bettina & Uwe Steinmueller