Digital Outback Fine Art Photography Handbook
© Bettina & Uwe Steinmueller
2 Fine Art Photography
2.1 The Photographic Print as ultimate goal
This book looks at photography as fine art. Thus the ultimate goal of all photos is to be printed and presented to please the viewer. Please understand that we also see all other kinds of photography (photojournalism, product and portrait) as very interesting areas of photography but not our focus. Also if you work with the print in mind some things are seen in a different light. A slide show can handle very high contrast, small web photos don't need that much resolution and unlike photos for events and press speed is not a main issue.
2.1.1 Inkjet Printers changed the game
With inkjet printers the possibility to print at home or your office at an very affordable price is now open to everyone and the quality can now match the best in industry. For the fine art photographer this means a control never possible at such a low investment. Please don't misunderstand that we think that printing now is really cheap. Papers and inks add up to some significant spending.
2.2 Leaving a lasting result (Longevity)
One of the last domains of Ciba/Ilfochrome and in recent years Lightjet color prints was the longevity of those prints (30 - 60 years). No major gallery or museum would accept prints which might just last 1-15 years. Of course this is also a major concern of the the fine art photographer. Recently new inks (pigmented inks) and paper were introduced to allow inkjet prints to last even longer that 60 years. The authority in this area is Wilhelm Imaging Research (www.wilhelm-research.com). Also they had some major problems judging some recent paper/ink combinations and the influence of ozone to their longevity.
Of course nobody could really test these data. But some tests indicate that these figures might be somehow realistic. We only use pigmented inks right now which gives us a good feel that our customers will enjoy their photos over a long period of time. We don't think it is important that these prints do not fade in direct sun light as this is not where you would display fine art prints anyway.
Sometimes we hear the argument that the buyers don't ask/care about the longevity issue. Yes, some might not know that this is an issue but assume these prints will last forever. Be sure they will care once they love your prints and it starts to fade. My parents had a Cibachrome print of this photo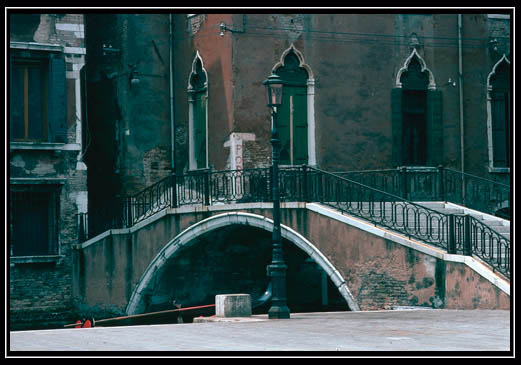 Venice Ponte, Italy 1977
hanging in their house for 25 years and it still looks fine.
2.3 Presentation
Of course the presentation of your fine art prints is as important as your work itself. Thus matting and framing is something you have to deal with too. This book will only briefly outline some of our own experience.
2.4 Commercial vs. Art and Craft
If we talk about fine art prints we want to sell these photos. Of course there is a tension between the personal view and the buyers opinion. At some point you have to please the buyer and this might mean even make some compromises in what and how you create your work. In this sense we consider our work to be commercial.
2.5 Marketing
At some point marketing your work is as or even more important than producing new photos. What if you pile up a lot of wonderful prints and just the buyers don't know about it. Sorry that we do not have good advice here as we are in the process to do our own homework right now.
2.6 Publishing for the web
This book is not about publishing for the web as we do not see the web as the right place to view fine art. There is so much more to a nice print than the web can show. Of course the web can be one of your marketing channels but don't overestimate it. Again you cannot show what a print looks like.
References
© Bettina & Uwe Steinmueller