Digital Outback Fine Art Photography Handbook
© Bettina & Uwe Steinmueller
8 From Camera to your Computer
8.1 Storage
Once you are back from the field and have filled you compact flash cards and/or digital wallets the files have to be transferred to your computer.
Be aware that you need a lot of space. Today digital RAW files are all between 4MB (Canon D30, Nikon D1x compressed) and 20MB (Kodak ProBack) large and having 10000 images is not a lot. Then you will convert some of these images to 16-bit TIFF and even have it some variations.
Better you start thinking in Gigabytes and soon in Terabytes. We currently have about 500GB of storage in our network (a bit disorganized and always having duplicates sitting somewhere). A good starting point are 80GB as a minimum and adding some external Firewire drives as backup (start with 160GB right now)
8.2 Transfer to the computer
Most cameras today come with an USB or even better a Firewire interface. Many use these interfaces to transfer the files to the computer. We do not use these features as it does not help a lot once you use multiple cards and/or digital wallets.
We always have a card reader installed with our main PC (we use PCs but the same is true for Macs) and copy the images for a day in a new directory inside our "inbox" folder.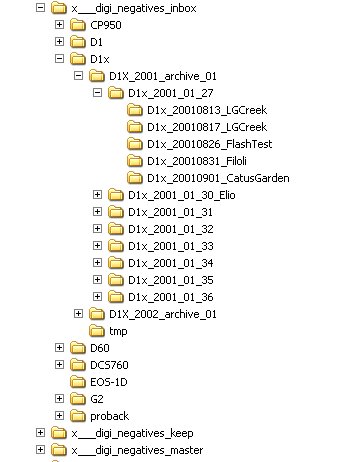 As you can see we used many different cameras and the goal is that still every image has a different name.
Here is shown the inbox for the Nikon D1x. Lets explain our hierarchy:
D1X_2001_archive_01 (there can be more than one archive if we have more than one D1x (e.g. we have 2x Nikon D1)
D1X_2001_01_27 (D1x archive for 2001, volume 01, folder 27) The goal is that each of these folders fits on one CD (about 640MB) for backup. Also don't trust a single CD.
D1x_20010813_LGCreek (D1x photos taken 8-13-2001 at Los Gatos Creek) A single folder in there is for one day (could be also split over more than one folder per day and also if it does not fit anymore into the 640MB limit)
We have tree levels of these directories:
inbox: here everything gets stores first, we never delete in the field as it can corrupt your drive and mistakes happen too easily
keep: Everything which is not obvious garbage and cannot safely be deleted
master: images which are candidates for fine art prints
I hope you get the idea.
Once the files are copied to the disk we rename the files to make sure that the filename will stay unique. We use a free PC utility called "Rname-it" (download it here) but there are many others available.
Once the images are transferred you should backup these files to a physical different hard disk. Now you should be safe to reformat the cards or Microdrives
Tips:
Backup, Backup, Backup
Make backup CDs or even DVDs (which are not really standard yet)
Store copies in different locations (we still have to do this)
Once you have the files on your disk drives you can safely enter the digital darkroom.
In some cases your Microdrive or CF card might be corrupted. Don't panic and read here:
Rob Galbraith: "Building the Ultimate Photo Recovery Kit"
References
Rob Galbraith: "Building the Ultimate Photo Recovery Kit"
© Bettina & Uwe Steinmueller