Digital Outback Fine Art Photography Handbook
© by Bettina & Uwe Steinmueller
You might ask why is Bettina's childrens book part of the handbook?
We started our digital journey with this book
We hope you have some fun
The website "www.david-tina.com" gets less traffic
15 David & Tina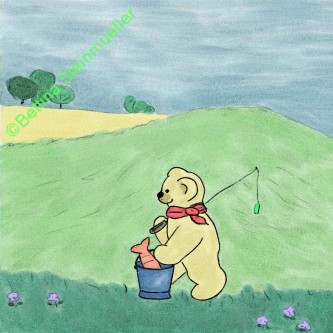 David and the Coho Salmon
©Bettina Steinmueller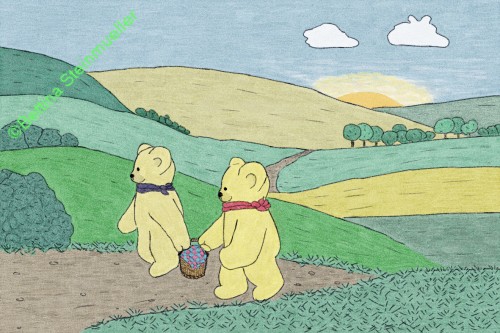 When the weather is nice David and Tina love to stroll around the place there they live. This time it takes them to the quiet stream in the woods. Hopefully they will find salmon romping again for the first time this year.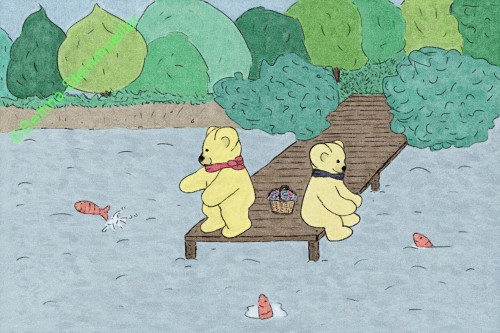 "Look, Tina! The coho salmon are back!" David gets so excited, as they arrive at the little fishing pier.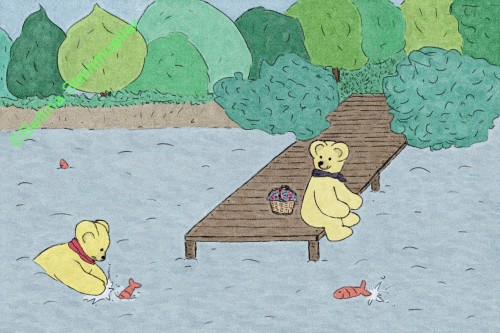 Splash! David jumps into the water to catch a coho. But the salmon are too quick for him. Tina just smiles, "Why don't you buy a fishing pole?"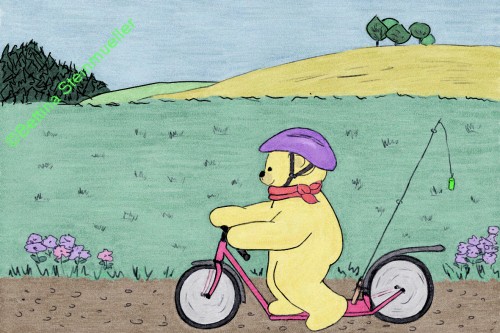 Early next morning David rides on his scooter to the village nearby and comes back with his brand new fishing pole.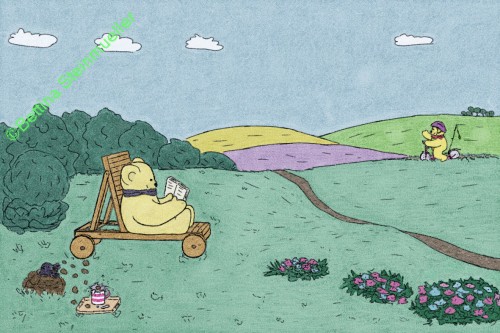 Tina takes a rest to read her favorite book, just as David comes riding the rolling hills on his scooter.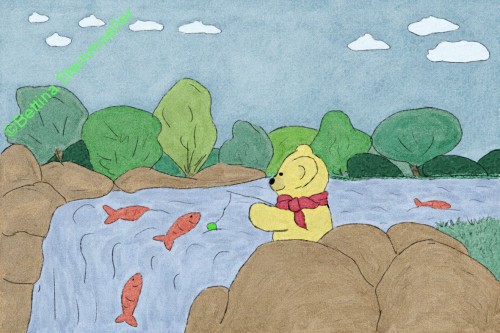 David can hardly wait for the next day to finally try out his new fishing pole. This time he really wants to catch a salmon.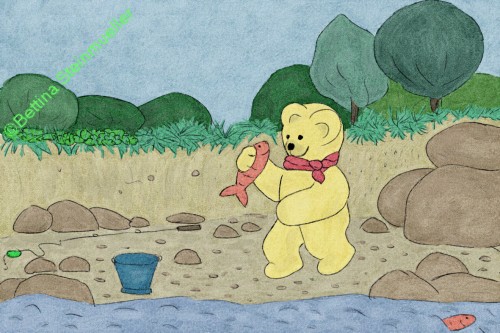 After a while a salmon actually bites, and David is so happy to hold him in his hands at last. Only the coho isn't so sure. What's going on here?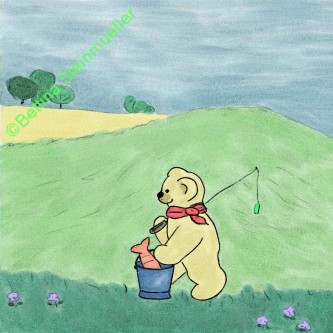 In his hurry, David puts the salmon head first down into the empty bucket and rushes to get home. He is thrilled to show his catch to Tina.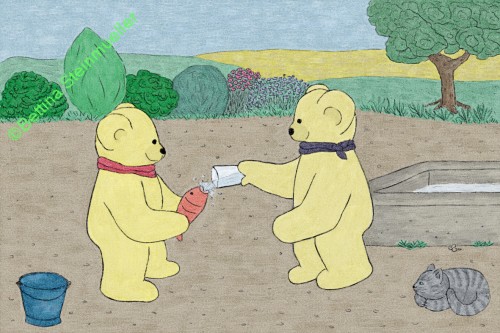 The poor coho in the bucket shocks Tina. "David, the salmon needs some water. He must be very thirsty!" Tina hurries to get him a glass of water.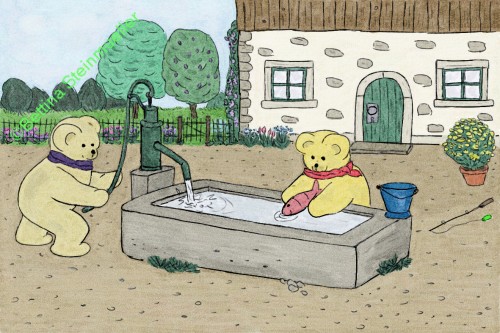 Tina pumps water into the cistern, so the salmon can swim again. Finally back in water, the coho feels much better.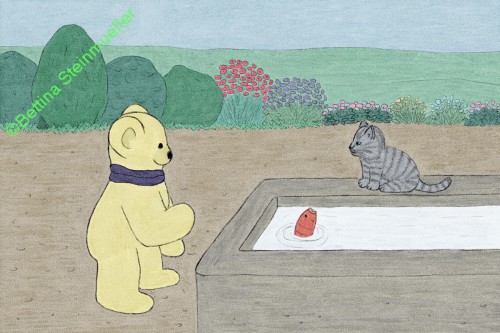 Katy the kitty cat watches the new guest. But Tina gently warns her, "OK now, Katy, leave the coho alone, he is our friend!"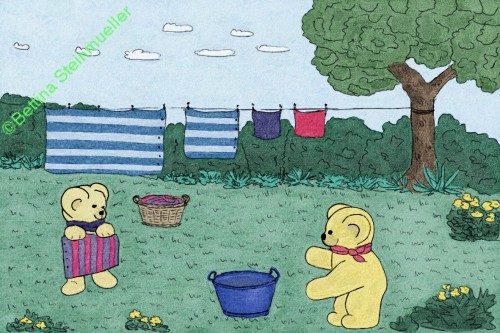 A few days later Tina says to David, "I'll bet the salmon wants to go home to his friends in the stream." "You are probably right, Tina. Let's use this blue laundry tub to take him back."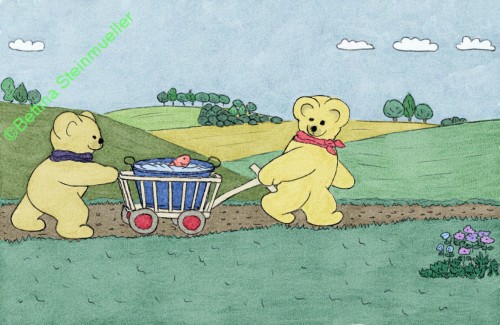 They take the wagon, fill the tub with water, put the salmon into it and push it to the little fishingpier.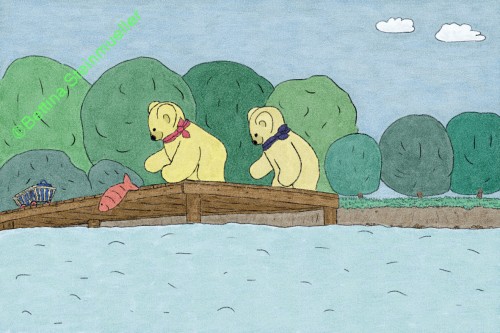 It is very hard for David to let the salmon go. Of course the salmon is happy to be back and meet all his friends, again, although he will remember David and Tina as good friends, too.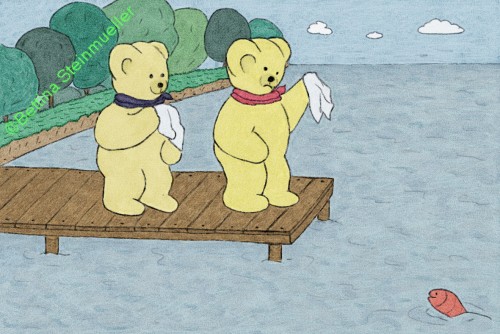 The coho turns around again and says good-bye to David and Tina. As you can see David is very, very sad.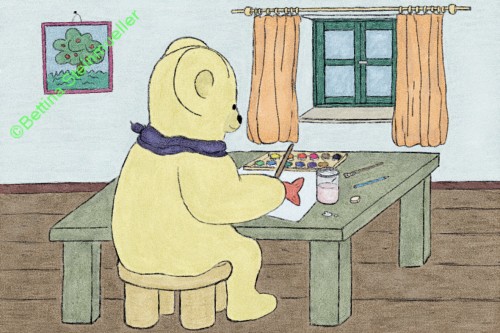 Back at home Tina paints a portrait of the salmon. She wants to surprise David because she doesn't want him to be sad any longer.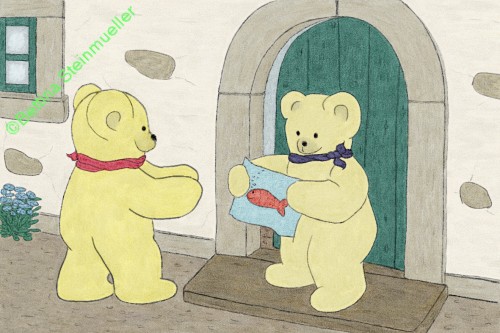 "Hello, David, look!" Tina proudly hands David the picture. He is overjoyed when he receives the painting. He has his salmon back again. Wow!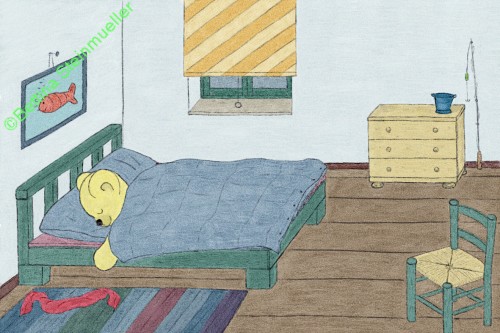 Davi

d hangs the picture above his bed and falls asleep contentedly. Can you imagine what he is dreaming about?
If you are interested in publishing this book send e-mail to: uwe@outbackphoto.com. All pictures are available in higher resolution.
© by Bettina & Uwe Steinmueller