Part 2 of the shootout covered advanced features of both cataloging programs. In this final part of the shootout, we look at backups and support for multiple monitors. Plus, we will crown the overall winner.
Shootout #9: Backing Up and Mirroring of Catalogs
When creating a new catalog, the user gets prompted what folder to place the new catalog in. Thus, it is easy to just add the folder or folders holding your catalogs to your backup program. All data required for opening and working within a catalog is written into the catalog itself, so no additional system files have to be backed up. Both products allow for generating previews in case some of your media is offline while viewing a catalog. If this option was chosen at the time the catalog was created, Portfolio stores these previews in a subfolder that resides in the same folder that the catalog is in. Obviously, that subfolder needs to be backed up as well. IView Media Pro stores previews directly in the catalog, so no additional sub folder need to be backed up.
Similar to other programs, e.g. Microsoft Outlook or Mozilla Thunderbird, both Portfolio and IView Media Pro lock the catalog in use under Windows, so if your backup program tries to backup a catalog while it is in use, the catalog will not be backed up, unless your backup program supports the automatic shutdown of Portfolio or IView Media Pro before the start of a backup. Overall, back up is as easy and hassle-free, as we had hoped for.
Since everything is stored in one file, transferring a catalog to a second computer is as easy as copying the file to the other computer and double-clicking on it to get it opened. Again, if previews need to be included, the subfolder holding the Portfolio preview files needs to be copied as well.
Similarly, mirroring of catalogs does not present any major problems either. If you have RAID disks, just place your catalog (and for Portfolio, the preview folder) on a RAID drive and the RAID itself takes care of the mirroring. If you set up software mirroring (e.g., through MirrorFolder), just include all folders where you catalogs reside. Like backups, the fact that neither of the two catalog programs writes any files into system folders makes mirroring easy to manage.
Since both programs follow the same design paradigm, there's no winner in this shootout.
Winner: Tie
Shout-out #10: Support for multiple Monitors
With the prices of monitors falling, esp. for LCD flat panels, more and more PC users have already made the switch to dual monitor setups, so support for multiple monitors is increasingly important when photographers evaluate workflow software. Sadly, both Portfolio and IView Media Pro do not offer multiple monitor support at the time of this writing. Of course, if you call an external viewer or editor from either program, it can be displayed on a second monitor, but that is a function of the operating system and not of the cataloging software. We would have liked to run IView Media Pro's main window on one monitor and its Light Table on a second, but this feature is not implemented. Ditto for viewing Thumbnails on one monitor and Media on a second – we wished to be able to just drag one of the tabs to a second monitor. Portfolio's support is similarly lacking – similar to IView Media Pro, when opening an individual image, Portfolio places it on a separate tab, which cannot be moved outside of the main window. Nor does it allow moving a slide show to another monitor.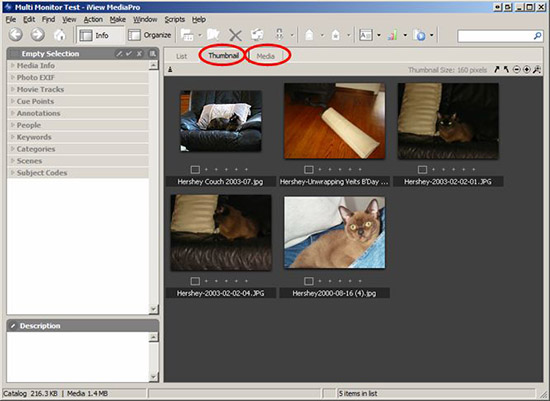 We wish you can just drag on of the tabs to a second monitor
Since both programs lack the support for multiple monitors, we could not determine a winner.
Winner: Tie
Conclusion
Both companies have full-featured and robust program offerings that exceed the features you find in many other cataloging programs. Both clearly demonstrate that they were designed with professionals photographers in mind. It should be mentioned again that both support cataloging of many more file formats and features designed to support these additional file formats, but these were intentionally not covered in this shootout. If you are using one of the two already, there's probably not enough of a reason for you to switch. New users have a tough decision to make between these two full-featured programs, so we would highly encourage you to download trial versions of the two and make your purchasing decision based on your own needs.
At the end of this shootout, our nod goes to IView Media Pro due to three reasons – its support for the latest camera formats that are on the market (and its history of very timely updates that support the newest cameras, although we expect Portfolio to catch up in this area), its support for color management and its better implementation of many of the advanced features, especially its outstanding implementation of cascading metadata support, the lack of which has been the major short shortcoming in Portfolio to us for a while now. We also continue to hope that both will implement and release support for RAW settings files with their next major release.
We maintain our "Recommend" rating for Portfolio and issue a "Highly Recommended" rating for IView Media Pro.
Overall Winner: IView Media Pro