This time of the year we drive down to Big Sur to virtually "chase the fog". While many tourists will be disappointed that they hardly can see anything more often than not when they rush down Big Sur we smile if we see the fog.
There are 4 kinds of weather in Summer at Big Sur and this can change every mile or so drastically:
Full sunshine: Good for the soul and bad for photography
Overcast: Not so good for the soul but ok for photography
Strong fog: Bad for both
Patches of fog: This is what we are waiting for
Yesterday was probably one of the best days we had in the last years. The parts of Big Sur we wanted to photograph showed nice patches of fog. The fog was dense but not really too dense.
The fun and challenge of making fog shots is that you have a lot of work ahead of you in the digital darkroom. We just want to present three photos from yesterday that we like (overall we shot 200 pictures and have many, many hours in Photoshop ahead of us).
Sample #1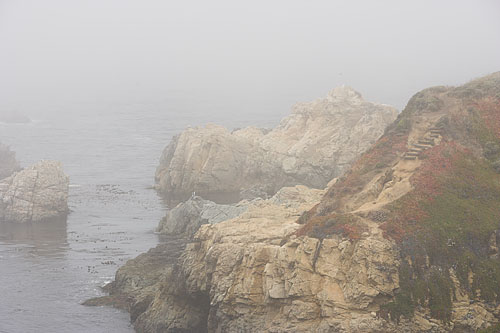 Shot directly out of camera and viewed in RSE (Canon 1Ds Mk. II)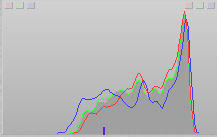 Histogram
These are extremely low contrast shots. If you would just print them "as is" they would be way to flat. The trick is to enhance the contrast and still keep the fog mood. This requires lots of work in the raw converter and Photoshop. What is even more important you need to make test prints and check how the photos work on paper.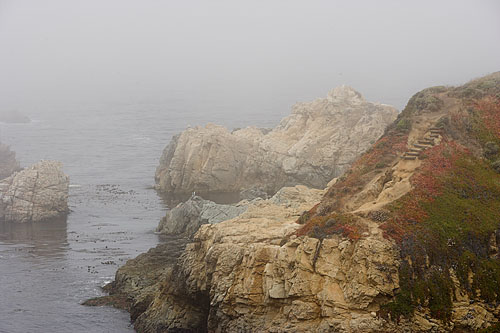 Image tuned in Raw Shooter
You can tune the tonality (mainly contrast) in the raw converter quite a bit but the final work is done in Photoshop (using layers, see our e-books DOP3001 and DOP2000).
Here is the final (final for now) photo out of Photoshop: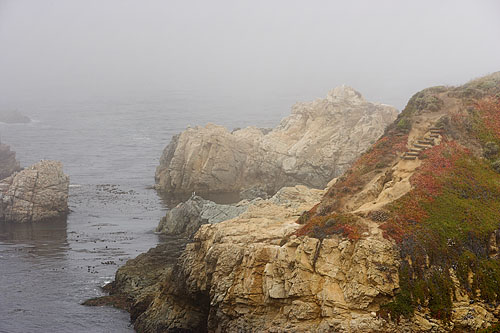 Final image out of Photoshop
Unfortunately these small crops don't show the full story.
Sample #2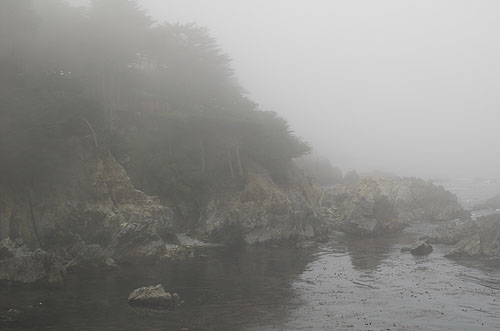 Out of camera in RawShooter (Nikon D50)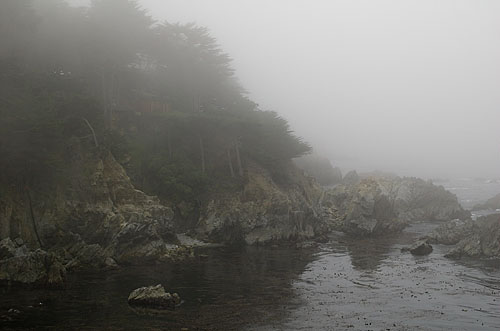 Tonality tuned in RS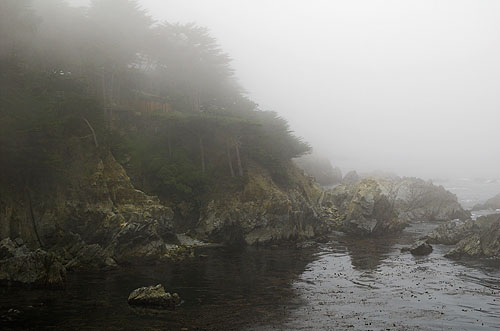 Final image from Photoshop
Sample #3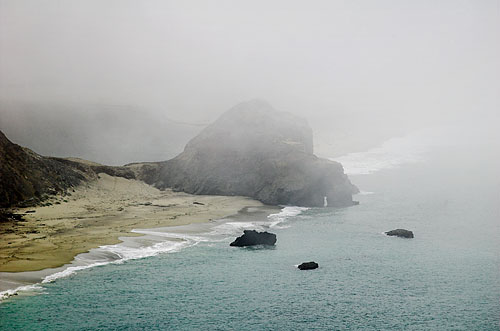 (Nearly) Final image from Photoshop (Nikon D50)
For this image we need quite a bit of work (especially on the water in the corners).
Note: None of these photos is a crop.
Conclusion
We love the challenge that fog photos present for us at Big Sur and plan to have a few more sessions this year.
Please also check out some of our best fog shots in our "Coast" portfolio of our new site www.california-earthframes.com.
The picture "Pelican Attack" is probably still our best fog photo of all times and was discussed here.