Printing Insights #029
Epson R800 Experience Report



A review diary by Uwe Steinmueller
Testimonial
"If you are just now venturing into the world of fine art digital photography you can immerce yourself in new knowledge about almost every aspect that I can think of. The photographs on the Outback Photo site are stunning, to say the least! The books and handbooks offer a true wealth of knowledge because they are so well thought out and organized in a concise manner, with numerous examples. There are vast quantities of other resources available as well, through linking to other sites. There are interesting and provocative stories and essays written by both Uwe and Bettina Steinmueller and many others. I first found the site while checking reviews of the Canon Digital Rebel and I haven't stopped exploring ... where do Uwe and Bettina find the time to give so much? They are excellent teachers." Eleanor T. Culling 2/25/2004
If you work with Photoshop CS our e-books DOP1009 or DOP2000 are the right choice for you. DOP2000 is the more complete handbook.
The diary always has the latest entry on top.
If we quote other authors this may not be our opinion but we consider them of course qualified statements.
---
5/6/2005 R1800 is the 13" wide version of the R800
Now you have the option to get a 13" wide version with the same inks as the R800.
---
2/27/2005 Ink use and Gloss Optimizer on the R800
This is an entry by Alain Briot:
"How the R800 uses the two different blacks – matte and glossy black- as well as the gloss optimizer is somewhat of a mystery at first since there is no way to select any of those in the printer driver.
This selection is made by the printer driver based on which paper you select. If you select a glossy paper the printer automatically selects the glossy black ink and the gloss optimizer. If you select a matte paper the printer selects the matte black and turns off the gloss optimizer. Just choose the paper you have loaded in the printer and you are all set.
Note that you can deselect the gloss optimizer if you wish using the On/Off drop down selection. But why would you want to do that since that is one of the major attractions of the R800? Also note that the gloss optimizer option only comes on when you select the Advanced option. If you select Automatic it is turned off… automatically ;- )

Also puzzling to some if the fact that the level of both black cartridges as well as the gloss optimizer cartridge go down even if one never prints on glossy paper (or if one only prints on matte paper). The reason why is because when cleaning the print head all the cartridges are used, so that all the nozzles are cleared, even those that haven't been used for actual printing. The printer uses this approach because even if you do not use one of the two blacks, or the gloss optimizer, the nozzles for these cartridges can still be clogged since ink does go into these nozzles anyway. So, even if you never use one of them, you will have to replace them sooner or later. Bummer. I know. But there is no way around it at this time.
Finally I suggest that when you have chosen all the settings you like for a given type of paper you save these settings under a specific name in the driver. That way when you print again on the same paper you can just select the option you just created and not have to go through all the dialog boxes again. Keep in mind that paper and gloss optimizer are only two of the options you need to select. You also have to select other options under Color Management, page setup and so on. How do you do that? Which options to choose? Stay tuned for another entry or… attend the Antelope Canyon Digital Summit and create Fine Art prints from your photographs under the guidance of Uwe and I. You can find more about the summit here."

---
2/16/2005 Smudging with the Epson Glossy prints
A friend complained about smudging in R800 glossy prints. He provided us with a crop to look into this issue. Here is the crop: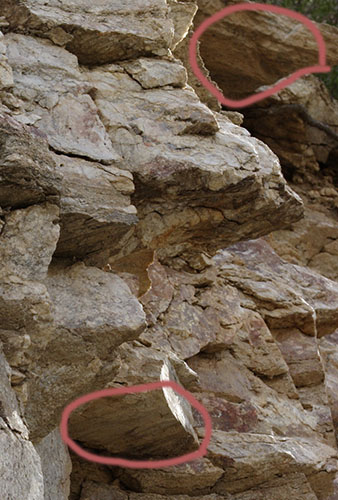 Clearly the prints on the Epson R800 using the Epson US profiles showed an unacceptable level of smudging in the areas as indicated in the above picture (some of it was in the original converted file but not nearly at such a strong level).
Good news is that you can get way better results on glossy paper with your R800 printer using good custom profiles. We tried a profile from Dry Creek Photo and the smudging was way less.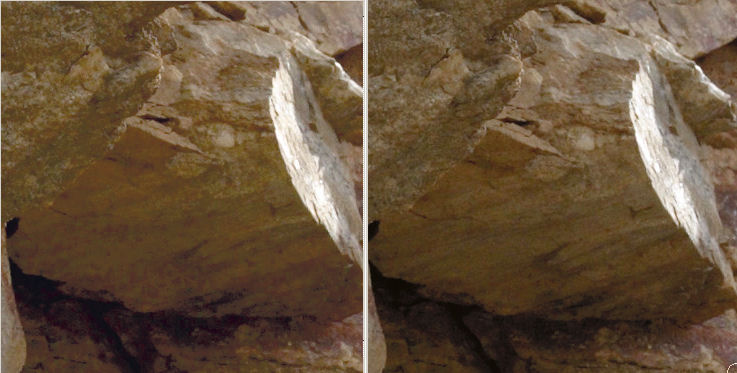 Softproofing in Photoshop at 200% Left: Epson US profile, Right: Dry Creek Photo profile
This is really a world of difference even for the untrained eye and shows up in the print as bad.
---
2/11/2005 R800 and improved profiles
There has hardly a printer where we found more people liking or not liking it. A reader pointed us to the a R800 profile that is very interesting. We looked at the profile and they really can make a big difference: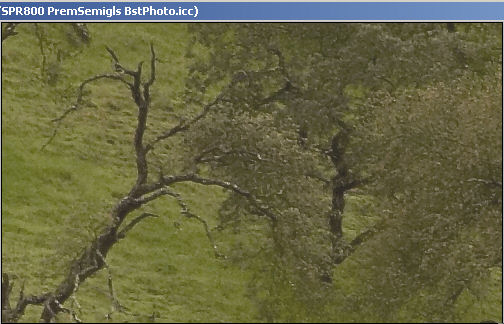 Soft proofing with the original Epson profile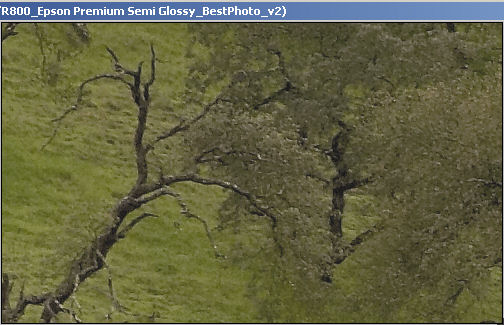 Soft proofing with a better profile
As you can see it is not only colors but also a lot of detail that changes.
Sorry, we are not able to provide the profile for download as there are licensing issues and we don't even have contact to the author. The point is that there are much better profiles possible than supplied by Epson with the printer. The Epson glossy profiles don't do the printer's capabilities full justice.
---
12/18/2004 New Epson R800 Drivers
There seemed to be people having issues with dark Epson prints. We did not experience too dark prints. But there are also voices that installed the new drivers and found the issues solved. We also installed the new drivers (V5.5) and did not see a brightness difference. Bus again we did not have any problems. If you find your prints too dark try to install the new drivers. The drivers can be found here.
---
12/15/2004 R800 Prints too dark?
Just received a JPG from a reader that finds his prints too dark on the R800. I printed the file and found it a pretty good match to the screen (we use an Artisan monitor with brightness set to 85cd/m2).

Here are possible reasons for different experiences:

a) screen to bright (ours is 85cd/m2, Antonio Dias pointed me in that direction)

b) using relative colorimetric rendering intent

c) too dark viewing light
---
8/11/2004 Test your R800 with our Print PDFs
To check your R800 you can use our Print PDFs as they contain proper color profiles and are ready to print from Acrobat.
---
7/21/2004 Use of Gloss Optimizer while using only Matte Papers
We use nearly only matte papers and were surprised that we also use up the "Gloss Optimizer". Checking with Epson we found out that there is a technical reason:
"The printer must run nozzle cleanings to maintain the optimum viscosity of the ink in the nozzles. The optimum viscosity is important to achieve the right droplet size and placement."
We continue to use the R800 as our proofing printer. We are very happy with the results and especially the speed.
---
5/30/2004 Cleaning
We had not used the R800 for 2 weeks. The first print showed banding. An automatic cleaning cycle got the printer back to normal quality.
---
4/19/2004 B/W on Premium Semi Gloss
Below we raved about the Premium Semigloss paper. I bought some new paper and this had a clear magenta cast using the Epson profiles. Took me quite some prints to figure out a compensation.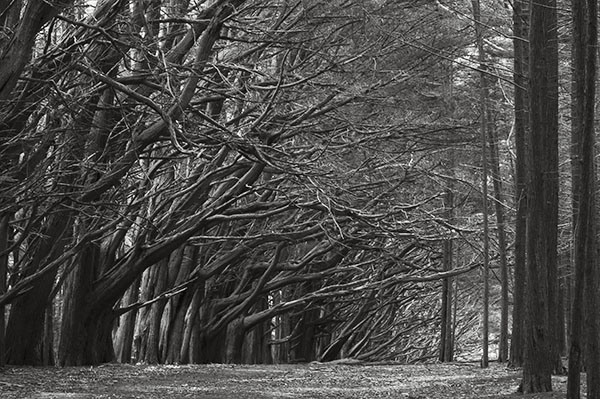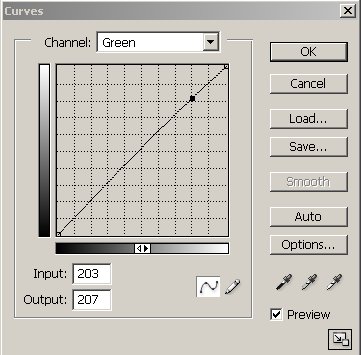 Curves Adjustment layer in the green channel
After applying this curve we get great B/W prints again.
---
4/14/2004 B/W printing on different papers
Normally we use only matte papers. Today we tried different papers to print this B/W photo: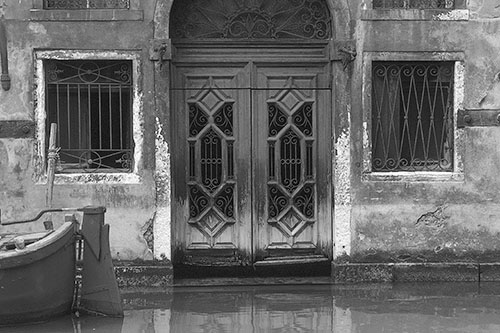 Venice, Italy (27 years old)
For the printing we only used the Epson profiles. Here are our findings:
Epson Premium Semigloss: Very, very good
Epson Enhanced Matte: Very good in the limits of a matte paper
Crane Museo: Very good in the limits of a matte paper (using the Enh. Matte profile)
Epson Premium Luster: Very good (we are not a fan of that surface with out glass)
Epson Premium Glossy: Very, very good
We would use:
Semigloss for a glossy surface
Museo for a matte fine art surface (did not check all the other first class fine art papers)
We may use the Semigloss paper for some prints where we need a higher contrast. Was really a pleasant experience.
---
3/29/2004 Clogging?
Alain reported some clogging with his R800 if it does not get used for a few days. We did not use the R800 for the last 7 and did not have any problems. We printed one of our colorized images: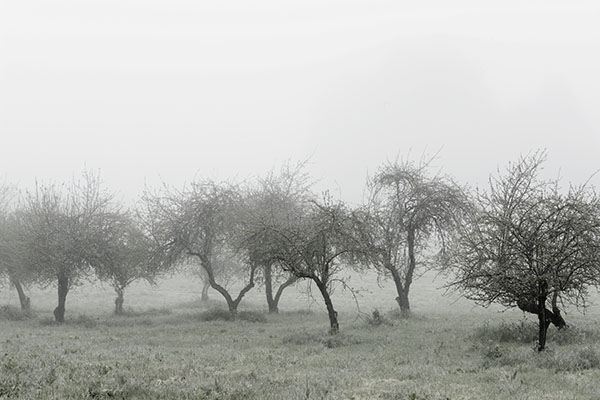 The print came out just great on matte paper.
We had some clogging issues with our Epson 2200 but think it is related to suing cotton fine art papers that leave a lot of dust in the printer.
---
3/20/2004 Printing from Photoshop
We show the Photoshop and R800 driver settings to print from Photoshop using the Epson profiles.
Photoshop Print Dialog settings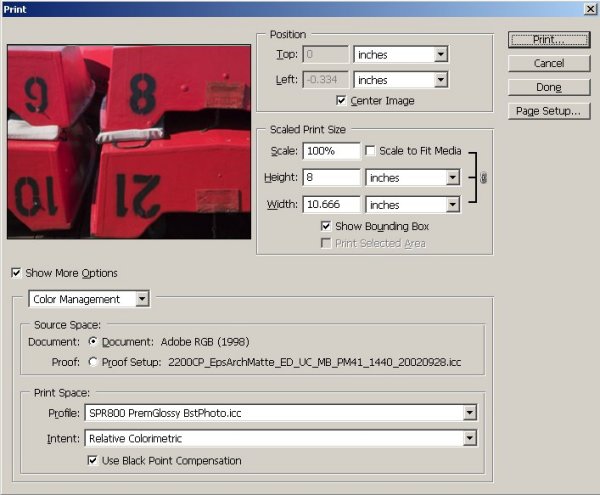 Photoshop "Print with Preview"
Use the "Print with Preview Dialog":
Enable "Show more Options"
Select "Color Management"
Document "Use your Working Space" (we use Adobe RGB)
Profile: Select the right profile for your paper (here Epson Premium Glossy)
Intent: we use "Relative Colorimetric" (you also can use "Perceptual")
Enable Black Point Compensation
Epson R800 driver settings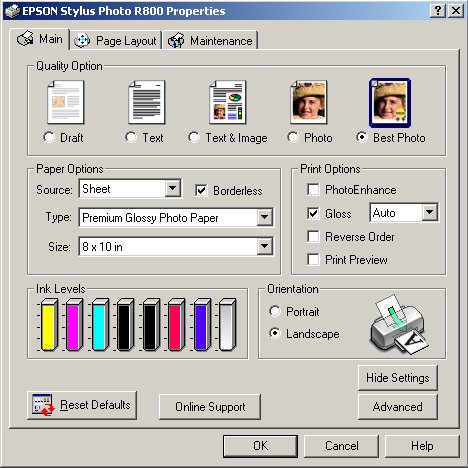 R800 driver "Basic mode"
The R800 driver will show first the "Basic mode" dialog. We won't use it, so click on the "Advanced" button and the "Advanced mode" dialog shows up: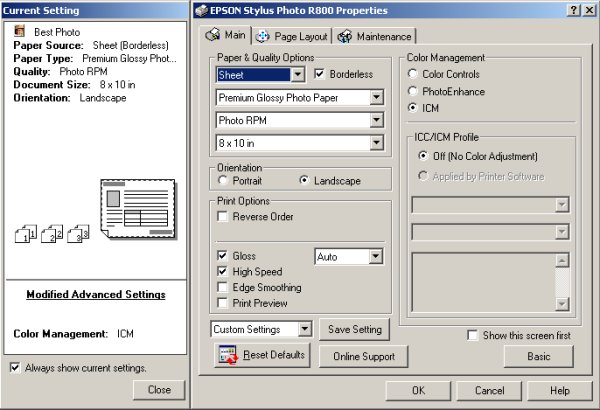 R800 "Advanced mode" Dialog
We cover only the essential settings here:
Middle Section:
Check "Borderless" if you intend to print borderless (works just fine)
Select your paper (here Epson Premium Glossy)
Select Quality (here Photo RPM top setting at 5760x1440 DPI)
Paper size
Check "Gloss" for gloss optimization
We use "High Speed" and get excellent results (we never used any Epson printer before in this mode)
Right Section:
Select ICM
Use ICC/ICM Profile "Off (No Color Management)". We use the color management from Photoshop and don't want the printer to add it's own one.
---
3/20/2004 Alain Briot's R800 Review
Alain's comment:
"I love the print quality of the Epson R-800! I say this in my review of the R-800 and I say this to everyone I show R-800 prints to. And they concur!
The most significant benefit offered by the R-800 is glossy print quality. In two words: no bronzing! You have to see an R-800 print on Epson Premium Glossy Paper to really know what I am talking about.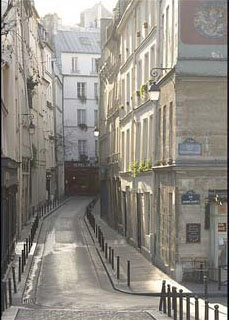 In fact I am so in love with this printer that I decided that the March Print of the Month will be printed on the Epson R-800 and on Epson Premium Glossy Paper. It will be a Canon Digital Rebel photograph. You can find all the details of this unique offer by clicking here. I don't know of any other way to prove what I am talking about in my review!
I just have one request regarding the new Gloss Enhancer and Gloss Ultrachrome inks featured in the R-800: I want a 44" wide version of the R-800. Such a printer won't compete with the 9600 and 7600 because I, and I believe many other printers, will keep our 9600 and 7600's to print on matte paper and will use the R-800 wide format to print on glossy paper.
Come on Epson, what are you waiting for? You've got a captive audience dying to buy the capability of making 24" or 44" wide glossy prints with no bronzing!"
Here is Alain's full R800 review.
---
3/19/2004 Got the R800 Printer in
The Epson Stylus R800 is a very interesting printer as it features a complete new 8 color ink set.
Epson UltraChrome™ Hi-Gloss Ink:
Gloss Optimizer
Photo Black
Matte Black
Cyan
Blue
Magenta
Red
Yellow
Will be interesting to follow whether Epson will use the same inks in future larger printers (A3 and large format). We would not be surprised.
Also the droplet size has been reduced to 1.5-picoliter.
What is the advantage of the new ink set?
1. No need to switch inks when printing on glossy and matte photo materials.
2. The gloss optimizer is intended to improve the results on glossy paper
3. Metamerism for B&W seems to be reduced (first initial tests).
Setup
The setup on Windows XP was painless and fast.
Initial print results
Epson provides paper profiles that are created using the GretagMacbeth profiling software. This is the first printer we used from Epson that got really good results with the profiles provided. Remember we offer a profiling service but you may only need these profiles for some papers that are not supported by Epson.
Note: To bad the impression about these pofiles was not correct. It may only hold for the color parts. Read our entries for 2/12 and 2/16 in 2005.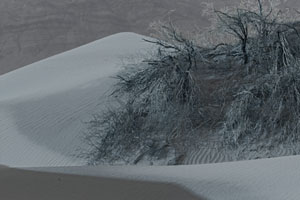 We printed on Enhanced Matte paper using the Epson profile at high speed setting. We can report:
R800 works very silent
R800 prints much faster than a 2200
Image quality was spot on in terms of colors using the Epson profiles
First B&W test also looks good (we did not find metamerism)
Some more Highlights
USB 2.0 and Firewire connectors
Printing on CDs supported
Photoshop CS need less time to spool the file
You support Digital Outback Photo
if you buy the Epson R800 at our affiliate merchants
Other Reviews