12/17/2006 Getting Started
At Photokina the new HP Designjet Z2100/Z3100 (24" or 44') printers were big news and HP showed them everywhere. We have now the Z3100 printer for about 1 month in our studio and can share first impressions.
What is so important about their new printer for HP?
First large format printer from HP that uses pigmented inks and is in direct competition to equivalent printers by Epson (7800/9800) and now also Canon (IPF 5000, IPF 8000)
Features a built-in XRite Eye-One spectrophotometer. The printer can calibrate and profile papers using this spectrophotometer.
12 colors with extra Red, Green and Blue with larger gamut (we will only look into this when we find pictures of friends and clients that need a larger gamut (our images are not very saturated and we even print more and more B&W or muted colors :-) )
4 black and grays (photo black and matte black loaded at the same time like with the Canon IPF5000)
Gloss Enhancer to avoid bronzing and gloss differential
Clog prevention technologies
Very high permanence rating from Wilhelm Imaging Research (>200 years). We take all these data with some grain of salt but it still proves that today's printer manufacturers pay a lot of attention to longevity.
Some data
The inks in the 12 ink Z3100 are:
Light Magenta, Magenta, Light Cyan, Yellow
Red, Green, Blue
Photo Black, Matte Black, Gray, Light Gray
Gloss Enhancer
The Z3100 has 6 replaceable print heads for 2 colors each. The heads have 1,056 nozzles per color.
Where is the Cyan?
The HP engineers felt that they can create the needed color from the other colors because they also have Red, Green and Blue inks.
Is Gloss Enhancer an Ink?
Kind of a fully transparent ink that is used to fill gaps in light areas to avoid bronzing and gloss differential. Used only on glossy and semi-glossy photo media papers.
How many blacks are used during printing?
On matte papers all 4 black/gray inks are used. As we understand the matte black is just a coarser version of the photo black. On glossy and semi-glossy photo media papers the matte black is not used because the coarser pigments would not hold on the micro fine pores of the usual micro porous papers.
What about dMax?
HP claims:
Dmax 2.43 on HP Premium Instant Dry Gloss Paper (with photo black ink)
Dmax 1.77 on HP Hahnemuehle Smooth Fine Art Paper (with photo and matte black inks)
A friend of ours measured some test targets and got about the same values.
Note: We are very impressed with the deep black we get on HP Hahnemuehle Smooth Fine Art Paper. For us and some others the blacks look richer than the numbers seem to tell (Dmax 1.77).
Assembly
The Z3100 44" is a really big printer. A single person can actually assemble the whole printer (upside down) and needs only one or two extra people to turn the printer over. We found all steps very well documented and easy to perform (and we don't really like all that mechanical work:-)). The printer looks robust and comes with a very usable integrated basket (most baskets are not :-) ).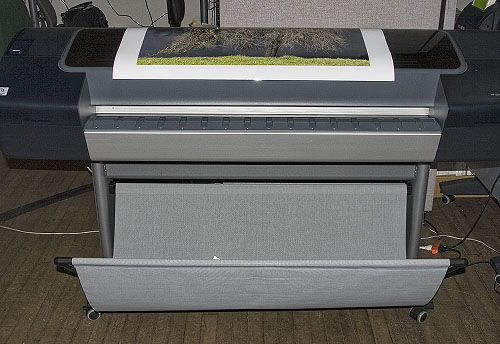 Initializing the printer
Also the initialization of the printer worked without a glitch (following the clear instructions):
Install all 12 ink cartridges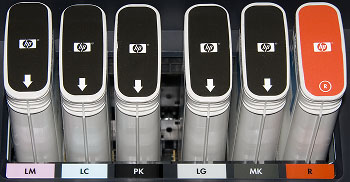 shows 6 out of 12 ink cartridges
Install 6 heads (for 2 inks each)
Printer prepares and installs the 12 inks and 6 heads (can take 30-40 minutes, during this time you can install the software)
Feed the roll of glossy test paper that comes with the printer
Printer performs an automatic head alignment
During the installation the printer guides you through its excellent LCD panel: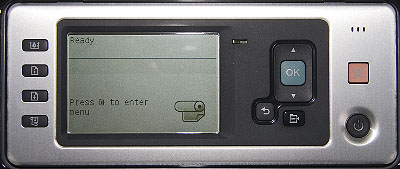 Printer Panel
Install the Software
While the printer is preparing the inks and heads we installed the Software.
During software setup you will be asked how you plan to connect the printer (both options are standard):
USB 2.0
Network (Ethernet)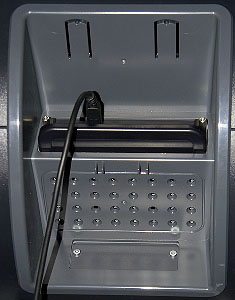 Connector Panel
We use mainly USB 2.0 but have also other PCs connected via Ethernet.
First prints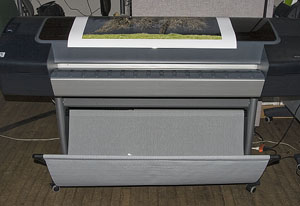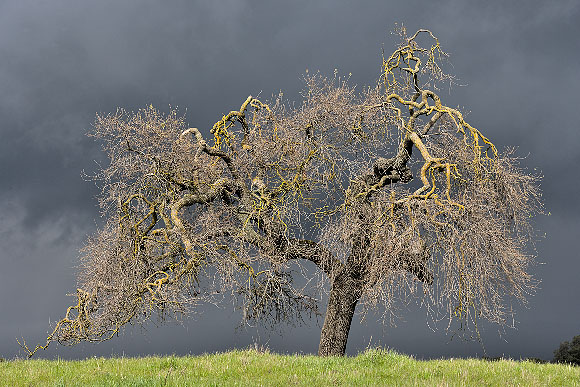 Oak in Storm (Canon 1Ds Mk. II)
Our second(!) print (still with the short sample roll of glossy paper) was a 30" wide print of the above photo (see also the printer photo). This print is currently on the table in our studio at Plotter Pros and we have to say that quite a few visitors like it a lot. So far nobody found any sort of bronzing on this print.
Paper Calibration
The HP Z3100 uses the built-in EyeOne spectrophotometer to linearize the printer. Each paper has to be calibrated (also after switching heads or maybe even inks). Calibration is a very painless process and needs only one sheet of paper (Letter size will do).
Here are the steps: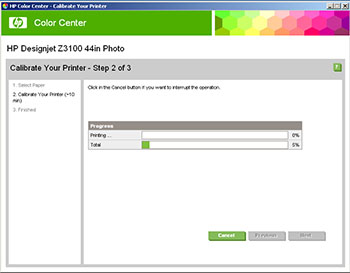 Printing the Target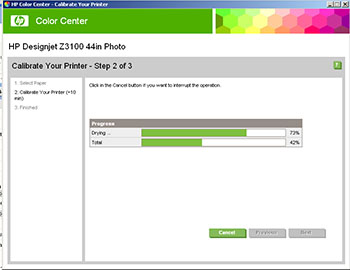 about 5 minutes drying time
Note: HP claims that a drying time of about 5 minutes is good enough for most instant dry media. We cannot tell but also don't see any problems so far.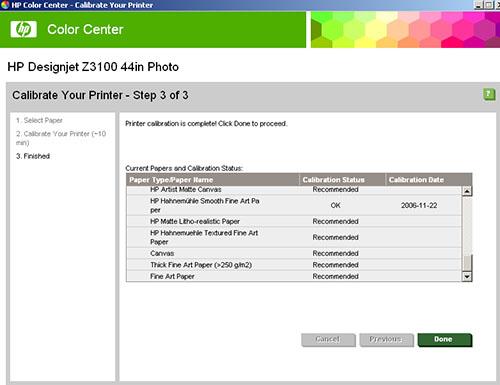 Shows paper calibration status and date
The printer holds all the calibration data and even color profiles.
The system to add 3rd party papers is very open. The user can create new paper types that will be shown on the printer and in the printer driver.
Here is a sample calibration chart (fits on Letter sized paper):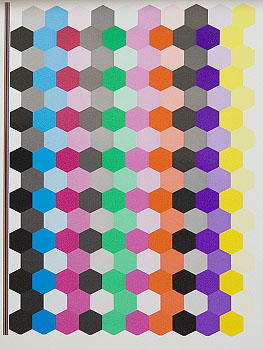 Paper Profiling
For supported HP papers we only calibrate the paper and use right now the generic profiles. But if you want to use third party papers you need to calibrate and profile these papers.
First you create a new paper type using the "Color Center" application
Then you can calibrate and profile the paper (takes about 30 minutes including drying time)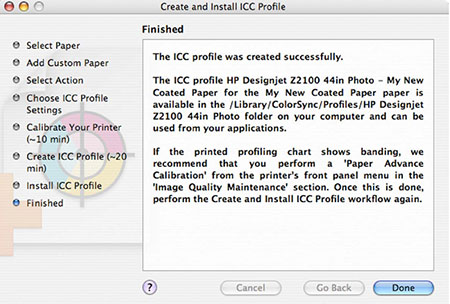 Profiling process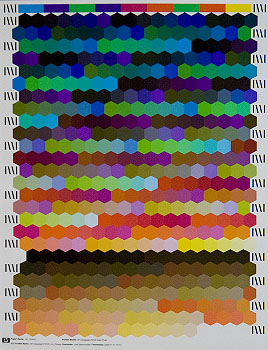 About 460 patch target
Note: HP claims that they get good profiles out of these 460 patches. Time will tell whether these are enough patches or when we may need more (as we understand the Advanced Color Management package support larger targets). For what we do we find the results very pleasing.
Note: For profiling you need at least A3 paper. If you profile paper from a roll the Z3100 will try to make use of the whole width and save you paper.
The final profiles are available on the PC/Mac and on the printer and also can be downloaded from other PC/Macs.
We profiled a few papers and found the process fun compared to using other profiling packages. Be also aware the profiling that is based on reading strips is very error prone compared to this fully automatic process.
The Printer Driver
Note: We did not have the HP Z-Series Photoshop plugin available for our tests but will get it soon. Have a look at our HP Photosmart Pro B9180 review for more information about the Photoshop plug-in.
Paper/Quality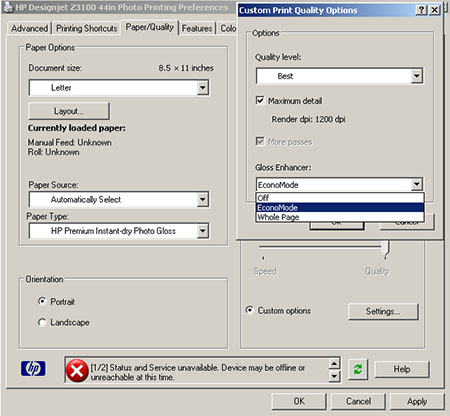 Paper/Quality Dialog
Here are the main settings for your prints located:
Paper size
Paper source (better don't use "automatic")
Paper Type has to match the paper selected by the printer. You also find here your own installed custom papers)
Quality settings (extra dialog)
Setting for the Gloss Enhancer (glossy and semi-glossy media only)
Orientation
Color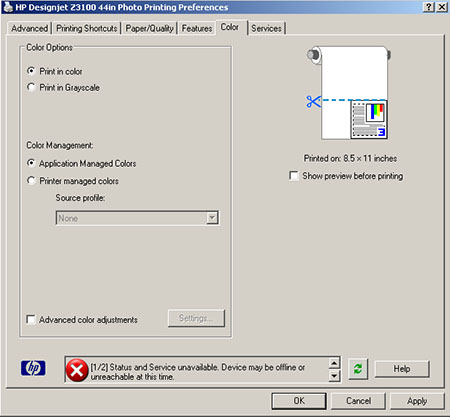 Use Application Managed Colors for Color (working from Photoshop)
Advanced Grayscale settings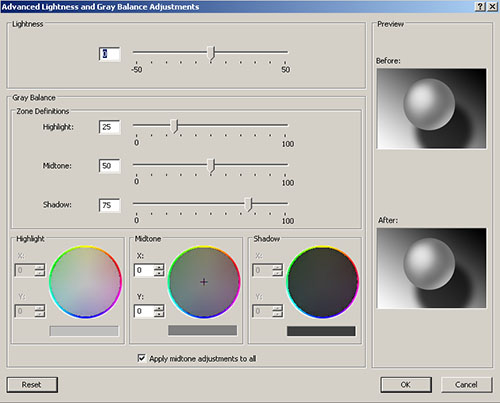 Advanced settings for B&W
So far we print B&W (actually toned B&W) as color images and use Application Managed Color in Photoshop. We only mention this mode in case you want to experiment.
Note: Some users may want to use this mode to get very neutral prints. We on the other side think that we want our B&W to have subtle tones and don't want to depend on the tone defined by the printer. Of course you can add your own toning here in the driver but this also involves a lot of testing.
Printing Shortcuts

Printing Shortcuts
We recommend to create an own Printing Shortcut for each paper and quality setting. We have no idea why HP made these icons do big :-).
Services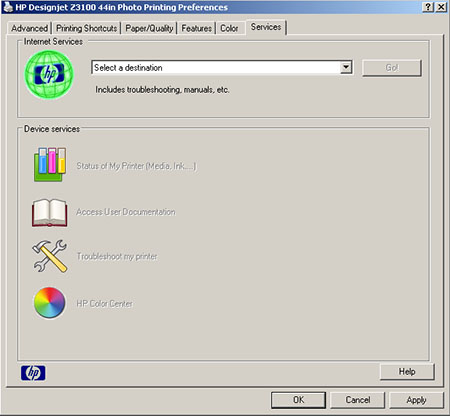 Services
The key services are Printer Status and Color Center (Papers, Calibration and profiling).
Note: Services are grayed out here because we captured the screen while the printer was offline.
Feeding paper
You either feed from roll or use the single sheet feed tray (one sheet at a time like with all large format printers).
We most of the time using single sheets and don't recommend the "Easy Paper Feed" method as you may end up more often with skewed paper. The Z3100 checks for precise paper feed and does not tolerate skewed paper. Maybe in the future you will have an option for the printer to be more tolerant.
During paper feeding you need the printer to tell what feed (roll, single) and which paper type you use. Again also your own custom papers will show up on the printer panel.
Printing
We printed quite a bit on satin papers but recently mainly use :
HP Hahnemuehle Smooth Fine Art Paper
Hahnemuehle Photo Rag 310gr
Both deliver outstanding results. In the past we only used matte papers. Then lately with other printers we were struggling between satin and fine art papers. Now with the Z3100 we are clearly back to use mainly fine art papers.
The main arguments for the HP Z3100 are:
Gloss Enhancer if we want to print on glossy media
4 blacks
Photo black and matte black loaded at the same time
Built-in spectrophotometer
Clogging prevention (so far we had no(!) clogs on the Z3100 and our Photosmart Pro B9180 after about 300 prints on both printers, both use the same head technology)
---
First Conclusion
We like the Z3100 a lot. Matte prints are excellent and also the glossy prints are impressive.
Note: We don't compare printers by sharpness (very difficult because it depends on so many factors) and also not that much by gamut charts (they probably are impressive for the Z3100). We look at prints and check whether they make us proud to present to customers. With customers we mean people who enjoy our photos and not people who can only look at prints with a loupe (of course we do that ourselves once in a while for some more critical inspection). We don't say this is right or wrong. This is just our personal style.
If you like to see some prints and/or the HP Z3100 stop by and if we are not in the studio Peter at Plotter Pros will show you some of our prints. We even sell prints :-). We plan for the future to have some sample books with prints in the studio.
What about other printers?
We think inkjet printers by HP, Epson and Canon have reached a very high level and all deliver the goods.
Clearly Epson dominated the fine art printers now for some years and pushed the development of pigmented ink sets. Canon and HP are catching now up very fast. The good news is that we consumers have more options to chose from. The bad news is that this decision is not getting easier.
A few features speak for the HP Z3100:
Gloss Enhancer if we want to print on glossy media (HP exclusive right now, Epson on consumer printers R1800/800)
4 blacks (featured by HP, Canon and with ink switching also Epson)
Built-in spectrophotometer (HP exclusive right now)
Clogging prevention (so far we had no(!) clogs on the Z3100 and our Photosmart Pro B9180 after about 300 prints on both printers, both use the same head technology). (HP and Canon lead here and we hope Epson is catching up)
Where is the 18" model?
Good question, we ask that ourselves but did not get an answer from HP yet. We are sure it will happen sooner or later. The we hope HP also provides a 12 ink solution for 18".
---
2/17/2007 HP Technical Paper: Zebra marks (ink smearing) on thick papers
Before we get you the link for this technical paper we quote from our e-book "The Art of Digital Fine Art Printing (page 185 of 312)" to get you more aware of the problematic involved:
<Quote>
General driver tasks and settings
Printer drivers seem to be simple tools, yet there are many aspects influencing image quality, not to mention, comfort of the user. Here, image quality should clearly be a high priority.
Settings that influence print quality
Note: All these parameters may influence your choice of profiles. Remember that any given printer profile is only valid for a specific paper, ink set and driver setting combination.
Paper type
Paper type is one of the most important settings in your driver. Be aware that most drivers only allow a choice between papers of the specific printer manufacturer. Third party papers may be a close match or completely wrong. Expect the least problems by staying with the family of papers a manufacturer provides.
When using third-party papers, you should look for instructions for the proper printer settings when using their paper. You will may find this information at the Internet site of the paper manufacturer


With paper type selected, you implicitly select many other parameters of the printer driver, and often there is no other way to select them directly. How these settings work is known only by the manufacturer.
Often, there is a lack of a reasonable description of the settings in the printers manual (overall the settings with the Z3100 are more transparent than with other printers we used in the past).
Paper thickness (distance from heads to paper)
How much ink to lay down
Drying time (per pass)
Paper transport speed
Possible print quality selections (DPI)
Printer Calibration data (The Z3100 allows you to calibrate your own papers, still all other settings have to be a good match)
<End Quote>
Note: Actually the Z3100 allows 3rd party paper manufacturers to even control the printer on a much finer level via so called media profiles (not(!) ICC profiles). We don't think the creation of media profiles is something a normal user should bother with.
If you understand the above principles then you won't have problems to understand the HP technical paper " Zebra marks (ink smearing) on thick papers" which you can download here (PDF).
If you have further problems, ideas or questions please post them in our forums.
---
3/13/2007 HP Technical Paper: Printing saturated reds with the Z3100
There have been some hot dabates about the Z3100 lacking to print saturated reds. Here is a PDF with HPs answer.